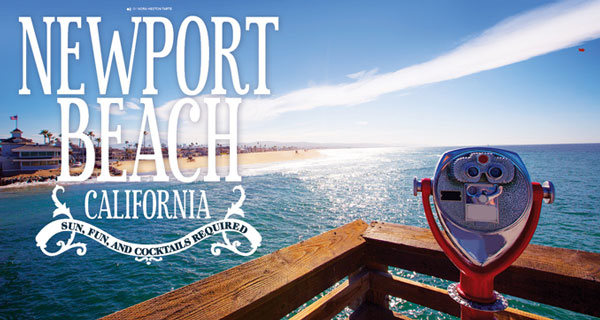 Wind in your hair, sand between your toes, cocktail in hand; if you've been dreaming of a beach getaway on the sunny California Coast, it's time to pack a bag and head south! Before fall swoops in and cools the coastal town of Newport Beach, head down for a weekend of luxurious living. The ritzy high-life lived by residents and frequent-ers of the area (who most likely sailed in by yacht) is balanced by the old-school charm and laidback opulence of historic Balboa Island.
Balboa Island
Balboa Island is perhaps best known for its long, boat-filled waterfront, but the neighborhood in Newport Harbor boasts some of the best shopping, dining, and strolling in the city. Find parking downtown (if you can) and walk Marine Avenue where the majority of shops and restaurants take up residence. High-end boutiques that stock designer finds sit next to custom embroidery shops, a throwback candy store, and eateries with ample patio seating. Walk the full length of the strip before heading back; each block houses more surprises than the next.
Get outside. Most of Balboa Island's businesses cater to ambling outdoors, but to really take it all in, set off down the harbor. You'll pass cute vacation homes and residences right on the water, along with plenty of other tourists and residents strolling the walkways with pooches in tow.
Upgrade. Ditch the hotel and stay here instead. The harbor boasts more vacation homes than you can count, with many located just steps from the beach. (BurrWhite.com)
The Best Beef Jerky in Town: One of Balboa Island's newest shops is the Balboa Jerky Company. A small storefront on Marine Avenue, the owner hands out free samples of the retail store's many flavors, including jalapeno garlic and peppered teriyaki brisket. There's even jerky for your dog! Expert Tip: Ask to try the Snapping Turtle Jerky. Yes, it's made from real turtle.
The Real Original Frozen Banana: If Newport Beach had a mascot it'd probably be the frozen banana. For some reason, unbeknownst to most, frozen banana shops can be found on just about every corner. We went on a mission to find the true original (since more than one shop markets itself this way), and we're pretty sure we uncovered the truth on Balboa Island. Located just a couple doors down from Dad's Original (a bakery that serves donuts and other goodies, as well) sits Sugar N' Spice (310 Marine Ave.), a frozen banana shop opened in 1945; the grub at both is good, but we're fairly confident the original-original is served at Sugar N' Spice.
Where to Stay: Balboa Bay Resort (1221 West Coast Hwy.) is the only waterfront resort in the city, and it grants guests easy access to the on-site A+O Kitchen and Waterline restaurant (a sophisticated white table-cloth locale with outdoor eating options and a menu that boats fresh seafood and prime cuts of beef). Be wary when booking, however, several on-site amenities are reserved for members only, including a separate pool and adjacent bar.
When weather permits, paddleboards, kayaks, and other gear rental are available on the property's own little stretch of beach. And, for a fee, you can upgrade your room to a Bay view, where not only do guests get glimpses of the breathtaking bay right from their bed, a patio overlooking the water is an ideal place for staff to set up room service.
Newport Beach Pier
Located on the Balboa Peninsula, Newport Beach Pier is the stuff Southern California beach dreams are made of. Surfers, swimmers, and sunbathers (oh my!) all take refuge on the five-mile stretch of soft sand, complete with coastal breezes and warm California sun. Stretch out a blanket, plant your umbrella, and claim your little piece of paradise for the day.
When you're ready to get out and explore, step into Newport Bike & Beach Rental (106 22nd St.) to pick up some wheels. The narrow stretch of road at Newport Pier is best explored on bikes or roller skates, so it's easy to meander in and out of the pier's many businesses.
Get Outside. Continue enjoying the outdoors at one of many restaurants offering outdoor seating, some with long lists of local brews on tap.
Upgrade. Continue your bike ride around the peninsula, on Newport Beach's lengthy bike trail. A trip down the boardwalk will uncover the area's most expensive real estate, so you can dream of someday owning your own little piece of paradise.
Where To Stay: Doryman's Oceanfront Inn (2102 W. Oceanfront) is less resort accommodations and more B&B. The location, across from Newport Beach Pier, couldn't be better, and downstairs, 21 Oceanfront Restaurant offers fine dining with an ocean view, plus a bottle of 2006 Dom Perignon on the menu that you can order to take the dining experience to the next level.
Each of the 11 rooms at this boutique hotel is located on the second floor, proffering better views. There are three rooms, however, that give guests a little more bang for the buck. Room 4 is a spacious suite with patio access, a bay window, an in-room fireplace, and a marble shower; Room 7 offers an in-room dining area, a beautiful valance, and ocean view; and Room 8 is a corner ocean view room surrounded by windows and complete with a sunken marble tub.
You're just steps away from Newport Beach Pier and all it has to offer so when you're not soaking up the old-world ambience of your Victorian-era room, head outside to revel in the breathtaking nature that surrounds.
Newport Coast
The affluent neighborhood south Newport City's main hub was once its own census-designated place, however it has since been annexed into Newport Beach. Here, visitors can enjoy miles of state parks and hike around Buck Gully Reserve (a coastal canyon set between urbanized areas).
Get Outside. Crystal Cove State Park offers four levels of trails for those who want to hike the wilderness habitat. An easy, three-mile trek is best for beginners, and for those who want to go all out, there's a strenuous nearly 9-mile hike that offers more ups and downs.
Upgrade. Rent an exotic car from Exotic Car Collection by Enterprise in Newport Beach (4500 Campus Dr. #100) and hit the Pacific Coast Highway. Available wheels include an Audi A5, convertible BMWs, and even an Aston Martin.
Where to Stay: The Resort at Pelican Hill takes up residence in the southern part of Newport, near Laguna Beaches. Two hundred and four bungalow guest rooms and 128 villas are nestled into the properties' terraced hillside, and the award-winning resort has a list of accolades nearly as long as its spa menu.
If the goal is to work on your golf game, there are few places better equipped to address your needs. Not only is the 36-hole, ocean-view championship course a beautiful place to knock a few strokes off your handicap, it's also overflowing with golf programs for enthusiasts of all ages. Take advantage of advanced equipment with 3D swing evaluation, or sign-up for a full-analysis of your skills with Glenn Deck. At the very least, book a round of golf at.
Chow Down
BREAKFAST
Nestled in a small shopping strip in Newport Beach, Haute Cakes Cafe is a counter-serve eatery owned by husband-and-wife team Paul and Tania Taddeo. Since 1990, the neighborhood hotspot has served breakfast, lunch, and a collection of homemade pastries. Order up one of the menu's scrambles, or sample the haute cakes the establishment was named for. Stumptown Coffee is brewed fresh.
Get Outside. Order at the counter then sneak outside. The covered patio provides shade from the Southern California sun along with tables to eat at.
Upgrade. On a hot day, sip Stumptown's iced coffee, which this hip little joint serves on tap. Then, load up your bag with pastries to munch later.
LUNCH
Beachcomber Café, a cute little beach hut located in the Crystal Cove Historic District that serves breakfast, lunch, and dinner (try the tiny Ahi tacos and grilled marinated artichokes) once served as a popular backdrop for silent films. The historic café works to maintain some authenticity from its early-1900s start, where the stretch of beach once featured nothing but palm-thatched homes reminiscent of exotic locales such as Hawaii or Tahiti.
Get Outside. Reserve a fire pit and food package on the beach to roast s'mores, bbq, or order from the express menu (11 AM-5 PM.)
Upgrade. For the real Beachcomber experience, head to the café during happy hour when staff hoists a martini flag into the air as a bugle blast salutes the sunset in a mid-century tradition.
DINNER
A&O Kitchen at the Balboa Beach Resort serves casual fare on the hotel's main floor, with floor-to-ceiling windows that look out over the bay. The dining room is open to guests not staying at the hotel, as well as a slew of yachtsman who slip in to grub between jaunts on their luxurious liners, which you can enjoy views of from your seat in the dining room.
Get Outside. Request a table outside next to one of the patio's large fire pits. The Balboa Bay is gorgeous regardless of the time of day.
Upgrade. Don't settle for mixed drinks you can get at any bar, instead order up a Dutch Mule (it's only Dutch due to the origin of the liquor). A mainstay at bars across America, A+O does it better because their mule is on tap.
Really Upgrade. See those yachts docked right outside? Charter one, or another small vessel, for yourself. You'll be living like royalty—or at the very least a Newport native.
Pacific Food & Wine Classic
August 19-20, 2-5 PM daily
Do you love food and wine? Book your weekend getaway to coincide with this foodie's dream event! For two days only, area winemakers and chefs team up to bring Newport residents a lineup of exquisite wine and culinary offerings. Every craft cocktail, tasting menu, and wine pairing is served on the scenic stretch of waterfront at Newport Dunes Waterfront Resort & Marina (1131 Back Bay Dr.)
Fashion Island
Touted as an open-air lifestyle center in Newport Beach, Fashion Island is a shopper's paradise. The huge outdoor mall boasts retail giants like Orange County's only Neiman & Marcus, beauty stores such as Urban Decay, and luxury labels including Elie Tahari and Trina Turk.
Get Outside. Fashion Island takes advantage of Newport Beach's ideal location on the Southern California coast with an open-air concept that means you'll spend plenty of time in the sun between retail stops. When you break to refuel, dine al fresco at one of the mall's more than 30 restaurants, many with outdoor seating. Fig & Olive (Mediterranean fare prepared with flavored olive oils) is a favorite.
Upgrade. Fashion Island employs a team of personal shoppers to help guests assemble outfits—or entire wardrobes—between its many retail giants and specialty boutiques. The best part? This upgrade won't cost you a dime, and there's no minimum to buy.