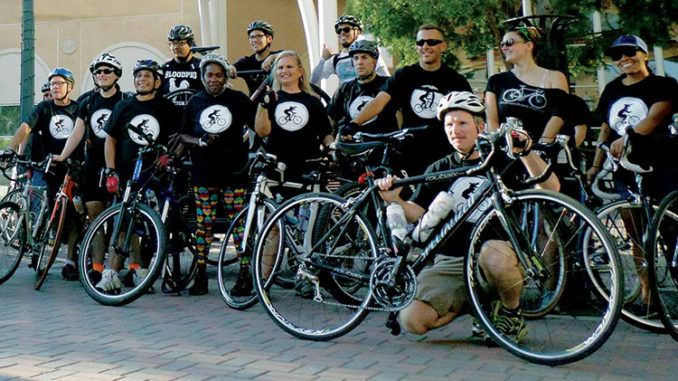 There are plenty of ways to explore our Port Side City, and Downtown Stockton Alliance invites you to hit the streets with fellow bicyclists under the full moon. Full Moon Riders was first launched in July 2015, under the guidance of DSA's Chief Operating Officer, Cindy Fargo. "We thought it'd give an opportunity to experience downtown in a new way," explains Sylwia Walls, DSA's Communications and Graphics Manager.
And the response was strong. After putting a call out to the community, the first event brought in over 100 people. "We honestly expected 25 people or so," Sylwia admits. "But, that first event let us know that we hit our target, and that this is what the community wants and needs."
Now in its third season, Full Moon Riders works with local organizations—The HUB, Performance Bicycle Stockton, Robby's Bikes, Road Finch, and San Joaquin Bicycle Coalition—to create six different routes and events throughout the season (the event runs from May to October each year from 6-8 PM). Each organization adopts a specific date, plans and guides attendees through their unique route, and chooses a Stockton restaurant for post ride enjoyment. "Participating restaurants bring another element to the event," Sylwia adds. "It offers a fun place to hang out after the ride, eat a meal, and really make new friends…It's all about building a positive community."
So, how do you get in on the fun? If you know how to ride a bike, you're in. And if you'd like to tow your toddler or fur baby along for the ride, DSA is cool with that, too. "We say the event is for everyone ages 8-80," Sylwia giggles. Add to the fun and light up your bike with glow sticks or other decorations. And of course, check in on event themes throughout the season, because who wants to miss out on a chance to dress up?!
The event is free to the public, but DSA asks participants to bring their own bike and helmet—and that adults register prior to the event for proper head count (plus, registration gets you get a free T-Shirt!) The registration booth can be found in front of the Downtown Movie Theatre, 45 minutes prior to each ride. Riders are then divided into groups that fit their pace and skill level for the hour-long, 4-5-mile ride. "Our downtown is actually one of the bigger downtowns in the nation," Sylwia explains. "We have 170 blocks and because of the water, Stockton has an elongated shape—so riding through downtown from east to west is quite a distance, and half of it is along the water, which makes for a beautiful, scenic experience."
July's Full Moon Ride
Saturday July 8, 6-8 PM
Sponsored by The HUB (Helping Urban Bicyclists)
Participating Restaurant: Nena's Mexican Restaurant
For More Info: DowntownStockton.org