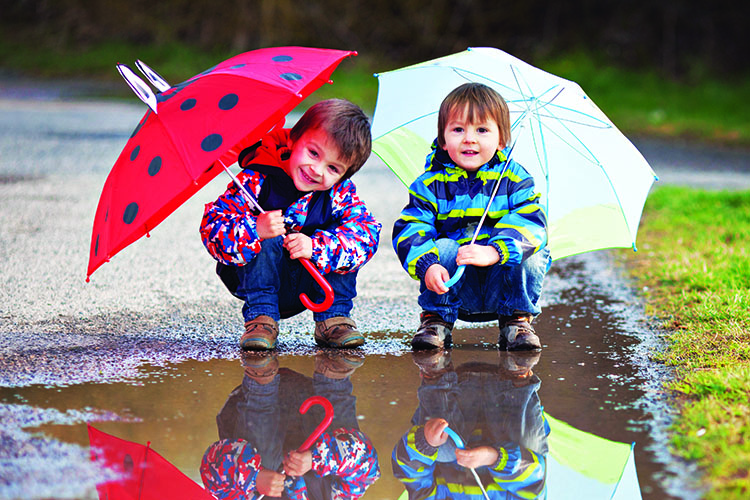 25 rainy day activities to keep kids busy
Looking for a way to entertain kids on a rainy day? Whether you want to stay home, or get out without getting wet, this list has everything you need to survive a day (or week!) of bad weather.
Get wet. If it's not coming down cats and dogs, venture outside for puddle jumping. Expert Tip: cute rain boots necessary.
View art. Until April 2, student art is on display at Haggin Museum in Stockton as part of the 86th Annual McKee Student Art Contest & Exhibition. When you're done…
Create your own. Empty the art cabinet and make a day of it. Expert Tip: The Haggin Museum store stocks art supplies and coloring books.
Read a book. What better way to pass the day than snuggled on the couch, reading stories? Check out Dalmatian in a Digger, a story about a dog curious about the construction going on nearby.
See a double feature. March sees many releases of family-friendly films. Choose from Beauty & the Beast (March 17), Power Rangers (March 24), and The Boss Baby (March 31). On March 26, The Wizard of Oz will play at Bob Hope Theatre.
Stay in. Too drizzly to venture out? Moana is available to stream digitally on iTunes and other platforms.
Pass the time at an arcade. San Joaquin County is home to a few gems. Try Zaps Zone in Stockton or Tilt Arcade in Tracy.
Build. Whether it's LEGOs, tinker toys, or wooden blocks, get creative with your little ones and build an architectural masterpiece… or, you know, just a really tall tower.
Make cloud dough. Add one cup of olive oil to eight cups of flour and stir. The texture is unique so it crumbles when you apply pressure, but is also easily molded.
Play board games. Make it a tournament! Expert Tip: Winner gets to pick what's for dinner!
Create flash cards. Make it fun with rewards for right answers.
DIY jewelry. Bead Dreams and Beads Plus in Stockton both stock shelves with colorful jewelry making must-haves (and other art and craft supplies).
Visit the library. If you're lucky, your local branch may be hosting a story time that day.
Head to Lincoln Center. The close proximity of stores makes it easier to bounce from Sassy Pants Children's Boutique to Nothing Bundt Cakes without getting (too) wet.
DIY treasure hunt. Put together a treasure hunt complete with clues (and don't forget to pick out a worthy "treasure"). Make it a competition, or encourage kids to work together.
Experiment with shadow puppets. The youngest kids will be content to contort their hands and make silly noises, while grade-schoolers can create a more elaborate production. Put together a small skit using nothing but your hands and a flashlight.
Embrace fort life. Whether it's blankets and the kitchen table or a tent in the living room, camping out indoors can take rainy days from humdrum to tons of fun. Expert Tip: Fill your fort with games, snacks and other items.
Draw a bath. Bath time may not sound like your kids' favorite pastime, but add in some flashing lights, bubbles and bath crayons to pass the time without whining. When the kids go to bed, it's your turn! Pick up some mom-only luxuries from French at Heart.
Get baking. Serve up chocolate chip cookies, or carrot cake a la mode.
Find the Heat! The Stockton Heat, that is. Grab a hotdog and cheer for the home team! The last game is April 15.
Experiment! Head to the WoW Museum in Lodi to get your science on. On the last Friday of every month, bring a friend for free.
Do science at home. Mentos and coke anyone? The Everything Kids' Science Experiments Book is full of ideas if you're running low.
Pop some corn! All these cozy activities call for yummy snacks. Take microwave popcorn to the next level with a unique flavor. Try mustard-pretzel (four tablespoons melted butter, two tablespoons Dijon mustard, one teaspoon sugar, and one half-teaspoon kosher salt drizzled over 12 cups of hot popcorn and four cups of mini pretzels) or cookies and cream (heat one-fourth cup sweetened condensed milk in a saucepan over medium heat, drizzle over 12 cups hot popcorn, and toss with four cups crushed Oreos).
Plan a (hypothetical?) vacation. Grab a map and let each kid choose a destination they'd like to visit (or have them work together on one). Give them tools to research where to stay, what to do, how to get there, etc. The tricky part is, they have to stick to a budget! Who knows… maybe you'll find your next vacation destination.
Get out of dodge! Head to a place where the weather is more favorable, or at least swap the pouring rain for falling snow.