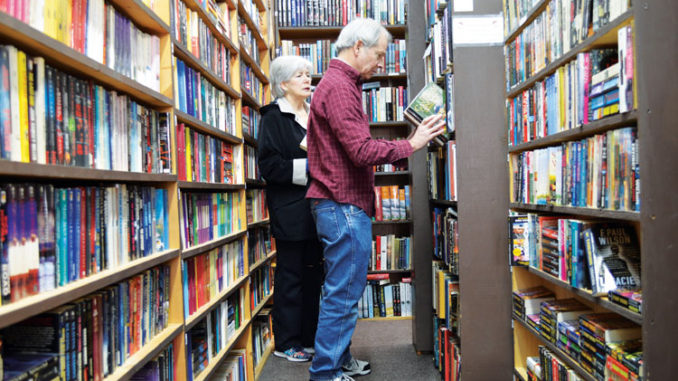 "You know how some teenage girls are nuts about horses? It's like a disease. Well, it's like that with books for some people," Tom Kohlhepp laughs, explaining how he came to be the owner of Tom's Books Used and New in Lodi.
"I always liked them when I was a kid," Tom says. He credits his early fascination with books—as well as his libertarian beliefs that encouraged him to start a business as a way to give back to the world—for where he is today.
Tom's business unofficially started in 1988 when he taught himself how to build bookshelves in his garage. He would visit the local Salvation Army and buy boxes of books for $1, then re-sell them at garage sales at his house on Kelley Street in Stockton. At one point a city official stopped by to reprimand him for running a business without a license, so he ceased operation. He opened his first legal bookshop instead.
Today, Tom's Books sits on School Street in Lodi, with a maze of bookshelves stretching across two units, and four furry employees lounging amongst the novels.
"People come in just to see the cats all the time," he says of Princess, Skywalker, Big Boy, and Cassandra—all genuine rescues he's collected over the years.
As for the shop, "I kind of built it up little by little," Tom says. "Here we are 20 years later."
In addition to inventory typical of big bookstores—Tom says he uses the same wholesaler—the shop sells used books, records, and books on tape, CD, and cassette. There's also an extensive hardback novel collection, an unusual offering because of how much space hardbound books take up.
"We have 25 bookcases where everything is $1," Tom continues. "You can browse the dollar cases and totally guilt-free walk out with a book or two."
Trade-In Your Treasures
Book enthusiasts can exchange used books for "new to them" finds from Tom's collection. The trade-in rule follows a simple 2-for-1 formula. If a book would be sold for $8 in shop, a patron will receive $4 in store credit. For cash, it goes down to a ¼ trade (i.e. a book to be sold for $4 in shop would earn the client $1 in cash).
Come Browse:
Tom's Books Used and New
108 N. School St., Lodi
(209) 369-1453