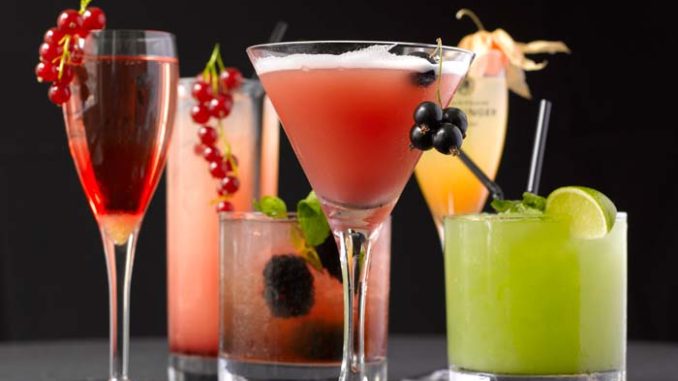 By Nora Heston Tarte
A vacation in Hawaii brings visions of pina coladas the same way a ski lodge makes you crave hot chocolate, so what kind of drink would be best enjoyed at your wedding? While a vintage vino may seem the perfect fit for "I dos" amongst the vines, beachside nuptials may send you clamoring for a tropical beverage complete with a fresh fruit skewer. Why not take it a step further and create something truly unique for your once-in-a-lifetime event? Enter the signature cocktail. This wedding trend is gaining serious traction amongst modern brides, and while drinks tend to match the theme of the day, they are still perfectly one-of-a-kind.
  In order to perfect this cocktail craze, it's important your signature drink make sense. The same way you wouldn't outfit tables with seashells at your New Year's Eve wedding bash, you wouldn't make a stiff martini the toasting choice for your Hawaiian luau. Instead, pair spiked hot chocolates with a winter mountain escape or a tequila sunrise with a twist on a summer afternoon. Your signature cocktail should flawlessly complement your evening.
  Some brides get kitschy with the idea by adding a little classic wedding flair to the feat. Your cocktail can do double duty; serving a purpose other than helping your guests enjoy their night. For example, it is surely on trend to let your cocktail (or mocktail if you prefer) act as "something blue." Mix up concoctions with blue Curacao to deliver a dash of color that's suitable for every affair. Be weary of what other mix-ins you use though because the other ingredients can muddy the color. However, they can also work together. Try a cranberry juice-based drink to create a deep sapphire blue, or mix cloudy liquids to achieve a cloud-like effect.
  If blue clashes with your green and pink color scheme, go for something that won't stand out like bad décor. Signature cocktails can be displayed at the bar, or passed pre-dinner, so they certainly shouldn't draw negative attention—although you don't want them to go unnoticed either.
  Luckily bartenders have become pros at creating cocktails that look as good as they taste, which means liquors, spices, juices and garnishes can be expertly combined to offer a stunning drink that harmonizes with your visuals.
  The serving glass is part of the presentation. Upscale affairs where bubbly is best can serve sparkling mixers in appropriate glasses. Your city-set nuptials will blend perfectly with a martini, while hurricane glasses scream tropical oasis.
  Regardless of what you choose, the result should be a beautifully presented, distinctive mixture that will have mixologists raving and guests talking.
  Some couples choose a classic cocktail instead of creating their own. If you and your spouse-to-be have a favorite sipper, share it with family and friends. Perhaps your preferred blend tells a story. Did you meet over margaritas? The signature cocktail is another opportunity to infuse personality into your affair. Don't pass it up.
  Naming your signature drink can be more fun than making it. Add an amusing turn on your new last name, or pull inspiration from your wedding theme. The possibilities are endless.
Let these recipes serve as inspiration:
Spiked Hot Chocolate:
Start with your preferred recipe for quality hot chocolate
1 oz tequila • 1 oz peppermint schnapps
Garnish appropriately: suggestions include mini marshmallows, mint leaves, whipped cream or cinnamon. Serve in festive mugs.
Blue Cosmopolitan:
4 parts citron • 3 parts cranberry juice (go white for a light colored cocktail, or red for the sapphire effect) • 1 part blue Curacao
Splash of lime juice
Garnish appropriately: suggestions include lime, orange peel or cherry. Serve in a martini glass
White Sangria:
For every bottle of white wine (Sauvignon Blanc and Pinot Grigio are suggested) use the following. • ¼ cup of triple sec • ½ cup brandy • ¾ cup simple syrup • Assorted fruit of choice—create a statement by utilizing wedding colors
Garnish appropriately: suggestions include fresh fruit, mint leaves or lime slices. Serve in wine glasses.
Champagne Cocktail:
1 sugar cube soaked in angostura bitters, or another bitter of choice, per glass. Champagne to fill. Garnish with a citrus twist of your choice. Serve in a champagne flute