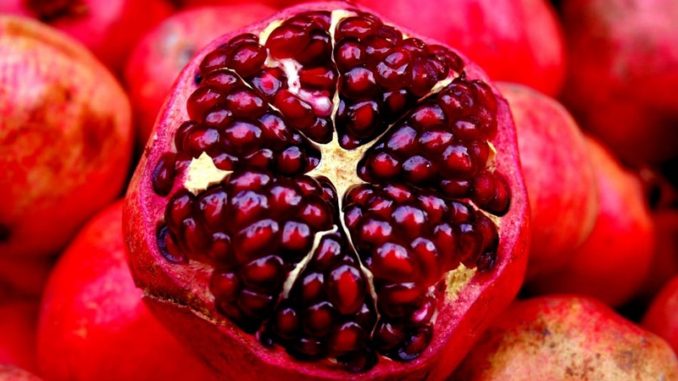 By Melissa Hutsell
The Pomegranate is a super food that's rich in history, and of course, flavor. According to Pomegranate Council, an organization dedicated to education of the fruit, the pomegranate's history dates back more than 4,000 years. Known as the jewel of autumn, the royal fruit is an ancient symbol of abundance and health throughout the world. Though originally native to Persia, the pomegranate's influence in art and literature is seen throughout several cultures and religions.
As one of the healthiest fruits in the world we can certainly see why it's a symbol of prosperity. Pomegranates are packed with so many benefits; we don't know where to start! This nutrient dense food (specifically the edible seeds inside) is known to be the most powerful source of antioxidants such as flavonoids and polyphenols, which help to fight against heart disease and cancer. These compounds help lower both blood pressure and cholesterol levels. Research shows that one pomegranate contains more antioxidants than red wine, blueberries and even green tea. They are also a great source of Vitamin C, Potassium and fiber. This heart-health fruit helps to combat platelet aggregation, and reverse plaque levels in the blood streams. In addition, the phytochemicals found in pomegranates are shown to increase levels of estrogen and serotonin in animals – which may help to counter depression or osteoporosis in humans.
Aside from the many health benefits these fruits offer, they sure as tasty – making it an easy addition to any meal. Whether you snack on the seeds, add them into salads, or prefer a glass of pomegranate juice – you're doing your body good with each mouthful.
[columns] [column size="1/2″]

Cranberry Pomegranate Sauce
Ingredients:
1 bag (12 oz.) cranberries, thawed if frozen
1/2 cup packed light brown sugar
1/4 cup pomegranate molasses
3 small sprigs fresh thyme
1 cup pomegranate seeds
Preparation:
In a medium saucepan, bring cranberries, sugar, molasses, and thyme to a boil over medium-high heat, stirring frequently
Boil, stirring often, until most cranberries pop (about 5 minutes)
Remove from heat and stir in pomegranate seeds
Discard thyme
*Courtesy of My Recipes
[/column] [column size="1/2″]

Brenda's Apple and Pomegranate Crisp
Ingredients:
4 medium apples, peeled, cored and sliced
1/2 pomegranate, skin and light-colored membrane removed
1/2 cup brown sugar
1 tablespoon ground cinnamon
1/2 teaspoon ground nutmeg
1/2 cup rolled oats
1/2 cup all-purpose flour
1/2 cup white sugar
1/2 cup unsalted butter, melted
Preparation:
Preheat the oven to 375 degrees F (190 degrees C).
Butter a 9×13-inch baking dish
In a large bowl, toss together the apples, pomegranate seeds, brown sugar, cinnamon, and nutmeg
Spread evenly into the prepared pan
In the same bowl, stir together the oats, flour and sugar
Rub in the butter between your fingers until the mixture resembles coarse crumbs Sprinkle over the top of the fruit
Bake for 45 minutes in the preheated oven, or until the apples are soft
Let stand 10 minutes before serving
Serve warm or at room temperature
*Courtesy of All Recipes
[/column] [/columns]