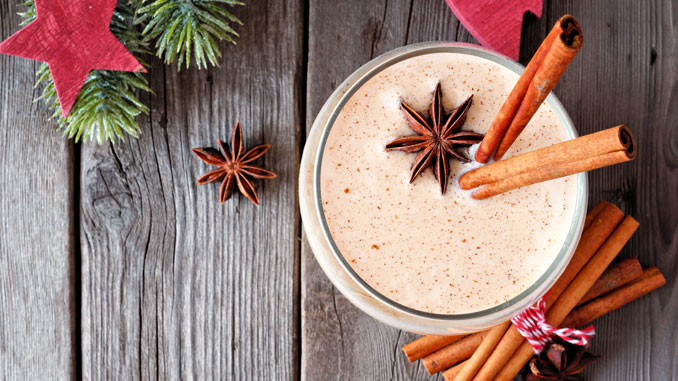 Ice Cream – If sweet and creamy is what you are in the mood for, visit FrostedLUV for eggnog ice-cream, brought to you by Sacramento's famous Gunther's Ice-Cream. 4027 E. Morada Ln., Ste. 120 Stockton
Coffee – Get your daily dose of joe blended with seasonal creamy and delicately spiced eggnog at Day-O Espresso. Each sip will warm your body and brighten your spirits. 14083 E. Hwy 88, Lockeford
Cocktail – Book a reservation at the Brick House Restaurant & Lounge to sip on their Eggnog Cocktail, a special for the season. 27 W. Elm St., Lodi
Candy – What are the holidays without a box of Rocky Mountain Chocolate Factory to nibble on with your loved ones? Here, the eggnog chocolates pair perfectly with a cup of coffee. 115 S. School St., Ste. 4 Lodi

---
Cocoa Eggnog
Makes 2 quarts
Ingredients
1 cup chopped dark chocolate
2 tbsp. unsweetened cocoa powder
3 cups whole milk
2 cups heavy cream
8 eggs, separated
2/3-cup sugar
2 cups bourbon
Minced chocolate, to garnish
Directions
Place chopped dark chocolate in a heat-proof bowl. In a small saucepan over medium heat bring 2 cups of whole milk to a simmer. When melted, whisk in cocoa powder. Add remaining milk and heavy cream and set aside.
Place egg whites in bowl of standing mixer and whisk on low until frothy, about 30 seconds. Increase speed to medium until the egg whites are thick and frothy, about 90 seconds. While mixer is running, slowly add half of the sugar and beat until incorporated, about 30 seconds. Place beaten egg whites into bowl and set aside.
Place mixing bowl back on standing mixer and add egg yolks and remaining sugar. Whisk at medium speed until yolks are thickened and light in color, about 1 minute. Set speed to low and slowly add milk/chocolate mixture and whisk until fully incorporated, about 1 minute. Add bourbon and mix until well-combined.
Using a baker's spatula, gently fold half of the egg whites into chocolate mixture, divide between glasses, and serve garnished with remaining half of egg white mixture and minced chocolate.