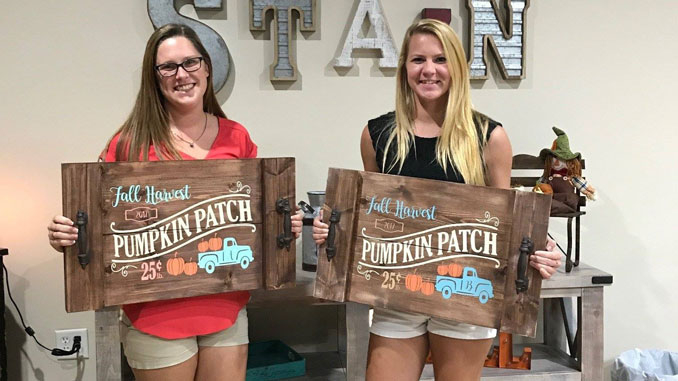 Jamie Reyes has long loved to craft with her family and friends, including her daughter Jenevia. However, gathering all of the supplies and setting up for a large craft night sometimes felt overwhelming for the mother of three. So, when her daughter was set to come home for a Christmas visit, she set to find a professional to handle the heavy lifting. Unfortunately, Jamie came up empty-handed.
Seeing an obvious need in the community for crafting made easy, Jamie decided to open a Hammer & Stain in Lodi. And in January 2020, she did just that. "Anything you see off Etsy and Pinterest… we help you bring it to life," Jamie says.
With weekly workshops Thursday through Sunday and open craft hours two Saturdays per month, those interested in creating one-of-a-king decor for gifts or their own homes could do just that without the many trips to JOANN and Michael's. Instead, they simply book a time—or even a private party—and Hammer & Stain preps everything the group needs to create a lasting piece of quality art.
Coming up on Thanksgiving and Christmas, the studio plans to be extra busy. There will be workshops for creating ceramic Christmas trees and other seasonal pieces as well as light-up pallet boards personalized with a family name to hang every year at the holidays. In the past, seasonal-themed succulent gardens and chunky knit blankets have also been popular choices. If you have your own inspiration, simply reach out. Contacting Hammer & Stain in advance allows the crew to get all the materials you need to make your own vision a reality. The biggest perk is really having plethora of supplies at your fingertips—stain, glitter, etc. and advice when you need it. Not to mention, you can bring in a bottle or wine or some snacks and make it a party with friends.
Private Parties
While workshops and drop-in hours are hosted monthly, private events are also popular year-round. These can be hosted in the privacy of your own home, at the studio, or even off-site. Wineries are a popular place to craft together, and the bonus of wine and charcuterie makes for a fun-filled afternoon. During shutdowns, Jamie and her team also became experts at Zoom parties, which means you can get together without being together at all, with craft kits delivered to your home.
To Sign Up
Interested in a workshop? HammerAndStainofLodi.com keeps an updated list of upcoming events and offers easy sign-up.Hammer & Stain
400 E. Kettleman Ln., Ste. 16, Lodi
(209) 712-2393
HammerAndStainofLodi.com