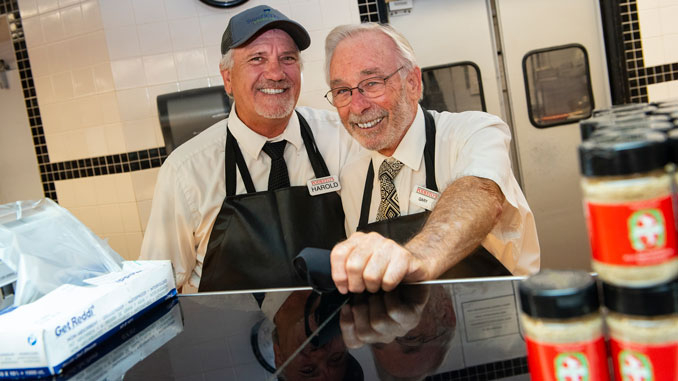 For Stocktonians, Podesto's Market & Deli is more than a grocery store—it's a community staple. Many customers have been visiting the Lincoln Center market for decades, first as high schoolers grabbing sandwiches with their friends after school, and now bringing their own children, stopping in after work to pick up dinner fixings and maybe a baked good or two.
"I have been going to Podesto's for as long as I can remember" shares Jamie Errecart, a longtime customer. "I would shop there with my mom when I was little and I have continued with my own family now. You walk in knowing most everyone who works there by name and they know mine…it's a great feeling!" Another devoted customer, Amy Guidi, says shopping at Podesto's helped her feel at home when she first moved to Stockton from Orange County in 1999. She quickly fell in love with the market's quaint, familial atmosphere. "I just thought it was the cutest place on earth," Amy says. "I got to know the owners and the sons, and it was like home. If I ever needed anything, they could get it for me. It was a community for me. I would see the same people there as I was making friends in Stockton."
Podesto's has been charming the people of Stockton since it first opened in 1982, after a fire the year before forced the Podesto family to remodel the Don Quick grocery store they operated in Lincoln Center. When they reopened, they decided they wanted to do something new and different, inspired by specialty stores in Sacramento that sold gourmet and hard-to-find items. "We thought, 'Why don't we do an upscale store in Stockton?'" explains Bernie Morgenstern, Podesto's president, who owns and operates the business with his wife, Debbie. "We changed it to my in-laws' family's name and turned it into a more old-fashioned service counter, bakery, and deli."
The new market was a huge hit, and Podesto's Market's popularity has continued to grow ever since. Since first opening, the market has been remodeled three times and has doubled in size, expanding from a 15,000 square foot operation to 30,000 square foot. Customers rave about the store's competitive prices, quality service, meat and seafood selection, and, of course, their famous Dutch crunch rolls. The business also routinely wins San Joaquin Magazine's reader-voted "Best of" categories for its deli sandwiches. The fan favorite? "Probably our tuna salad sandwich on Dutch crunch," Bernie states without hesitation. "People love it. It's a good combination, the tuna and the crunch."
When the pandemic hit Stockton in 2020, many businesses struggled to stay afloat throughout extended lockdowns and the subsequent recession, but Podesto's continued to thrive. When distribution delays caused empty shelves in stores across the country, Bernie, Debbie, and the store's other departmental managers sprang into action, calling different vendors and buying from new places to ensure their store remained as well-stocked as possible. And the community took notice.
"COVID showcased our store," Bernie says. "There were people that never came into our store, but when they were going to their regular neighborhood store and they ran out of toilet paper and paper towels, they came in here looking for that."
"They literally floated Stockton," says Amy. "They were the first people to get hand wipes. They stretched all of their outsources to get what we needed. We knew we could really depend on them."
Of course, fulfilling the needs of the community in such fraught times didn't always come easily. "It's been the most difficult year and a half in 40 years of me being in the grocery business," Bernie shares. "But hopefully there are some positives that come out of it." One of those unexpected positives was how much closer it made the staff—at least metaphorically. While the continued effects of the pandemic mean they're still not hugging, Bernie says the crew shares regular fist bumps, a sign of the strong sense of camaraderie the past year and a half has fostered in them. "My employees have been so loyal and dependable during this past year and a half. It touches my heart, how much they helped us," Bernie expresses.
As Stockton emerges from the pandemic, Bernie says the top priority for Podesto's is to maintain a clean, safe shopping experience for customers. The team is also looking forward to bringing even more specialty items to their shelves and continuing to serve the community for many more years to come. "During the pandemic, we got an opportunity to serve so many new customers from all over Stockton. And it's been fantastic," says Bernie. "We've got a lot of new, loyal customers, probably for life." 
Podesto's Market & Deli
104 Lincoln Center, Stockton
(209) 951-0234
PodestosMarket.com