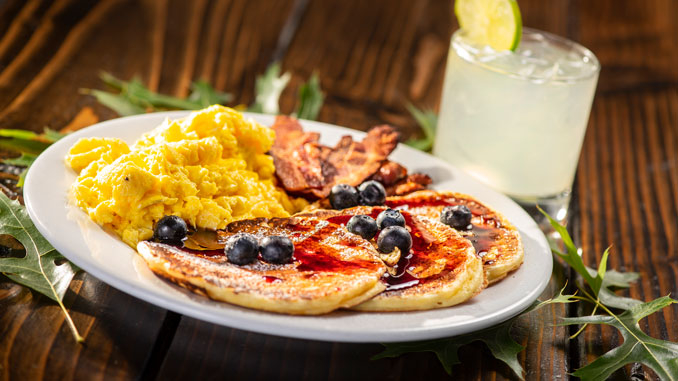 In 2019, our local German-inspired eatery launched a brunch menu to fill an obvious need in the community—there was not enough brunch to go around. "The brunch spots were kind of limited," Marcus DeAnda, owner of West Oak Nosh, says. However, when shutdown happened, he made the tough decision to scale back his menu, including cutting brunch offerings completely. With restrictions lifted, however, Marcus has since been able to put brunch back on the table, with some drool-worthy menu additions that expand upon the original brunch offerings. "People are enjoying the entire lineup," Marcus says.
When it came to reimagining the "unique Nosh-style brunch" (Marcus' words), the team looked to its customers for inspiration. Instead of focusing on abstract items that didn't garner as much interest, Marcus leaned into what he knew would excite diners. The result is nine brunch items, two kid's plates, and plenty of opportunities to customize. "It's a fun thing for back of the house to have a different style of food [to cook]," Marcus says.
There is no true standout on the menu—Marcus says every dish sells about as good as the next—but there are some menu items that caught our eye. The Lemon Ricotta Pancake Combo sounds like dessert. The ricotta creates a stack of moist cakes that is both light and refreshing thanks to the citrus influence of the lemon zest, and all three pancakes are topped with powdered sugar, fresh blueberries, and served with a blueberry-maple syrup. Plus, as a combo, it comes with bacon and two eggs any style, so you know you won't go hungry.
If you're more of a savory breakfast person, the Sausage Benedict will have you captivated. Here, the German influence is obvious, a semi-traditional eggs benedict served with your choice of fresh sausage (made in-house weekly) instead of Canadian bacon. Another staple with a twist is the Schnitzel & Waffle, a clever reimagining of the popular chicken and waffles dish offered on many brunch menus. Here, you get the sweet and the savory, a decadent Belgian waffle topped with whipped cream, caramel, and powdered sugar before a pork schnitzel is sliced over the top. Diners may recognize the Breakfast Burrito (pssst San Joaquin Magazine covered it in January's Boozy Breakfast feature). This breakfast staple marked West Oak Nosh's original reinterest in bringing back brunch. Served in 2020, the breakfast burrito popped up during limited windows as the only "breakfast" item left on the shortened menu.
While food certainly takes center stage, brunch drinks are important, too. For those who want to kick start their day—and get on the same energy level as the cooks in the kitchen, buzzing early on Sunday mornings—French-press coffee is a standout. Marcus did away with the pots of coffee that tend to sit around. "Everybody is getting their own fresh cups of coffee," he says. And if it's a cocktail you want, we've long raved about West Oak Nosh's Bloody Mary. Mimosas are another staple that do well on Sundays. But, if you want to stay true to the menu's roots in German culture, Marcus recommends a Brass Monkey Boot, a 1-liter glass boot filled with Bo Pils, a Bohemian-style pilsner from East Brother Beer Company, and topped with a float of OJ. The eatery's ever-popular White Linen gets a remix  to the V White Linen to pair with brunch, as well, swapping out the gin for a vodka base. This sipper is a great companion to the Loaded Avocado Toast, balancing the strong and salty flavors of sourdough, fried eggs, bacon, pickled onions, goat cheese, and chipotle and roasted garlic aioli.
While the Sunday morning menu is different, much about brunch at Nosh is the same. For example, you're guaranteed the same fun atmosphere, quick service, and hot food locals have come to expect. Plus, outdoor dining that allows for ample people watching in Lodi's bustling downtown. The menu, even comes from the same roots—with everything made using the very ingredients the kitchen keeps stocked for lunch and dinner. "Our team is up and alive," Marcus says. And, they are ready to serve you.
"It's a fun thing for back of the house to have a different style of food [to cook]," Marcus DeAnda, Owner
Call-Out Box
Brunch is served on Sundays, 10 AM-2 PM
West Oak Nosh
10 W. Oak St., Lodi
(209) 224-8157