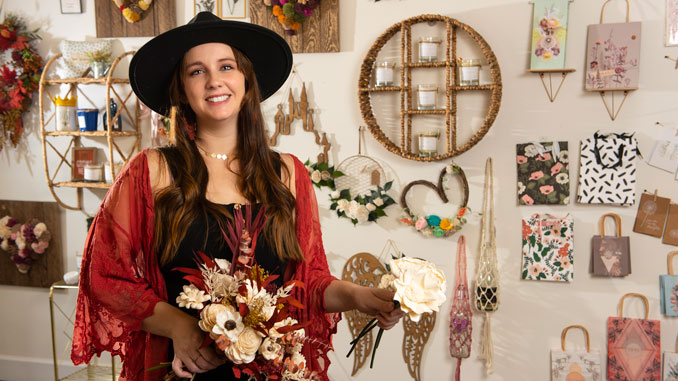 With the notoriously short lifespan of fresh flowers, we tend to save those big bouquets for birthdays and other special occasions—and then watch as they wilt day by day. But thanks to Sola Wood flowers, you can bring life to your living room, brighten the bedroom, and add color to the kitchen with faux flowers that will never fade.
Candice Becerra, owner of Endless Blooms in Lodi, started making Sola Wood flowers when she got married three years ago. What started as a way to preserve her wedding bouquet turned into a passion and she now crafts custom bouquets and home décor.
"Sola Wood flowers are great for home décor because it's a way to add beautiful and custom florals to your home that don't need to be replaced," she says. "I love making custom, color-matched décor for people's homes."
Unlike other fake flowers that have that plastic sheen or fray as the fabric ages, Sola Wood flowers look ultra-realistic and, according to Candice, they require very little upkeep. "Maybe just a light dusting with an air can every so often," she says.
Candice makes both year-round and seasonal pieces. Whether you're looking to add a pop to your gallery wall with a hanging plant, a standalone centerpiece, or a welcoming wreath for the front door, she's got you covered and she's always adding new designs and color schemes.
Have something specific in mind? Candice also takes custom orders.   
Pretty as a flower
For those who want to add that extra personal touch to their forever flowers, Candice offers several workshops a month. She is constantly introducing new projects for the classes, often walking you step by step through trendy seasonal projects (like pumpkin arrangements, holiday wreaths, or Christmas door hangers) or another original décor project. 
Endless Blooms @ Wood & Wick
100 W. Pine St., Lodi
@endlessbloomsbycandice