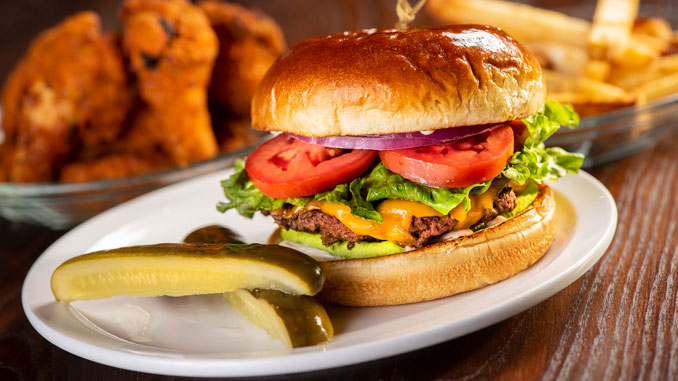 At Michael's New York Style Pizza, there is one menu item that reigns supreme, but while pizza is king, it's not the only dish locals go gaga over at Michael's. In an effort to elevate the pizzeria into a late night destination, owner Gina Calder took a stab at revamping the menu. The unveiling of late night bites in the later hours of the night enhances the after-hours experience and highlights bar food that compliments the newly expanded bar and drink offerings. "We make the majority of the menu here," Gina says. "And we have been creative with our appetizer menu as well as adding pizza by the slice for late night dining."
A few standout items include house-made jalapeno poppers, burgers, and pulled pork sliders. "This menu is different because it specifically focuses on the bar and the food coming out of the café," Gina says. That means, in addition to bringing the family in for a pie, Michael's is also now a go-to destination for late night drinks and after-drinking snacks, enhancing the new cocktail menu and expanded beer and wine offerings.
For those looking to come in for a late dinner or just grab a few cocktails, the bar is open until 10 PM every night. However, Gina says if the business is there, they won't be sticklers on the time. "We will always stay open for those late night parties and diners," she says. And with football on the horizon, Gina only plans to get busier. "We have 12 televisions for all of the sporting events and everyone will be able to watch their favorite teams or teams from any angle." To accommodate, Michael's bar will open at 10 AM on weekends. (Currently it is open from 2-10 PM daily).
Gina's Picks
Cocktail and food pairings from the late night menu
The Hipster pairs well with any of the pizzas
The Duke pairs well with the pulled pork sandwich
The Aloha Breeze pairs well with the chicken wings
Michael's New York Style Pizza
2300 W. Alpine Ave., Stockton
(209) 462-6668
MichaelsPizzaCafe.com