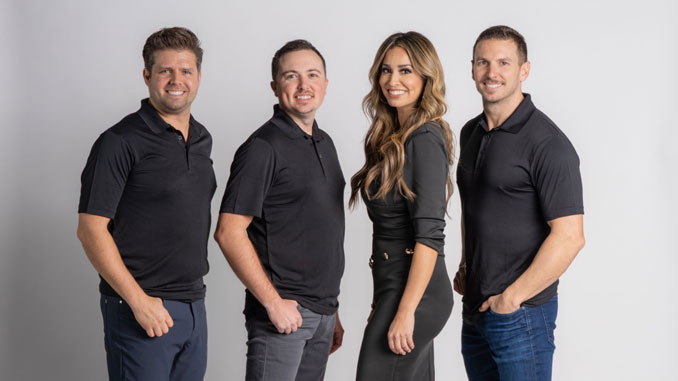 You'll be hard pressed to find a more exuberant group of owners than those behind California Seltzer Company: Charlie Lippert, Veronica Camp, Joe Ehlers, and Drew Enos. This visionary team of four have developed a unique drinking experience with fun at the forefront and are gearing up to open California's first seltzer later this year.
It all started during the summer of 2020 brainstorming for an upcoming event for Five Window Beer Co. (a craft brewery that serves up premium beer as well as the California Seltzer Company seltzers owned by Joe and Charlie). Unfortunately, the event was cancelled due to the pandemic. "I had made some seltzer slushies for our team and it occurred to us – let's try making spiked lemonade from the lemons we've been given," Veronica explains. From there, pure magic happened.
Cashing in on the already popular sparkling seltzer trend of refreshing, delicious, and fun fizzy adult beverages, it was a no-brainer to dive into a new market. The group got to work making the hard seltzers with 4.5% alcohol content. Veronica experimented with various flavor profiles, eventually crafting their five current flavors: Pineapple Lemon, Berry Rush, Blood Orange, Hibiscus Lime, and their current seasonal offering, Pink Lemonade. Charlie enjoys the Pink Lemonade, Drew and Joe are all about the Blood Orange, and Veronica is partial to Pineapple Lemon but admits that Berry Rush holds a special place in her heart. "I am a former 49ers Gold Rush cheerleader," Veronica explains, "and when I was creating these new flavors and having my friends try them, one of my previous teammates said we should give that flavor a name with a nod to our team. Berry Rush fit perfectly!"
Their seltzers are currently offered in over 100 locations all listed at  californiaseltzerco.com. Not only is the team behind California Seltzer Company an incredibly fun group, but they also recognize those who have helped them get where they are. "We want to thank the community for supporting us in the way it has. We've grown rapidly in the last six months due to public support, our families, and our friends. Thank you to everyone for helping us get here," the team says.
Coming Soon
Be on the lookout late summer 2021 for the grand opening of the first Seltzery in the state, California Seltzer Company @ Lover's Point in Pacific Grove.