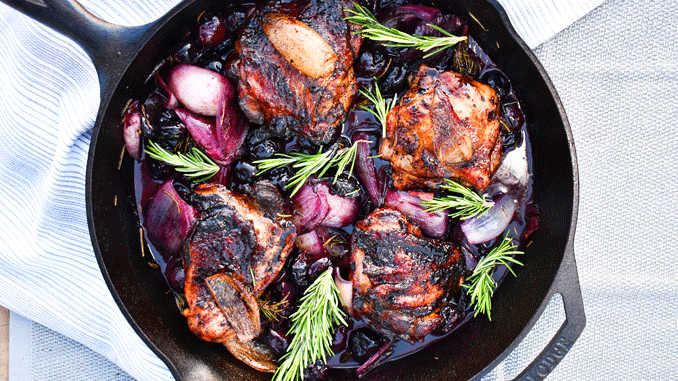 The adage, "April Showers bring May flowers," doesn't quite do the month of May justice. While flowers are certainly something to look forward to, there is so much more to get us hyped each spring here in SJ County, with one being spring's bounty of fresh berries bursting onto the market scene each May. From sweet and ripe strawberries to the small but mighty blueberry and all the way to our reigning queen of crops cherries, one thing is certain; we can't get enough of berry season. So, instead of making the other berries feel like we've chosen a favorite child, here at SJ Mag, we thought we'd share some of our favorite recipes utilizing an assortment of berries. Grab them at your local farmer's market, at your neighborhood farm stand, or even your grocer.
Herbed Cherry Chicken
Ingredients
6 chicken thighs
1 tbsp. kosher salt
¼ c. Calivirgin Balsamic Vinegar
2 tbsp. honey
½ c. olive oil
1 c. minced shallots 
½ c. cherry pepper jelly
4 to 6 fresh rosemary sprigs 
2 c. cherries, local, pitted
salt to taste
¼ tsp. black pepper
Directions
Pat the chicken thighs dry and season with salt. Whisk together balsamic, honey, olive oil, shallots, cherry pepper jelly, salt, and pepper. Place the chicken in a re-sealable plastic bag and pour in the marinade. Let sit at least 30 minutes or overnight in the refrigerator. Take out 30 minutes before placing in hot oven. Meanwhile, pit the cherries and set aside. Preheat oven to 400 degrees F. Place chicken thighs skin side up in a cast iron skillet. Nestle the rosemary sprigs in between the chicken and top with the pitted cherries, pushing some to the bottom of the pan. Pour the marinade over the chicken and place in oven. Rotate every 10-12 minutes up to 45 minutes. Increase the temperature to 450 degrees and cook an additional ten minutes, until skin is crispy. Season with high quality sea salt and fresh-ground pepper.  
---
Dutch Babies with Strawberry Compote
Ingredients
3 large eggs, room temperature
½ c. all-purpose flour
½ c. whole milk
2 tbsp. sugar, plus ¼ c. for strawberry puree
½ tsp. vanilla extract
¼ tsp. salt
3 tbsp. unsalted butter
2 c. fresh strawberries
2 tbsp. lemon juice
Directions
Preheat oven to 425 degrees. Make strawberry sauce by adding strawberries, lemon juice, and sugar in a small saucepan. Cook over medium heat until strawberries begin to break down. Pour into a large measuring cup or gravy boat, cool, and set aside. Combine eggs, flour, milk, 2 tablespoons sugar, and vanilla until smooth in a blender. Place butter in a heavy 10-inch skillet or cast-iron skillet. Once butter is melted, pour batter into pan, and return to the oven for 20 minutes until the pancake is puffy and golden. Remove pancake and serve immediately with fresh strawberry puree or maple syrup and a combination of your favorite berries.
---
Blueberry Thyme Shrub
Ingredients
4 c. fresh blueberries
2 c. apple cider vinegar
2 c. sugar
4 fresh thyme sprigs
Directions
Place the blueberries in a non-metallic container. Add vinegar. Cover tightly and refrigerate for at least three days. Pour the vinegar marinated blueberries into a sieve over a bowl and press berries to release their juice. Discard leftover solids. Pour blueberry liquid into a medium saucepan, add sugar, and boil for 3 minutes. Remove from heat and let cool. Pour liquid into a container and chill in the refrigerator until ready to use.
Shrub Cocktail
1 oz. vodka
1 oz. blueberry shrub
2 oz. club soda
Pour ingredients over ice and garnish with a thyme sprig.