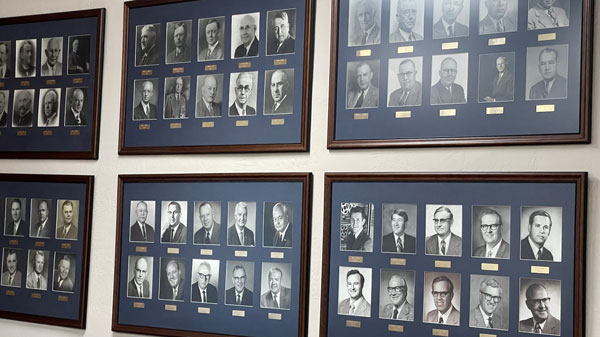 In 2021 the Stockton Chamber achieved a noteworthy feat—a 120 year anniversary of the Chamber's inception in 1901. The accomplishment came without fanfare, but there is no doubt the impact of the Chamber is worth celebrating today.
For twelve decades the entity has acted as the voice for business in the region, staying true to its mission to aggressively develop and promote an economically vibrant business community. "The 120-year-old Greater Stockton Chamber of Commerce has historically been at the forefront of scores of important issues that have had a positive impact on the business community and the community as a whole," says CEO Doug Wilhoit, a fifth generation Stocktonian who has served the chamber since 1999. "Your Chamber has never shied away from taking a stand for the benefit of all and will forevermore pledge to do so."
The nonprofit business is celebrating its staying power with an active board of directors led by 2020-21 Chamber President Chris Kay (Siegfried Engineering) and a dedicated professional staff. Over the years it has racked up a long list of achievements that speak to the substantial impact of the entity. In addition to its commitment to sustainability—The Stockton Chamber is the only Chamber in the world to be inducted into the Green Hall of Fame—and celebrating its recognition as the most diverse city in the nation, let's take a look back at some of the Chamber's hallmark accomplishments.
Bringing University of the Pacific (previously known as College of the Pacific) to Stockton from San Jose in 1924.
Creating the first deep water port in California with campaigns to develop the Port of Stockton in the 1920s and 1930s. In 1933 it became a reality.
The development and implementation of award-winning programs to include The Stockton Chamber Apprenticeship Program (SCAP), which has won numerous awards since its inception in 2000, Leadership Stockton, one of the oldest adult community leadership programs west of the Rockies that began in 1980, and The Stockton Chamber's ATHENA Awards program, one of the longest-running ATHENA programs in the nation honoring local women since 1986. 
Stockton Chamber
445 W. Weber Ave., #220, Stockton
(209) 547-2770
StocktonChamber.org