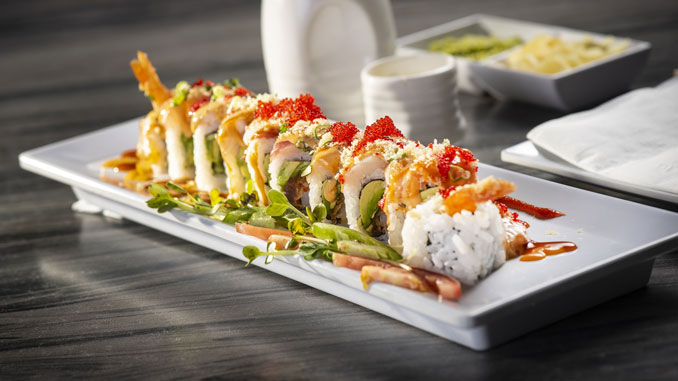 When it comes to Japanese cuisine, sushi is usually the first thing to come to mind. But thanks to a handful of gourmet eateries in the 209, fellow foodies can try a taste of Japan right here in our own backyard. From creative and colorful works of sushi art to sizzling ramen soups and bento boxes, there is something for even the pickiest eater. Join us as we explore the flavorful, fresh cuisine of the Japanese culture. So grab your chopsticks, bring your appetite, and dig in with us on our tour of Japanese cuisine in San Joaquin County!
Cocoro Japanese Bistro and Sushi Bar
2105 W. Pacific Ave. Stockton, (209) 565-5890
This trendy Miracle Mile hot spot is so popular, it can be difficult to get a table. They pump out delicious traditional Japanese dishes alongside modernized versions featuring seasonal, local products. Start with the Salmon Lomi Lomi, an appetizer teeming with flavors of ponzu, citrus, chili oil, and green onion. If you are feeling especially hungry, opt to add the spicy tuna poke, a delightful plate of tuna, seaweed salad, pickled cucumber, red onion, furikake, pine nuts, sesame oil, and cilantro. And when it comes to the main course, you MUST give their Spicy Crunchy Scallop roll a try. Loaded with spicy tuna, avocado, and tempura asparagus, tempura scallops, tobiko, tomato, and house sauces, delicious and packed with flavor.
Known For: The Cocoro Roll, a complex yet simple combination of tempura shrimp, avocado with eel, spicy tuna, and crunchy walnuts.
Kyodai
5779 Pacific Ave., Stockton, (209) 932-9483, KyodaiRestaurant.com
This sushi spot in Stockton's Stone Creek Village delivers on flavor and flair. Start with their tantalizing tuna tartare and Omakase but be sure to save room for more. If sushi is what you are craving, consider the Red Boy roll that's big on flavor and brings the heat. Stuffed with shrimp tempura, spicy tuna, and cucumbers, it's then topped with avocado, seared tuna, tempura bits, habanero masago, and micro greens. The icing on the cake? The trifecta of sauces: hot sauce, teriyaki, and Ziggy. If you are feeling adventurous, try the Stockton roll. Kyodai pairs spicy tuna with thinly sliced apples and lemon with asparagus, avocado, escolar, fried leeks, and arare.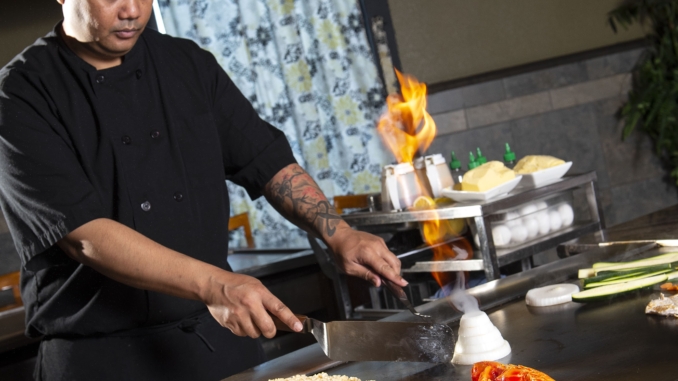 Domo Japanese Sushi Grill and Bar
300 Lincoln Center, Stockton, (209) 451-3654
This lively 8,000 square foot restaurant located in Lincoln Center gives foodies tasty Japanese cuisine in a theater like setting. With ten teppan tables for dinner with a show, chefs customize delicious Japanese entrees on a flat top grill for your enjoyment. Start your meal with the fresh and flavorful spicy grilled edamame served with spicy sriracha, vegetable oil, and garlic salt. But don't stop there. Each teppan meal comes with soup, salad, vegetables, and steamed rice. In other words, it's a feast for the senses. Our favorite is the Chef's choice steak, chicken, and sea scallops, which are seared to perfection and flambeed with butter and a hint of lemon. If you want to take it to the next level, upgrade to the garlic fried rice, because it's just too darn good to pass up.
Known for: a killer Bento Box lunch complete with chicken katsu, salad, steamed rice, California roll, edamame, and seasonal fruit.
Hazumi
550 S. Cherokee Ln., Lodi, (209) 334-9988, HazumiSushi.com
This unassuming sushi hotspot in Lodi serves up some seriously good sushi. With a friendly atmosphere, unique sushi rolls, and sizzling soups, Hazumi wins the award for underrated sushi. Longtime favorite the Lemon Tem is one of the best rolls in all of the 209. Loaded with shrimp tempura, crab, cucumber, and cilantro, and topped with California avocado, lemon slices, tobiko, green onion, and sauce. The Dynamite is delicious, too. Stuffed with spicy crab, avocado, and shrimp tempura, and layered with spicy tuna, sesame seeds, green onion, and sauce, this behemoth of a roll is then baked to perfection. You can also opt for their bento boxes, sashimi offerings, udon bowls, or gyoza dumplings.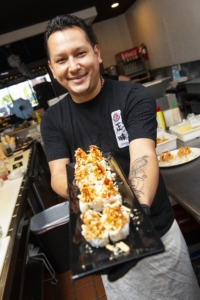 Sho Mi Restaurant
419 Lincoln Center, Stockton, (209) 951-3525
At ShoMi Restaurant, guests can expect flavorful Japanese dishes without any pretention. The casual eatery is one of those spots where you can walk up to the window, order your food, find a comfy spot to settle in, and savor traditional Japanese flavors. Start things off with an imported Japanese beer or Sake and take a seat. The ShoMi Spicy Pork Belly Ramen is worth the wait. The broth is an umami bomb of flavors that bursts with every bite, but it's the soft-boiled egg and pork belly that really tickles our fancy. Loaded with noodles, scallion, and spicy miso—you do not want to miss out on this bowl of goodness. But don't stop there. With everything from Donburi dishes to sashimi and more, we love to order the Loco Amor sushi roll because its massive and monumental in flavor. Loaded with fresh crab meat, shrimp, cucumber, spicy tuna, fried scallops, and topped with crispy onion rings, its seriously salacious.
Known for: their Fuji Volcano special roll of tempura shrimp and cucumber topped with heaping mounds of spicy, crunchy, crab meat!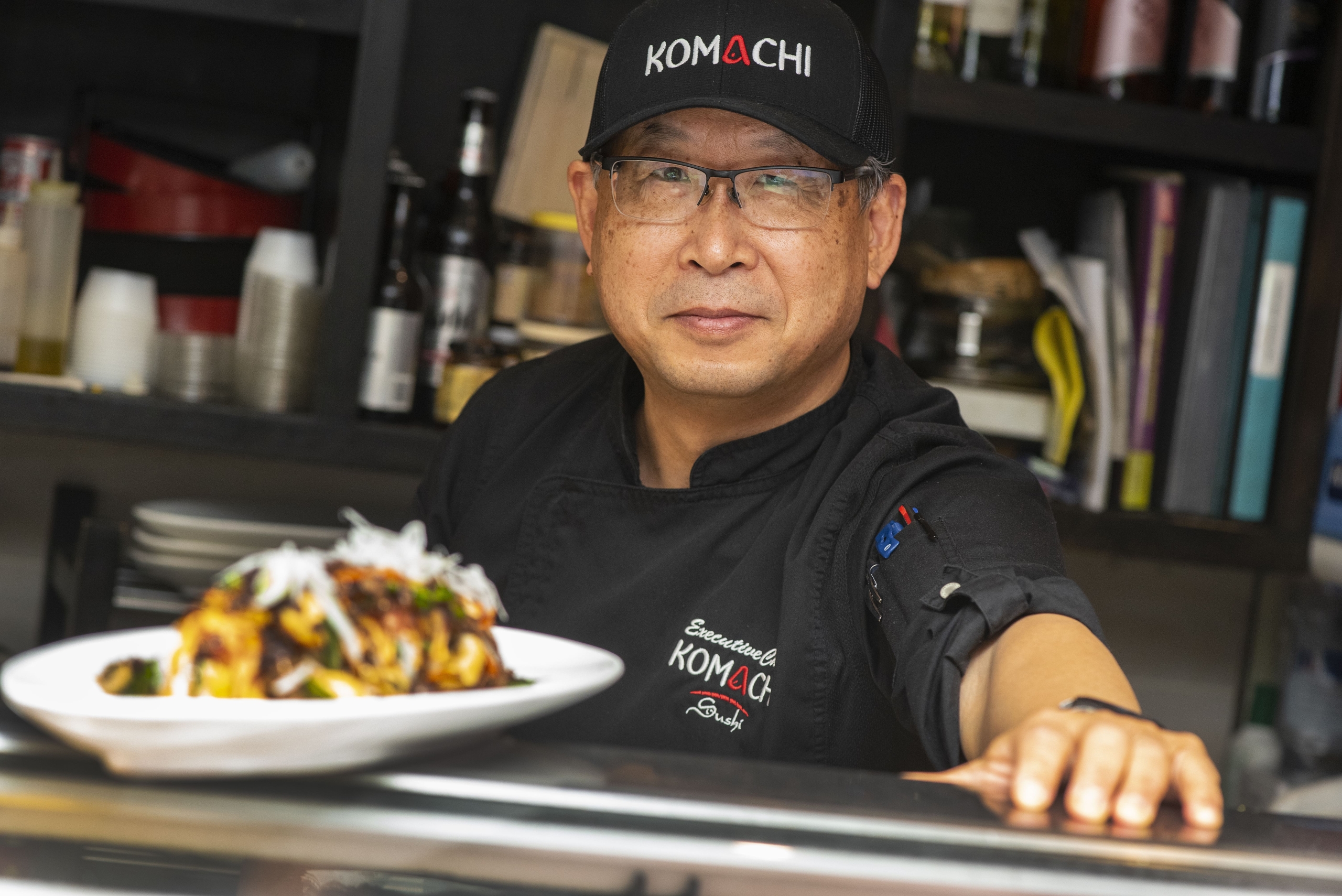 Komachi Sushi
307 S. Lwr. Sacramento Rd. Lodi, (209) 334-3131
If you love sushi, chances are you are a frequent flier at Komachi Sushi. The ever-popular Lodi restaurant is the hottest ticket in town with lines often an hour long during peak dining hours. But what you may not realize is that the husband-and-wife duo of Sunny and Tim Chang are notorious for both their fresh sushi works of art as well as traditional Japanese dishes. WHEN THEY OPENED IN 2013, IT WAS THE VISION OF Sunny Chang to feed anyone and everyone who wanted a taste of what authentic Japanese home cooking tastes like. With a menu a mile long, you simply can't go wrong with any dish. But alas, we do have some tried and true favorites! We always start with the chicken karaage, a crispy, crunchy take on the historical dish that is great for both adults and children alike. In the mood for something fresh? Opt for the tangy albacore sashimi appetizer. The melt in your mouth albacore is plated in a ponzu citrus sauce that marries beautifully with the thin slices of spicy jalapenos.  If its sushi you want, the sky is the limit. But our absolute favorite is the Extinguisher roll. Layers of flavor are combined in this roll of panko shrimp, spicy crab salad, and avocado. It's then topped with spicy tuna, green onion, tobiko, roasted almonds and torched for a smoky, decadent finish! Can you say yum? And don't forget to wash it all down with their extensive list of imported Japanese Sake. Don't know which one to order? Just ask Sunny.
Known for: the satisfying sizzling spicy chicken plate with sliced fresh jalapenos and onion, served on a hot plate with rice, miso soup, and a hearty salad.
Shirasoni
3249 W. Hammer Ln., Stockton, (209) 473-2525, ShirasoniRestaurant.com
Shirsaoni 2 Japanese Seafood
1420 W. Kettleman Ln., Lodi, (209) 366-2525
Double the locations for double the fun. The 209's longest running Teppan-style restaurant has locations in both Stockton and Lodi. You can expect an authentic Japanese-themed dinner complete with a family atmosphere and tons of sushi to choose from. Take the family out for a fun-filled, theater-style dinner, complete with flaming onions and sizzling Japanese dishes. We can't help but opt for the savory combination of scallops and steak with a ginger dipping sauce. But if chicken is more your style, that's delicious here, too.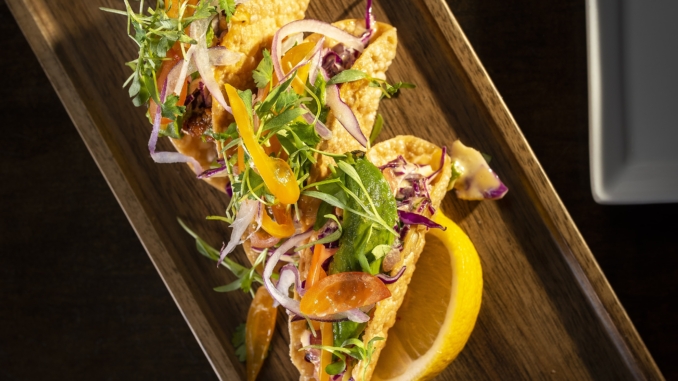 M Sushi Bistro
212 S. School Street, Lodi, (209) 400-7505
When M Sushi Bistro opened its doors in 201x, foodies rejoiced! The sleek and sophisticated ambiance at M Sushi combined with Chef Minh's traditional Japanese dishes with a twist, make it a must. With a serious selection of Japanese imported beers and sake, you might want to start your meal with a sip of Funaguchi, a fresh sake that is not subjected to pasteurization or blending. You can't go wrong with the taco trio of tuna, Hamachi, and salmon, all placed perfectly in a crispy wonton taco shell and topped with cabbage, green onion, micro cilantro, avocado puree, cherry tomatoes, and a sweet and spicy aioli! But if you happen to be dining on a day Chef has Blue Fin Kama on hand, you must give this rare bite a try too. Looking to splurge for a special occasion? We highly suggest ordering up the deluxe sashimi moriawase. A work of art that is almost too pretty to eat. And the best part? They serve up their sashimi with a side of preserved wasabi. The real deal when it comes to wasabi, the fermented green stems make for a sinus cleansing sensation that is so worth the heat!
Known for: the spicy miso ramen with pork belly, poached egg, chicken thighs, and charred bok choy. The broth, fresh bok choy, and melt in your mouth pork belly take this ramen to the next level! 
Shangri-La Asian Bistro
203 S. School St., Lodi, (209) 366-0539, ShangriLaAsianBistro.com
It's not typical to hit up a sushi spot that also serves traditional Chinese dishes and cocktails. But that's exactly what you'll get at Shangri-La. Downtown Lodi's eclectic eatery offers everything from traditional Japanese dishes to Chinese cuisine. Wash it down with their Sea Breeze cocktail if you're looking to celebrate. Looking for the typical sushi eats? Shangri-La delivers big time with the Mom roll—spicy tuna, shrimp tempura, avocado, maguro, shiro maguro, and Tai, lightly torched for a smoky, savory sensation, topped off with a tasty garlic mayo, masago, and two—yes two—decadent, house sauces!
Mikasa Asian Bistro and Sushi Bar
2610 S. Tracy Blvd. #110, Tracy, (209) 830-8288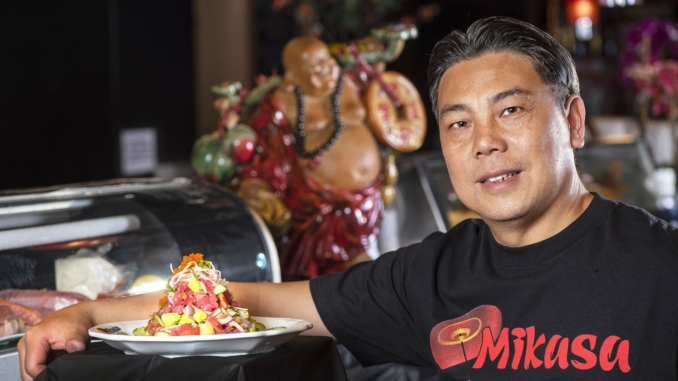 Mikasa Japanese Bistro
15138 S. Harlan Rd. Lathrop, (209) 858-1818
Lucky for us, Mikasa has two locations to get our fill of traditional Japanese cuisine. No matter where you are in the 209…Mikasa is a must. Kick off your meal with their bright and flavorful sashimi salad. A whopping plate of fresh sashimi and mixed greens tossed with a bright ponzu dressing, it will have you feeling like you are on an island eating the sashimi straight from the ocean. Or if you are trying to sneak in more veggies, choose their grilled eggplant that is cooked to perfection in a mouth-watering sweet miso sauce. While we absolutely adore the sushi rolls at Mikasa, we think you should order up their melt in your mouth sashimi because it doesn't get any better than this. Choose from the tender Maguro, Shiro Maguro, Hamachi or Sake (salmon). Either way, your taste buds will dance with joy. Looking for something with a little more weight? Go for the pork katsu cutlet served with salad and rice. The lightly breaded boneless pork chop is loaded with flavor and is as juicy as it can be. And if you are going to order up a sushi roll, opt for the DCS roll of fried shrimp, crab salad, spicy tuna, avocado, fried scallop, tempura asparagus, avocado, and tobiko. Seriously, this roll has it ALL!
Known for: the Twins II Roll is one beautiful roll that tastes as good as it looks. Tempura shrimp and spicy tuna top assorted fish and garnished with red onion, cucumber, cilantro, garlic chips, tomato, walnuts, jalapenos and tobiko.
Matsuyama Japanese Restaurant
235 Lakewood Mall, Lodi, (209) 368-3888
4755 Quail Lakes Dr., Stockton, (209) 952-0688
835 S. Tracy Blvd., Tracy, (209) 836-5888
MatsyumaBestSushi.com
If you grew up in the 209, chances are Matsuyama was your first bite of sushi. The casual eatery is beloved by locals and a must stop for college students returning home for a taste of their childhood. Bento boxes are by far the most popular item on the menu, but do not leave without ordering two favorite rolls: the Volcano and Crazy Monkey. The volcano is topped with crispy tempura bits for the perfect crunchy addition and the crazy monkey is a crowd-pleaser.