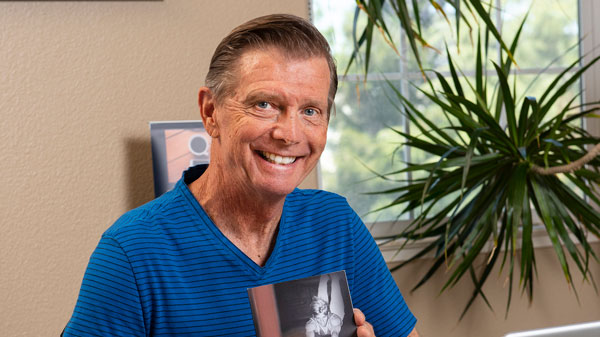 In 1972, when Gary Buckmann was a 20-year-old gymnast at Chico State University, he had a devastating accident on the long horse vault. Landing from eight-and-a-half feet in the air onto his head, Gary suffered a broken neck that left him paralyzed. After four weeks in traction, doctors told him he wouldn't recover and he'd never walk again, but Gary didn't accept that diagnosis. "That totally devastated me," but Gary remembers saying, "No that's not the plan Doc."
 Within two weeks of receiving that devastating news, Gary regained the use of his left leg and started taking steps. Two weeks later, arms still paralyzed, Doctors discharged him saying that there was nothing more they could do for him. Gary continued using visualization and mind over matter techniques. It took three years before Gary was completely healed from his accident and back competing at the college level. He even returned to do the same vault he had injured himself on, just to prove he could do it.
Gary went on to a coaching career with Olympic hopefuls, working with gymnasts at his state-of-the-art facility Diablo Gymnastics School in San Ramon. From 1981-1984, Gary was a member of the USA coaching staff for USA gymnastics. During that time he worked with five future Olympic gold medalists—MaryLou Retton, taking her on her first international trip when she was 12, Peter Vidmar, Mitch Gaylord, and Tim Daggett, and Brian Boitano (who he taught how to do a back flip so he could do it on the ice). Gary even travelled with Peter, Mitch, and Tim on the ABC Wide World Of Sports USA Versus The World Tour to Tokyo.
Part of Gary's coaching career included a program he developed focused on total awareness for the student athlete. The goal was to train his athletes to avoid potentially career-ending traumatic injuries like the one Gary had sustained by changing their approach to the sport and becoming more aware of their bodies and surroundings. It's a philosophy he implemented at both the national level and the international level as a gymnastics coach.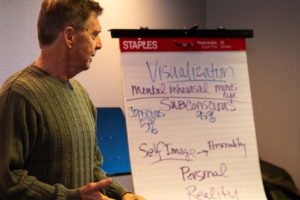 In 1984, frustrated with the politics of elite gymnastics Gary retired from the elite scene. He sold the gym in 1995 and went back to school to begin his master's degree, eventually trying on a few different occupations. In 2000 he returned to his passion—coaching gymnastics, at gyms throughout the region in Milpitas, Modesto, and Livermore. He even found himself back at Diablo, when his daughter ran the gym.
In 2012, his wife encouraged him to begin public speaking. Much of his work as an inspirational speaker focuses on sharing his story of overcoming such an injury and harnessing the power of his mind to heal his body and spirit. "I just want to make people aware that they are capable of much more than they believe," Gary says. "You can do the so-called impossible if you believe in yourself and you're leading with your soul and using the tremendous power of your mind." As a motivational speaker and consultant, Gary helps people from student athletes to business executives achieve championship levels of success and reach their greatest potential, utilizing the power of their minds. Other topics he covers include The Coach's Blueprint (a guide to building championship teams), Stick the Landing! (melding creative thinking and a solutions-oriented mindset to develop awareness, consistency, discipline, accuracy, and efficiency), and How To Reach Your Potential — Purpose, Perception, Practice (an individual-focused seminar on meeting your goals).
Gary recently wrote a book on the topic. Titled Broken to Brilliant: Overcome Obstacles to Create Opportunities and Achieve the Impossible, Gary's book, a memoir tells the story of how he recovered from a broken neck and being paralyzed to not only return to normal life, but to compete as a collegiate athlete again. The memoir also dives into his childhood, connecting the dots of Gary's life. While the story is inspiring for all who read it, Gary says it was therapeutic to write. "In hindsight I realized life happens for us, not to us," Gary says. And when he realized that, his new outlook on life began.
Learn More:
(925) 399-2649
GaryBuckmann.com
BrokenToBrilliant.com