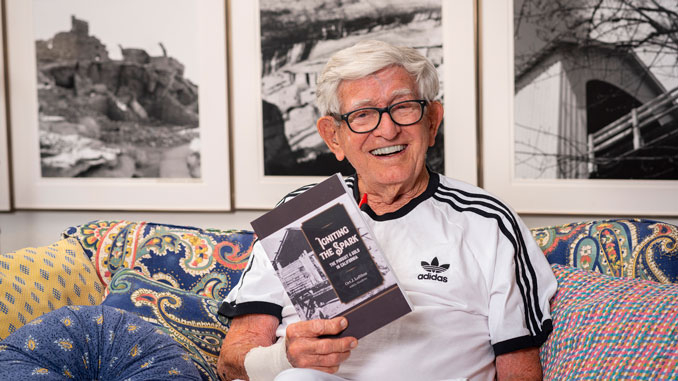 When you talk with Ort, you can hear him smiling. At 95 years old, he has seen and done much for the community of Stockton. A WWII veteran, trustee for local schools, and now an author, Ort will happily tell you about the book he wrote, Igniting the Spark, Pursuit of Gold in California, or about his hobby of flying glider planes. (He still holds a record in Paris, France for flying his glider at the unusually high altitude of 20,000 feet!)
We sat down with Ort, who calls himself "Mr. Lucky" because of the amazing life he has been fortunate enough to build in Stockton, to chat about his book, Stockton, and the wisdom he has to share with the world.
Q: I read that you moved to Stockton to become a radio station manager, is that correct?
A: Yes. I ran, and eventually owned, two stations in town, Lofthus' KJOY and KJAX in the 1980s. I also developed a cable company in Stockton, which was a lot of fun and quite a big investment.
Q: What about Stockton made you decide to stay?
A: I became very involved in the community. If I could describe my world in Stockton, I'd say I'm very lucky – Mr. Lucky, in fact! I had four children, all of whom are now adults who have stayed in Stockton, and I have many grandchildren. I have an awful lot of good friends.
Q: How would you say that Stockton has changed?
A: It is a much more sophisticated city due to the fact that it's become an educational center. My kids have all enjoyed either going to schools and/or colleges here, and some of them have even become involved in teaching at those schools.
Q: Your book includes over 100 short stories that were originally one-minute radio spots on Lofthus' KJOY and KJAX in the 1980s. These tell the tales of the miners who lived in Stockton starting in the 1830s. What made you decide to write Igniting the Spark, The Pursuit of Gold in California?
A: The history of gold mining is a thrilling part of this whole area. When I managed the radio stations, I would send my staff to the libraries to search the public historical records in the small villages in the area. They found many, many stories about both success and failure during the gold rush. I used their research to create short, one-minute radio spots. Everything in radio is brief – people are used to tuning in for short stories about finance, sports, happenings within the community… so these one-minute tales about what life was like in the Mother Lode really hit home with listeners! Ratings were huge! Since they were so popular, I decided to write them down and turn it into a book.
Q: Do you have any wisdoms that you'd like to share with the world at 95?
A: Stay healthy! That is a part of it…but here it is: just make good friends. Be good to your good friends. Do good things for them, and it all comes home.