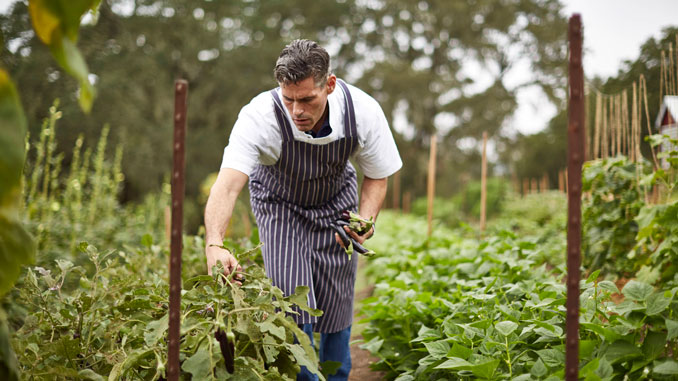 For those who are comfortable traveling, 2020 is the year of the road trip! Instead of loading up onto planes to scout far off destinations, we're staying close to home where our own vehicles offer safer transport from one locale to the next. Part of vacationing close to home is searching out lesser-known destinations, and perhaps ones with slightly smaller crowds. That's how we found ourselves in Healdsburg, soaking up the sunshine and searching for the bottom of our glass of Pinot Noir.
---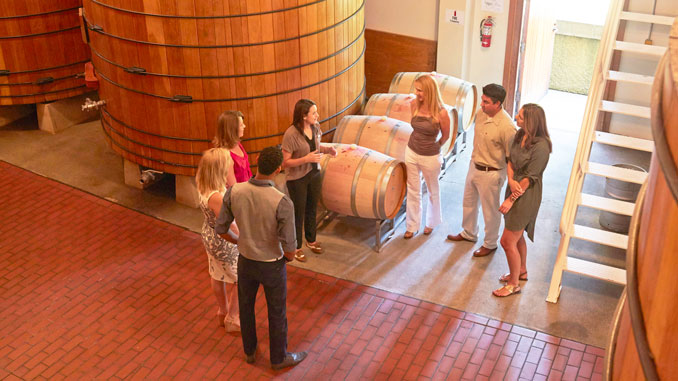 First Stop: Wine.
Healdsburg is about one hour outside of Napa, but it's certainly still within wine country. Driving past the familiar vineyards, you'll soon escape into a tree-lined paradise, a land full of greenery masking the opulent driveways that will lead you into some of the most gorgeous wineries in California. Jordan Vineyard and Winery is one such place. To adhere to social distancing guidelines in place by Gov. Gavin Newsom, the upscale winery is hosting patio services to delight guests. The Paris on the Terrace lunch for example transports diners to France, where romantic music scores the afternoon experience featuring a parade of gourmet dishes made mostly of the on-site finds as well as a sampling of several decadent wines including a true Champagne (created in partnership with a winery in France) and vintage Cabernet Sauvignons. The meals rotate but when we visited we enjoyed salmon topped with roe over a bed of avocado and a shredded carrot salad with carrot puree and raspberry vinaigrette. That was only course one of a multi-course meal that included dessert and a charcuterie board, as well. 1474 Alexander Valley Rd.
After exiting the grounds, it was time to visit some of the area's other wineries. Driving the 15 minutes into town, the Healdsburg Plaza is home to countless options for wine. Simply walking around you're sure to find somewhere that tickles your fancy, but of course, we have suggestions. Thumbprint Cellars offers up gorgeous and complex wines with cheeky descriptions etched right onto the bottle. The artisan winery, due to COVID-19 regulations, provides outdoor seating plus a sampling of snacks to taste with each wine. You can choose from a long list of varietals including the Three Some Red Blend and the 2018 Arousal (you see what they're getting at with these names). 102 Matheson St.
A quick jaunt down the street will bring you into Portalupi Winery, an Italian label serving wines from vineyards across California. A tasting of up to six wines is available (and the fee is waived with a bottle purchase). When we visited, we were escorted to a private patio seat and served accompaniments including pop rock pink chocolate and Cheetos to bring out flavors in the wine. The Cal-Ital wines (made in California with Italian influences) evoke the deep, rich flavors associated with big California reds as well as the more subtle characteristics of matured Italian wines. They even have a few zins they do well, which, coming from the zin capital, is worth tasting and comparing (it's no Lodi, but they do impress). 107 North St.
---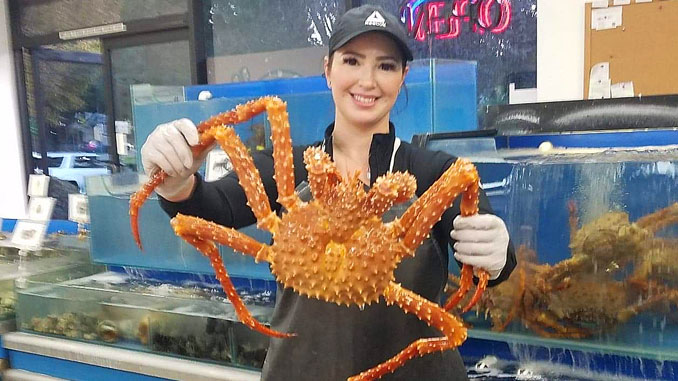 Second Stop: Shop.
There is more than wine to explore in the plaza. After a few glasses, or even between stops, step into the boutiques and browse around. Ooh La Luxe was the first to catch our eye—a clean, bright, Boho-chic boutique exploding with trendy styles and affordable brands of sun dresses, casual tops, detailed bralettes, and more. 326 Healdsburg Ave.
We also stepped into Copperfield's Books, one of those independent bookstores we love to find in small towns. From new releases to kid's finds, the little shop housed everything, but the best feature was handwritten notecard reviews from staff sharing their top picks. Plus, books for sale take up sidewalk space as well so you can browse a small sampling of the shop's interior without walking inside. 104 Matheson St.
On Saturdays, there is also an opportunity to peruse the Healdsburg Farmer's Market, one block from the plaza, across the street from the restaurant The Wurst. Here you can grab fresh produce or curated goods from local vendors as well as something to snack on. The vendors are constantly rotating so there is always something new. We recommend checking out Anna's Seafood, serving up fresh sashimi and other sustainably sourced goods from the sea, Aroma Floral for its collection of dried floral decorations, and Dry Creek Peach if you're trying to get your hands on some truly juicy peaches.
---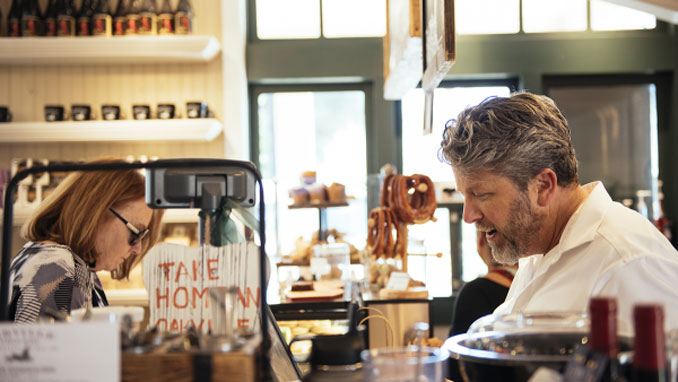 Third Stop: Dine.
The food in Healdsburg something else, and to be honest, you can dine to your heart's desire without ever leaving the plaza.
Dinner at KINsmoke is divine. It is the second location of this BBQ joint in town. But it isn't a hole-in-the-wall. Like all things in the plaza, KINSmoke is refined, serving up downhome comfort food with added class. We definitely recommend bringing your appetite and not skimping on the sides. The mac 'n cheese here is devilishly good (too good to share) and the spiced sweet potato tater tots served with maple dipping sauce are subtly sweet and not so spicy. For dinner, choose from piles of meat and sandwiches exploding with smoked chicken and pulled pork. Or, dabble in the short-but-sweet seafood menu—we ordered up the Wood Grilled Salmon served with mashed potatoes and crispy Brussel sprouts. 304 Center St.
Another worthy dinner spot is Valette. Depending on how COVID rules change, you may be picking up this meal to go, however the restaurant did add outdoor seating beginning August 14. If you opt for pick-up, the crew makes it fun. When you pull up to the side entrance you'll be greeted with a team of smiling, masked faces (well, at least we think they are smiling). While you wait for your food wave to the staff, chat with your waiter, and have a glass of wine poured for you upon pull-up. The food here is truly unmatched, and everyone in town will echo that sentiment. We opted for the Chef's "trust me" menu. The tasting menu doles out several courses to be enjoyed one by one, but each is a surprise to the guest. From a garden salad drizzled with strawberry dressing to an olive-crusted salmon cooked to absolute perfection, every bite was delicious from the dinner rolls to dessert. 344 Center St.
For lunch, Oakville Grocery is a good choice. The merchant finds success as an indoor shop filled with luxury picnic item as well as a full deli. Here you can grab your drinks, your sides, and all of your snacks for a beautiful gourmet lunch. Or, you can order a sandwich or pizza to go. We can't get enough of the chicken gruyere panini, stuffed with chicken, bacon, gruyere cheese, balsamic onions, and dijionaise served on warm artisan bread. Plus, there's wine on tap. If you want to dine in, the outdoor patio opens up into the plaza and features a cute array of tables for seating after you order and pay. 124 W. Matheson St.
If you're craving dessert, we've got a cool suggestion. Wicked Slush comes highly recommended, a combination of slush desserts and soft serve ice cream in mouth-watering flavors. You'll notice we're calling it slush—and there's a reason for that. The owner, Amy, says her desserts are not shaved ice, a slushy, or an Icee. Growing up on the East Coast, they deem this dessert exactly that, slush, or Italian Ice to New Yorkers. Looking for a combo? Go half and half on a soft serve and slush dessert. 13840 Healdsburg Ave.
---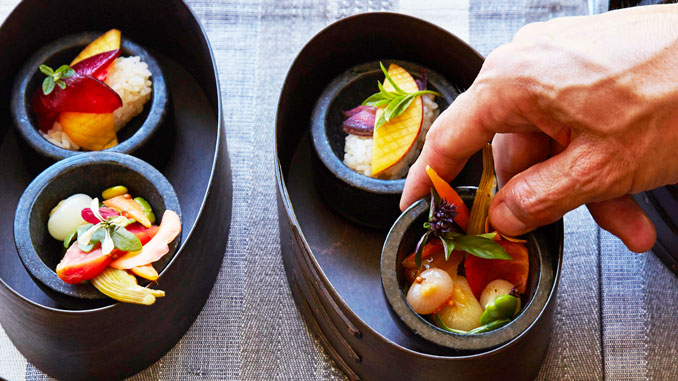 Step 4: Sleep.
Looking for a cozy place to curl up at night? Healdsburg Inn on the Plaza offers the ideal location for those visiting, especially first-timers. Located smack dab in the middle of the plaza, this boutique hotel oozes old-school charm. The quaint hotel hands out actual keys—not cards—to guests, and even gives everyone staying the night a key to the front door (because they lock up at 8 PM). Stay here for quiet luxury. The guestrooms vary but you can expect creature comforts in each ranging from balconies to jetted tubs to in-room fireplaces. Plus, the breakfast here is delicious and served room-service style during COVID.112 Matheson St.
Our other top pick for a night in Healdsburg is just a hop, skip, and a jump away. It's a little outside of the Plaza, but not too far. Dry Creek Inn is a more casual-style hotel but there is a Wine Country Suite that is oh-so-sweet. Step inside to your own little oasis on the top floor, a gorgeous farmhouse-style abode with a kitchen featuring a farmhouse sink, living room, bedroom, and decadent bath. Every inch of the suite is gorgeously appointed, featuring cool extras like a TV that pops up from the foot of the bed with the strike of a button. We're still having dreams about this cozy escape. And while some of the amenities are off limits due to COVID, last we knew the pool was open to guests. 198 Dry Creek Rd.