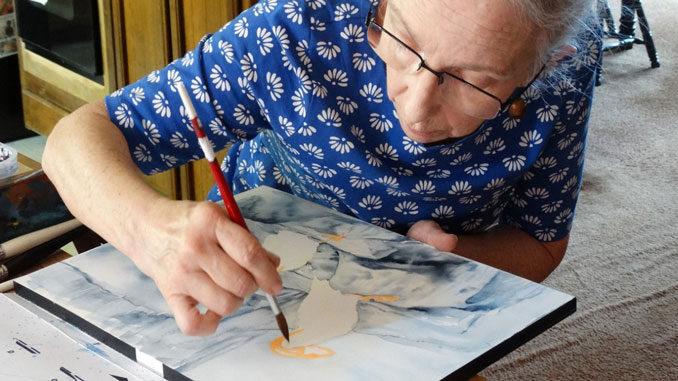 Creativity grows in the Valley and for San Joaquin County's watercolor artists, there is no shortage of inspiration.
Patti Kennedy, who has been teaching art with programs like Artists in Schools for nearly two decades, shows her work at the Lodi Community Art Center.  "I don't know if it's because we live in this area that we all tend to focus on natural things, but water colors tend to work very representationally like with landscapes," she says not only of her work, which often features birds and water, but also of the other artists who show their work at the Lodi Community Art Center. "The media really does lend itself to the flow of water."
Patti also works with acrylic and oil paints, but when she puts brush to paper for a watercolor the process is completely different. "To me, using watercolor is like dancing with somebody and you have to go with what they do," says Patti. "It's a challenging media. It's not as forgiving as acrylic and oil paint, [which] are very physical. If I feel the need to be a very physical painter, I will take out my acrylics and just move my brush around and get lots of stuff on there. Water color is like constantly working on a puzzle. With watercolor I work from light to dark and once I get my light things dark, I can't get them light again. With acrylic or oil, I can always slap more paint on top."
As much as watercolor lends itself to natural scenes, it also can also offer a whimsical element to more abstract art and Nancy Buckingham has learned to embrace watercolor's unpredictability for just that. "I'm going a different direction," Nancy says. "I'm not really a landscape painter. I'm definitely more passionate about florals and whimsical flowers that aren't really flowers." 
Also an oil and acrylic painter, Nancy pairs watercolor with other forms of media to achieve the finished pieces she envisioned. "I cut old paintings up into little stripes and glue them all down and then I put down a base of watercolor," Nancy says of how she employs different forms in her art. "It creates a textured bottom layer that adds that definite interest."
Both Patti and Nancy have found great artist networks in the county and are actively involved with Lodi Community Art Center and Art Expressions of San Joaquin respectively. Both organizations offer opportunities and support to artists, serve as an outlet where they can sell their work, and host classes for novices.
See for yourself:
Lodi Community Art Center
110 W. Pine St., Lodi
@lodiartcenter
Art Expressions of San Joaquin
2318 Pacific Ave., Stockton
@artexpressionsofsanjoaquin