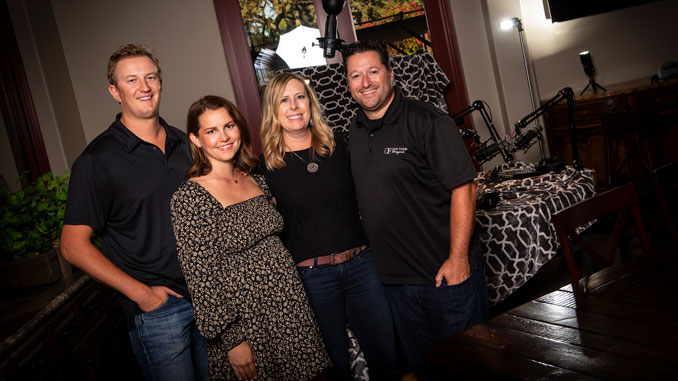 Local foodies and wine lovers are tuning in to "Thoughts Decanted," a new podcast focused on beverage industry talk with a Northern California perspective. Started by Oak Farm Vineyards' Co-owner and Director of Winemaking Dan Panella, Thoughts Decanted invites listeners to explore industry trends, developments, and inner workings as well as all the peripheral interests that come along with it.
"We feel like on a larger scale this region sometimes gets lost," Dan says. "When people are talking about wine, people think of Napa. If they're thinking about beer, they're thinking about Colorado or San Diego. So, let's at least talk about what we do, too. Maybe somebody takes notice, maybe they don't, but we only have ourselves to blame if we didn't tell anybody we do this stuff."
Having himself been an avid podcast listener for the last decade, Dan has always been intrigued by the medium and the breadth of options it presented to listeners. He had been tossing around the idea of doing a wine-focused podcast for years, but never had the chance to sit down and flesh it out – until the COVID-19 pandemic gave him some unexpected downtime. It was his now-or-never opportunity to launch the podcast and the team dove in head first.
Dan co-hosts the podcast with his wife and Oak Farm Vineyards co-owner, Heather Panella, and their friends and fellow industry professionals, Aaron and Madison Shinn. Each of them brings their own background with the industry (Aaron is a grape grower and Madison works in marketing) and these different perspectives allow them to create a robust conversation for listeners to sit in on. "Sometimes they have questions and insights I never would have thought of," Dan says. "I don't want this to just be me talking."
On top of that, the team will be bringing on guests from every facet of the industry. "We'd be happy to have anyone on from anywhere," Dan says, adding that while the episodes they have released so far have been largely San Joaquin-centric, they plan to open the discussion up more as well as  include all realms of the beverage industry, from beer and spirits to the foods everyone loves to pair with them.
The team does sometimes touch on more technical topics such as wine production, but when they do, they try to keep it light so no one gets lost in the jargon. Here, too, Dan says it's helpful to have different backgrounds in the recording studio. "Between the four of us, we all have varying degrees of understanding how some of this works, depending on what we're talking about," he says. "A lot of times one of us will go 'wait, wait, wait. What does that even mean?' and that's one of our strengths."
There's no doubt that there's strength in numbers, but when it comes to making a podcast, too many people trying to talk can also present quite a hurdle. And that's especially true for episodes where the team welcomes two or more guests – like their fifth episode when they invited Joe Ehlers and Charlie Lippert, co-owners of Five Window Beer Co. into the recording studio. So how to you balance the insights brought by so many different perspectives without crowding the conversation? "It's definitely something that we're trying to figure out, if having essentially four people asking questions is a good idea," Dan says, "but at the same time that's very similar to how it is when we have a conversation around the table."
In the spirit of inviting the listener along for an authentic conversation, it works. Dan also added that as life starts to get back to normal, it will be harder to get all four co-hosts together for each episode. Who and how many of the hosts actually appear might change from episode to episode.
Dan envisions the podcast being a low-key conversation that listeners can feel they are a part of, so he does his best to steer clear of scripts or post-recording editing. With little post-production work to do, the team is able to publish a new podcast for listeners to tune into on their preferred podcast platform every Wednesday.
Tune In:
@thoughtsdecanted