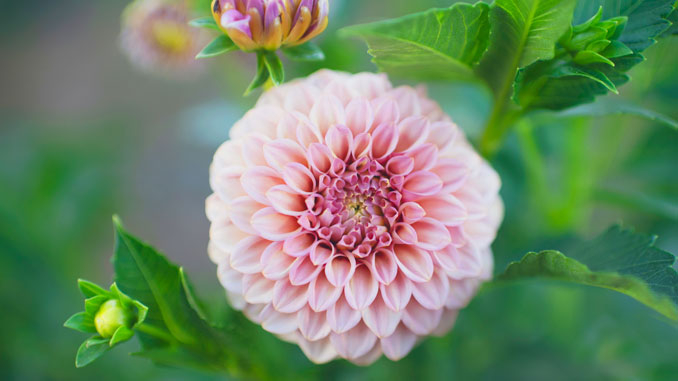 Nestled in the midst of Ripon's cherry and almond orchards sits a dreamy little flower farm where guests are welcomed with a picturesque self-service farm stand beckoning locals to pick a wrapped bouquet of fresh in-season blooms.
In the summertime, the fields behind the stand are full of heat-loving flowering plants including showy Dahlias, specialty Sunflowers, Lisianthus, Straw flower, Celosia, Amaranths, and Aster. All grown with a labor of love, and for one purpose: "My biggest desire was to have high quality, fresh flowers that lasted longer," says Bronwyn Escola, owner of Wild Blooms Farm in Ripon. "Growing up in New Zealand, I was accustomed to having locally grown flowers at my fingertips, as over 90 percent of the country's flowers are home grown. When I first moved to the United States, I was surprised to find that the flowers I would pick up weren't lasting very long. When I did a little research, I found out that the percentage of home grown flowers in the United States was very small."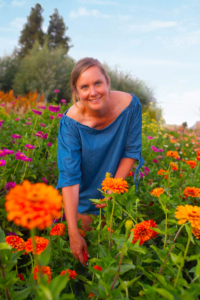 It was with this realization that Bronwyn decided to begin growing fresh bouquet flowers for her friends and family in her backyard in Ripon. "In no time at all, people were offering to help buy seed, and local florists wanted to purchase my blooms," says Bronwyn. It was at this point that she couldn't help but notice the demand for locally grown flowers went far beyond her own circle, so she seized the opportunity to get in the soil every day, and decided to expand her backyard flower garden into a business.
Ten years later, Wild Blooms has become a local hot spot with demand that continues to rapidly grow much like the wild flowers themselves. For Bronwyn, it's all about the community and building relationships. "I'm very community based. I love getting to know my customers – it's lovely," she says.  
For locals wondering when they can come to the farm and purchase a fresh summer bouquet, Bronwyn suggests following the Wild Blooms Farm Instagram page for updates on when the stand is stocked. She also hosts farm tours twice a year for anyone who would like to come walk among the flowers—and snap some photos for their own Instagram pages.
Shop the blooms:  
Wild Blooms Farm
22828 N. Ripon Rd., Ripon
@wildbloomsfarm