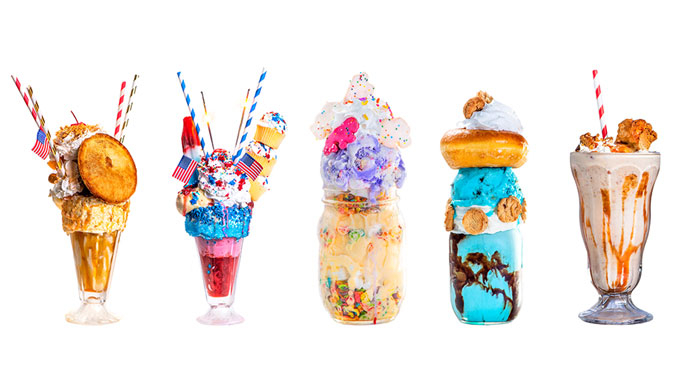 It's getting hot out there! What better way to cool down than with a sweet, frozen treat? We're not talking just any scoop of ice cream either. Lucky for us San Joaquin creameries are experts at crafting over-the-top monster milkshakes that are fun, festive, and (sometimes) even customizable. Dig into a mason jar overflowing with ice cream, cookies, and other goodies, or pick up a cereal-infused concoction. Celebrating the 4th of July? Well, that's what sparklers are for. Read on for five of our favorite monster milkshakes available in the 209.
Hot Apple Pie
The Creamery
The Creamery is known for serving up decadent shakes worthy of your Instagram story without an over-the-top price. In July Owner Cisco says guests should try a menu favorite—the Hot Apple Pie. On the menu year-round, this all-American dessert is loaded with ooey, gooey goodness from the hot apple pie filling to the graham crackers, whipped cream, caramel, and cinnamon that pile over the rich cinnamon-apple ice cream. The best part, however, is the mini apple pie that graces the top of this monster shake. Yes—you heard that right—this milkshake comes with a pie on top.
5756 Pacific Ave., Ste. 3, Stockton
(209) 952-1111
4th of July Shake
The Creamery
At the Creamery staff likes to get creative on turning out festive holiday shakes, and the decadent 4th of July shake, only offered around the holiday, is no exception. It starts with strawberry ice cream and a layer of blue frosting on the glass doused in blue sprinkles, but it doesn't stop there. A rocket pop shoots out of the top of the glass, a scoop of vanilla ice cream is plopped on top, and a mound of sprinkle-covered whip cream with American flags decorate the top. For the final touch, a trio of cupcakes sits on top, each one finished with frosting and sprinkles. Throw in two straws—because this baby is made to share—and finish it with a couple of sparklers and this cool dessert is fire.
5756 Pacific Ave., Ste. 3, Stockton
(209) 952-1111
Cookie Monster
House of Ice Cream
Have you ever heard of a crazy milkshake? If you've stepped into the Stockton ice cream parlor House of Ice Cream, I'm sure you have. These thick, creamy shakes are fully custom, made with your favorite ice creams and toppings right inside of a mason jar that you get to take home—so it's ok if you can't finish the over-sized shake in store. Owners Rod and Aminda put some, well, crazy combinations on the menu including the Cookie Monster shake. This delectable dessert  starts with bright blue bubble gum ice cream—to match your favorite Muppet—and is swirled with chocolate syrup. The jar is dipped in frosting so your chosen toppings stick nicely (in this case a round-up of mini cookies). Then, another scoop of ice cream is added on top and a glazed donut—a crazy shake favorite—is layered on that before a dollop of whipped cream and more cookies are balanced at the top.
947 N. El Dorado St., Stockton
(209) 497-1716
Circus Animal Cookie
House Of Ice Cream
If you have a sickly sweet tooth, you'll go crazy for the Circus Animal Cookie Crazy Milkshake at the Stockton sweet shop.  This brightly-hued dessert follows the same method as the Cookie Monster shake, minus the glazed donut. Instead, the jar is filled with ice cream and fruity pebbles for a rainbw of goodness then topped with an extra scoop of circus animal ice cream, a bright purple dessert. Like any monster milkshake, the real treat is on top—in this case a circus of frosted animal cookies, more fruity pebbles, whipped cream, and rainbow sprinkles.
947 N. El Dorado St., Stockton
(209) 497-1716
Fresh Baked Apple Pie Shake
Midnight at Burnie's
The Midnight at Burnie's Drive-Up offers everything you could dream of in a to-go milkshake. In addition to its popular everyday choices, Burnie's is also known for featuring signature shakes most months of the year from Valentine's Day to Easter. For 4th of July, the owners got creative with a limited-time-only milkshake (so hurry down to get it) dubbed the Fresh Baked Apple Pie Shake. To make the creation, staff bakes a homemade apple pie, and then essentially throws it into the blender with vanilla ice cream for a decadent, rich finish. Then, the shake is topped with whipped cream and Dutch apple pie crisps. Dig in!
3221 W. Hammer Ln., Stockton
(209) 952-0057