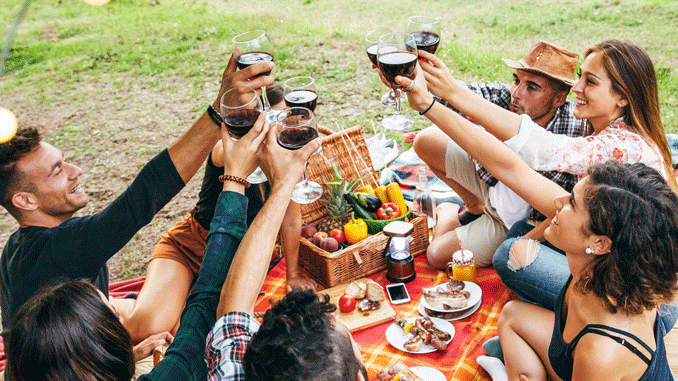 Hey, we miss you. And I bet you've missed us—and everyone else—too. While it's been necessary to shelter in place and keep our distance for quite some time due to Covid-19, we've spent the whole "break" dreaming of the days we can start seeing people again. The orders, however, aren't going to be lifted all at once, and we will need to practice some form of social distancing for the foreseeable future. But we're positive we can do that while still enjoying, and supporting, our community.  Check out our recommendations for getting out while still following guidelines put in place as we move toward normalcy. The key is zeroing in on outdoor spaces and keeping a little bit of distance from strangers. But it's okay, we've got a plan to make it happen.
Call ahead to businesses for operating hours before visits
Breath of Fresh Air
Summer is the perfect time to soak up some sun, and being outdoors is also one of the best ways to limit the possible spread of Covid-19. So, why not spend your first days out of isolation enjoying nature in San Joaquin County?
Facilities at places like Oak Grove Park have been closed, but when the doors reopen this 180-acre park will become out summer amusement park. The park includes a 10-acre lake stocked with catfish and trout for fisherman to get their fill (especially while big fishing events are on hold), an 18-hole disc golf course, horseshoe pits, picnic tables, and grills. The park's two nature trails—a 1.5 mile nature hike among the grove trees and a ¼-mile trail accessible trail—offer more ways to explore outside of close quarters. But for us it's the paddleboats and aqua cycles that get us the most excited to visit Oak Grove. 4520 W. Eight Mile Rd., Stockton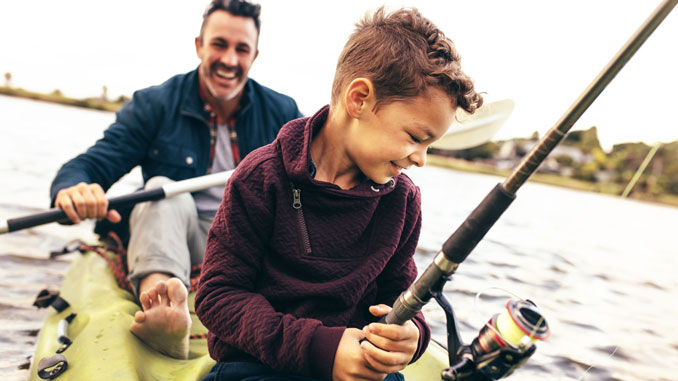 Rent a boat from Delta Boating and get on the water. Whether you're looking to fish, jet ski, or rent a houseboat for your first night away from home in months, the Delta waterways from here to Sacramento are the perfect place to explore. Plus, there's some really cool spots to stop for lunch along the banks, inside or out. Garlic Brothers in Stockton is an obvious favorite, serving up seafood (and other fare) on the wood deck, as is Bob's at the Marina if you're after a casual meal between casts. If you have your own vessel to park, check out the Stockton Marina and the Joan Darrah Promenade.
Whether you live in Lodi or just nearby, Lodi Lake is a favorite for outdoor recreation. The lake itself is perfect for water sports, including kayaking and SUP (stand up paddle boarding) made easy by rentals at Headwaters Kayak Shop & Boathouse. Plus, when small events get up and running again you'll be able to tour the lake in a variety of themed events, including a full moon paddle, a sunset wildlife tour, starlight paddle, and more. When you're out of the water, play on the play structures (boy, have the kids missed those!), barbecue lunch, and take a hike. Lodi Lake, 1101 W. Turner Rd., Lodi
Micke Grove Zoo is still planning to open its doors as soon as the stay-at-home orders are lifted, bringing families face-to-face with its over 170 cuddly creatures that have been quarantined themselves. Representing more than 51 species, from mammals and reptiles to birds and amphibians, the zoo also plans to host its summer camps in June and July. Outside of the zoo at Micke Grove Park, Wortley Lake and other park features including softball fields and water features are eagerly awaiting their chance to open. Our favorite? The Japanese Garden with its hanging cherry blossom trees and lively koi pond. 11793 N. Micke Grove Rd., Lodi
We may be waiting awhile for our favorite sports to get up and running again—we'd love to be at the ballpark cheering on the Stockton Ports—but in the meantime we can pretend we're in the big leagues with a trip to Big League Dreams in Manteca. Get a group together and hit the park, where you can take a swing in the batting cages or start your own tournament on one of the replica baseball fields that will make you feel like you're playing at Fenway. 1077 Milo Candini Dr., Manteca
Did you know there is a beachy private resort in Tracy? If you haven't already been to Eagal Lakes Resort, now is the time to become a member. The 2,100-foot man-made lake was primed for sports use including water skiing, tubing, boating, fishing, swimming, kayaking, paddle boarding, and pedal boating. And the fun continues on the beaches, with volleyball, basketball, soccer, cornhole, horseshoes, and more. Spend the day wasting away on the sand, cocktail in hand, and don't forget to fuel up at Barefoot Bar & Bistro, where you can grab grub and refreshments to eat on the beach. 12 W. Lorenzen Rd., (209) 640-4252, EagalLakes.com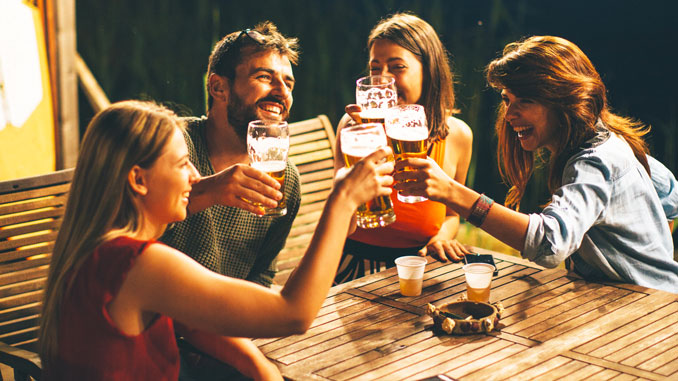 A Night Out on the Town
It's been a while since we've planned a girl's night out or even a date night. So, to celebrate, we're doing it all at once. Hit these favorites spots in one night for the ultimate welcome back!
4 PM
Start with drinks at a local winery. There are many to choose from but we recommend a stop into Berghold Vineyards & Winery if you want to feel a bit fancy on your first romp back into social life. Toast with a glass of sparkling before diving into a full tasting experience and wandering the ornate grounds. 17343 Cherry Rd., Lodi
5 PM
At 5 PM it's time to move on as the winery closes its doors. For dinner, treat yourself to a sit down meal—finally!—at Townehouse Restaurant at Wine & Roses. The indoor space is open, which means it's easier to grab a table without bumping elbows, and the outdoor patio set with twinkly lights is decidedly romantic. 2505 W. Turner Rd., Lodi
7 PM
Walk Downtown Lodi and just marvel at being back outdoors with a buzz that was missing for quite some time. We may not be back to full-service just yet, but the sound of people laughing and smell of food wafting from nearby restaurants will certainly be a welcome change from the desolate streets we were experiencing just weeks ago. And if you feel so inclined, step into an open shop—the business will be appreciated.
8 PM
We know one place we've missed in all this ruckus is the movie theatre, and all of those cinema flicks that were supposed to come out months ago will be rolling out now that the theaters are open again. Pick a long-awaited film for an epic first night back. Lodi Cinema 12, 109 N. School St., Lodi
10 PM
Grab a nightcap at Porter's Pub, where on warm nights a glass of cold beer on the outdoor patio set on School Street Is just what the doctor ordered. 121 S. School St., Ste. A, Lodi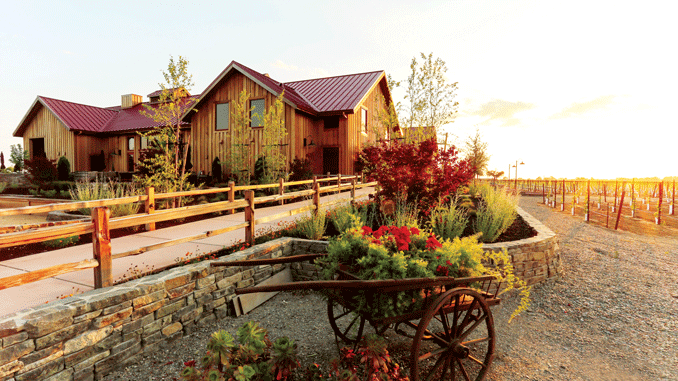 Off The Vine
Oh, how we've missed out favorite wineries. While most kept serving us as creatively as they could, usually shipped right to our door or with an option for curbside pickup, it's just not the same as spending a day at the winery. Jam-packed tasting rooms may still be a no-go, but wineries with luxe outdoor spacious are an absolute yes for social distancing in style! Grab a blanket, a chair, and a bottle of wine and head out to these wineries with ample outdoor space. Say cheers!
Viaggio itself means "journey," and oh what a journey it has been! We can't wait to journey over to the Italian-themed estate for a proper weekend wine tasting, sipping vino instead of trying to enjoy SIP orders. It may be a while before its big events are up and running, but Viaggio owners say they fully plan to celebrate reopening and the end of some of these restrictions with a pizza and wine pairing STAT! Viaggio Estate & Winery, 100 E. Taddei Rd., Acampo, (209) 368-1378, ViaggioWinery.com
One of the first places we'll be running to when the orders are lifted is Bokisch Vineyards, with its sun-drenched hillside views and shady patio seats. As soon as orders lift, Bokisch plans to reopen and will be utilizing its outside space to encourage social distancing while still giving us all a gorgeous place to gather over its collection of stunning Spanish wines. There is even talk of tableside tastings—a real treat for those who like to feel boujie. Bokisch Vineyards, 18921 Atkins Rd., Lodi, (209) 642-8880, BokischVineyards.com
The historic grounds have always been a main draw, perhaps second to only the wine, for those visiting Oak Farm Vineyards. While the eclectic menu of reds and whites, featuring full-bodied California-style Barbera and crisp, flavorful Albarino, is enjoyable anywhere—even at home—it's best sipped on the lush green lawn of OF or in the glow of the red barn on-property, complete with string lights that create a rustic yet luxe feel. Stop by and sink into your surroundings, plus get a history lesson amongst the vines with a scheduled tour. Oak Farm Vineyards, 23627 DeVries Rd., Lodi, (209) 365-6565, OakFarmVineyards.com
Macchia Wines kept wine aficionados satisfied with curbside pickup and shipping-included bottle delivery during the shutdown, but nothing compares to splaying out on the lawn, grabbing a chair under a red umbrella, and engaging in a game of horseshoes or bocce ball with friends under the flowering fruit trees. Plus, food is welcome, which means after plenty of time cooped up inside, you'll have no reason to leave early. Macchia Winery, 7099 E. Peltier Rd., Acampo, (209) 333-2600, MacchiaWines.com
One of the things we've missed most is downtown Lodi. We'll never again complain about a lack of parking; instead we'll be fully embracing our ability to sit on a patio with friends and share gossip over a bottle at the Weibel Family Tasting Room. The adorably-decorated inside will also be serving the family's flavored sparkling beverages and those wine slushies we've been dreaming of since lockdown, but we have our eyes set on a shady patio seat. Weibel Family Tasting Room, 9 N. School St., Lodi, (209) 370-6013, Weibel.com
Located off of Peltier Road, Paskett Winery's outdoor space, settled on the historic Langford Estate, is both picturesque and prime for gatherings. With enough room to spread out, it's possible to get together without getting too close. Stop in for late evening hours to enjoy the sunset over the vines or stop by for a scheduled trivia night (hopefully coming soon). We're all dying for a little engagement, and Paskett is here to deliver. And that's exactly why it's on our list of "firsts-to-visit" when we can. Paskett Winery & Vineyards, 11070 E. Woodbridge Rd., Acampo, (209) 200-1959, PaskettWinery.com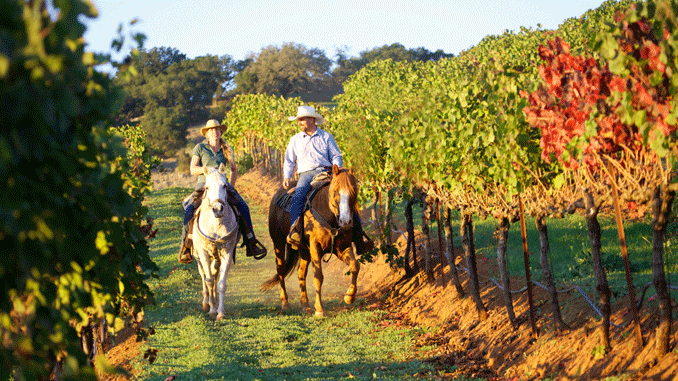 Patio Hunt
Eating outdoors this time of year is always a good idea, especially on shaded patios under umbrellas or during a brisk summer evening. While navigating the lingering effects of social distancing, patios also help us be near others and support local businesses without putting ourselves, or others, at high risk of possible transmission. We're rounded up some of our favorite patios to grab a meal in San Joaquin County.
Settled in Downtown Lodi, West Oak Nosh's patio is a favorite. Order up German-inspired grub on the quaint front porch and wash it down with brews, tea, and specialty craft cocktails. 10 W. Oak St., Lodi
If you have a hankering for fresh seafood, Stockton has one of the best places to go. The menu at Bud's Seafood Grille is overflowing with creative dishes sourced from the sea. For the best dining experience, enjoy your fish filet on the patio in Stockton's Lincoln Center. 314 Lincoln Center
Speaking of seafood, when it comes to sushi, and otherwise Japanese cuisine, we can't get enough of the fresh rolls, overflowing salads, and warm soups at Komachi. The inside is adorable, but patio seating is also superb. 307 S. Lower Sacramento Rd., Lodi
There are few seats in town like those on the patio at Arroyo's Mexican Café in Stockton. The authentic Mexican fare tastes best on the water, overlooking Quail Lake. Sip pina colodas and margaritas (virgin available) outside or enjoy views of the water from inside the restaurant. 2381 W. March Ln., Stockton
One place we can't wait to eat again—and get our hands on that Aloha Burger they just launched—is Midgley's Public House. The to-go orders may have satisfied our hankering for the grub, but we weren't quire able to replicate the atmosphere. 296 Lincoln Center
For brunch you're sure to find us sitting outside at Midtown Creperie & Cafe, Stockton's NOLA-inspired gem of a restaurant specializing in crepes, both savory and sweet. 2319 Pacific Ave., Stockton, (209) 941-9070, MidtownCreperie.com