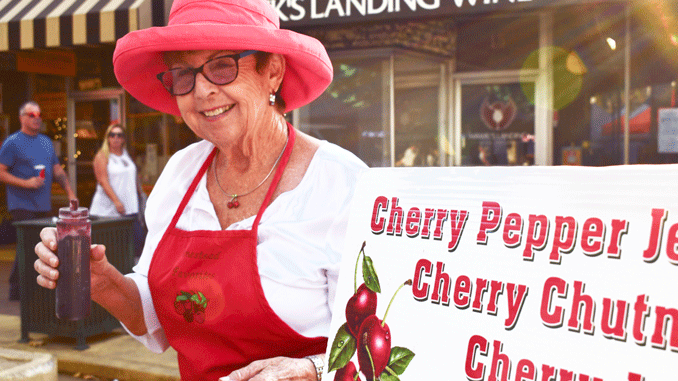 One of the best things about living in San Joaquin County is the bounty of agriculture that surrounds us. If you've ever had the pleasure of tasting fresh-from-the-farm fruits and vegetables, chances are you've visited a local farmers' market. While the rows of booths might seem intimidating to a first timer, or even a seasoned shopper, we've got the tips and tricks to help you navigate your local market like a pro! One thing is certain, spring is in the air and a wide variety of fresh finds await  just around the corner.
20 Tips to Crush Your Local Market
Be Prompt
Get there early to guarantee good parking and the freshest foods. Remember the adage the early bird gets the worm? At the Farmers Market—you get the best the farmer has to offer by arriving on time.
Specialty Shops
Sometimes we get lucky and find a few local shops who remain open during the farmer's market. At the Lodi market, you can't go wrong with a stop into Cheese Central, where dozens of cheeses and gourmet food items make this stop a haven for foodies everywhere.
Pick the perfect peach
Use your nose and your hands. Does it smell sweet? Is the flesh slightly soft but firm? If so, you've got the perfect peach. The only question left is do you want white or yellow?
Trust your farmer
Your local famer cares about the land on which he farms. So be courteous when asking about what kind of products are used on the crops. You can bet the produce on display is safer and fresher than anything you've ever bought at the grocery store.
BYOB
No, we aren't talking about beer. Please bring along your reusable bags for your purchases. It's simple, affordable, and reduces our carbon footprint.
Bring a rolling cart if you're going to go big
There is nothing harder to manage than 40 pounds of produce, two toddlers, and an ice-cold lemonade while perusing your local market. So, make it easy on yourself and just invest in a rolling cart to save your strength for putting the kids to bed.
Don't shop hungry
While most vendors are pushing fresh produce, there are more than a handful of tempestuous treats offered at the Farmer's Market. Be sure to grab a bite to eat from a food truck, brick and mortar, or eat beforehand to avoid purchases you might regret later.
Cash is King– Don't forget to hit up your ATM and bring along some cash. While many of the vendors take credit card, most farmers do not.
Talk to your farmer
If the market isn't too busy, ask your local farmer about where he farms the food you are buying. Let him know if there is something you want and can never find.
Seek Out Hard to Find Items
Your local market is made for specialty items. Whether it be candied pecans, Filipino baked goods, or hand-crafted bowls, there is something to take home that you simply won't be able to find any where else.
Pick up Fresh Flowers
Look for a stand with all the colors of the rainbow. We can guarantee these are the freshest flowers you can find. Be sure not to crush your fresh petals with heavy fruits or vegetables. And don't forget to be careful when handling dainty blooms.
Stock up on Melons
If there is one fruit that eludes us when it comes to finding the ripest ones, it's undoubtedly melons. This is one of those items where you should always ask the farmer to help you pick one out.
Satisfy your Sweet Tooth
Whether it's a stop into the local ice cream shop or picking up a fresh pie from a local vendor, you can usually find quality sweets at a fraction of the cost. And if it does cost more than you expected, it is probably totally worth it.
Get Your Groove On
Most of our local markets are booming with live music. Expect a combination of easy listening music alongside groovy beats. The little ones can dance to their little hearts are content and they just might hit the hay early. Winning!
Seek out Something New
If you see something you don't recognize, ask your local farmer what it is and how to cook it. You might even find a new veggie the whole family enjoys.
Stock up on Local Jams
There is nothing quite like local jams crafted from fresh-off-the-farm produce. Because it's made using overripe fruit, it doesn't require all the added sugar that major brands use. Our top pick: the cherry pepper jelly from Homestead Favorites.
Find your Local Beekeeper/Honey
The buzz is true. Your local honey is beyond better than the stuff you see in box stores. Pick up local honeycomb, jars of honey, and some swizzle sticks for your cup of hot tea.
Stock Up on Fresh Herbs
If there's one thing that gets us super excited, it's when we see big bunches of fresh herbs alongside the bins of produce. They are always fresher, usually larger bunches, and way more aromatic than the stuff from the chain grocery store.
Talk to Your Local P.D.
If you see your local police department paroling the farmer's market, stop and chat with them. Especially if you have little ones. They often have police badge stickers to pass out!
Leave the Dog at Home
Seriously folks. There are very strict rules against animals at farmers markets, so please respect your community and the vendors by leaving your dog at home.
Be Late
If you simply can't get to your local market at starting time, take advantage of your hectic schedule and show up late for the farmers' market. You see, there is one advantage to being the last one to arrive—you just might be able to haggle with the farmer for some smoking hot deals.
Farm to Table
Recipes for your Market Finds
Heirloom Tomato Salad
In the peak of summer, beautifully irregular heirloom tomatoes begin to flood the farmers market. This is one of those recipes where you just must let the quality of the products shine in all their glory. Simple. Fresh. Delicious.
Ingredients
4 to 6 heirloom tomatoes, sliced
1 package fresh mozzarella, presliced
1 tbsp. fresh pesto
12-16 basil leaves
Directions
Wash and slice the heirloom tomatoes into 1/3-inch slices. Sprinkle with salt and season with pepper. Layer tomato slices, mozzarella, and basil on a large platter. Spoon fresh basil over salad and drizzle with balsamic vinegar and Calivirgin basil olive oil.
Summertime Stone Fruit Flatbread
Stunning stone fruit is a succulent, sweet treat on a hot summer's day. Combine it with Italian prosciutto, creamy burrata, peppery arugula, and basil, for a dinner meant for poolside eating.
Ingredients
1 can Pillsbury refrigerated pizza crust
1 peach, pitted and sliced
3 oz. prosciutto
1 c. arugula, loosely packed
8 oz. burrata cheese
¼ c. basil, chiffonade (chopped into thin strips)
2 tbsp. olive oil
1 tbsp. balsamic vinegar
Sea salt
Pepper
Directions
Heat oven to 400 degrees and spray a sheet pan with non-stick spray. Roll out pizza dough and place on the cookie sheet. Bake the dough for 9 to 10 minutes. Drizzle with olive oil. season with sea salt, and pepper. Layer prosciutto and peaches on pizza and place back in the oven for five minutes until golden brown. Remove from the oven, spoon burrata onto pizza. Drizzle with balsamic vinegar and garnish with basil. 
Strawberry Arugula Salad
Each summer our family looks forward to the farm fresh strawberries available in San Joaquin County. We use them in salads, salsas, sorbets, and cocktails. Add grilled shrimp or chicken to this salad to make it a main dish!
Ingredients
4 c. arugula
1 c. candied walnuts
4 oz. goat cheese
1 c. sliced strawberries
3 tbsp. Calivirgin balsamic vinegar
2 tbsp. olive oil
Salt and pepper to taste
Directions
Place arugula in a large serving bowl. Slice strawberries and add to the salad. Add crumbled goat cheese and walnuts. Drizzle with oil and vinegar. Season with salt and pepper.
Spring Forward Cocktail
Take advantage of citrus season by reaching for the tart and tangy grapefruit. It's the perfect addition to salads, desserts, and even cocktails. Take a step into spring with this refreshing spritzer of fresh grapefruit juice, vodka, club soda, and thyme.
Ingredients
For the Simple Syrup
1 c. sugar
1 c. water
8 sprigs of thyme
For the Cocktail
1-½ oz. vodka
½ ounce thyme infused simple syrup
½ ounce fresh ruby-red grapefruit juice
½ oz. fresh lemon juice
Thyme sprigs for garnish
Directions
For the simple syrup, combine the water and sugar in a small saucepan. Add thyme sprigs and turn up heat to medium. Once the syrup is dissolved and the liquid begins to simmer, remove from heat and set aside. In a cocktail shaker, combine vodka, simple syrup, grapefruit juice, and lemon juice. Add ice and shake. Strain into an ice-filled rocks glass and garnish with thyme.
Caprese Asparagus Salad
There is one vegetable we can't ever seem to get enough of once the weather warms up. Yep, you guessed it—asparagus! This recipe combines all our favorite summertime staples: asparagus, tomatoes, and creamy mozzarella. Our caprese salad is perfect for entertaining or Sunday night family dinner.
Ingredients
2 bundles fresh asparagus
2 c. cherry tomatoes
1 8 oz. package bocconcini mozzarella cheese
1 c. basil, washed and chiffonade (chopped into thin strips)
4 tbsp. olive oil
3 tbsp. balsamic vinegar
1 tsp. dried oregano
½ tsp. salt
¼ tsp. pepper
Directions
Preheat your oven to 400 degrees and line a baking sheet with foil. Place the asparagus on one side of the baking sheet in a row and the tomatoes on the other side. Drizzle both with olive oil, oregano, salt, and pepper. Place the veggies in the oven and cook for 10-15 minutes, until the asparagus is tender-crisp. Remove from the oven and layer the asparagus, tomatoes, and mozzarella on a large platter. Garnish with olive oil, balsamic, and fresh basil.
Downtown Lodi Farmers Market
School Street, Lodi
Thursdays from May 16 through September 5, from 5-8:30 PM
(209) 367-7840
Filling four blocks of school street, dozens of local purveyors bring their goods to market each week. With perks like local food trucks, live music, and a beer garden, the Lodi Farmer's Market is the place to be this summer on Thursday nights. 
Street Food
There are usually a ton of options on where to get your grub on at the local market. If ordering from a food truck and sitting while listening to music on a picnic table are more your style, check out our top picks. If you want to get your feast on, look no further than a Moveable Feast, the gourmet food truck slanging Cajun shrimp sandwiches and feast fries loaded with pulled pork. Or go Greek with Go Falafel, where you can order a chicken kebab, a gyro, or their signature falafel. But it's Lockeford Sausage that beckons the traditionalist, with their smoked Dakota bratwurst smothered in mustard and sauerkraut.
Farm to Fork Dining
You will often see local chefs shopping the market for seasonal specials to showcase on the menu. Stop into Rosewood Bar and Grill, where the nightly specials feature bites prepared with items from that day's market. Last season's prosciutto wrapped peaches were the highlight of the season. For a taste of Germany, check out West Oak Nosh. The house-made sausages, pork schnitzel sandwich, and infamous Nosh fries are worth the calories.
Where to Drink
Downtown Lodi is loaded with great places to grab a glass of local wine or sample local beers. The local chamber hosts a beer and wine garden that is a great resource for sampling a variety of sips. At Scotto's, you can try a taste of cider or a sip of their rosé on tap. McCay winery is also a great place to try award-winning Lodi wines in an eclectic setting off Sacramento Street. But if you want to feel a little festive, waltz into Weibel for a glass of bubbles and a seat to watch the crowds. Too hot for wine? Fear not. Head on over to Five Window Beer co. or Idol Beer Works for a cold pint of something hoppy.
Stockton's Bustling Farmers Market Scene
Downtown Stockton Asian Farmers Market
333 E. Washington St., Stockton
Saturdays from 5:30 AM to 11:30 AM All Year Long.
(209) 943-1830
This well-established farmers markets roots go all the way back to 1979. A cultural exchange of international flavors, Stockton's Asian market is the region's oldest market, and it's easy to see why. All you need to know is that the market is attended by over 3,000 folks weekly—yes, weekly! Discover fresh flavors, unique foods, seafood, and sweet treats all in one location. But what sets this market apart from the rest is that attendees can explore the international flavors of Laos, Cambodia, Vietnam, Korea, China, and Indonesia year round.
With a plethora of unique fresh fruits, veggies, and seafood vendors, chances are you will find something you haven't ever seen before. This is a great opportunity to chat with the local farmer and ask them how to best prepare their product. Give bitter melon a try or settle for something a bit more familiar like stone fruit and eggplant.
Not too many local markets can offer  seafood options like this. With vendors coming weekly from Monterey and Santa Barbara, you can find smelt, rockfish, albacore, red rock crab, and sometimes even sea urchin! And you might want to consider bringing an ice chest to keep your seafood fresh until you get home.
If you plan on checking out the Asian market, and trust us, you really should—we have one piece of advice. Get there early! Because once the vendors sell out, they shut down.
Farmers Market at Swenson Golf Course
6803 Alexandria Pl., Stockton
Wednesdays from 9 AM to 2 PM, May through mid-October
The newest kid on the block, the farmers market at Swenson Golf Course will run every Wednesday from 9 AM to 2 PM in the Swenson parking lot. It is running in conjunction with the Stockton Certified Farmers Market Association and the vendors show up come rain or shine. Organizers hope the newest addition of farm fresh foods will keep attracting visitors to the area.
Webserstown Mall Farmers Market
Thursdays from 8 AM to 1 PM, May through November
(209) 487-4242
Organized by the San Joaquin Certified Farmers Market Association
Webserstown Mall Sunday Farmers Market
4994 Claremont Ave. Stockton, corner of Yokuts and Claremont avenues behind Weberstown Mall
Sundays from 8 AM to 1 PM. Year Round.
(209) 405-2074
Fresh food foragers can expect a bounty of fresh fruits and vegetables for your weekly needs. This market is also organized by the San Joaquin Certified Farmers' Market Association and, we love this year-round market for sustaining us through the winter months. You can often find local food trucks and bakeries offering up food for fuel while shopping.