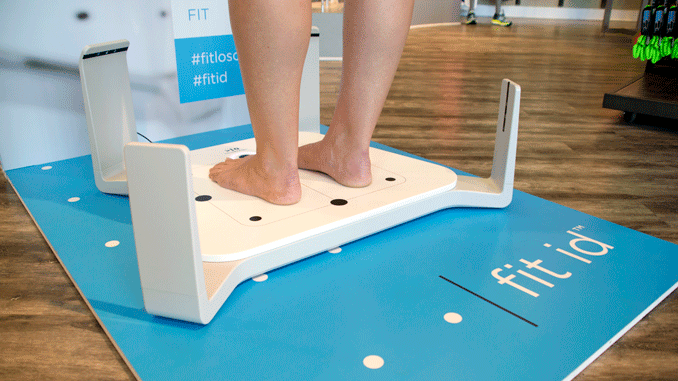 Running in ill-fitting shoes can ruin the experience, as well as your feet, knees, shins, and back. It's easy to think that simply purchasing a quality running shoe will offer everything you need to excel in running, walking, aerobics, and whatever other tasks you need to complete while on your feet. However, not everyone is made equal, and that counts for feet, too. "A properly fitted shoe allows one to thoroughly enjoy running, walking, and a healthy, active lifestyle," says Tony Vice, owner of Fleet Feet in Stockton.
In addition to choosing shoes that match your preferences from cushion to shape, what you will be using the shoes for often matters. That's why many runners have different shoes for races than lifting in the gym or daily use. To get the best fit, Fleet Feet staff uses 3D scanning technology to get a shoe that truly fits. The entire process takes about 15-20 minutes, but in the end you're sure to get a shoe that will make exercising easy, or at least easier. Dubbed "The Fleet Feet Outfitting Process," a staff member listens to your needs—"there's no such thing as too much information," Tony says—and then they take precise measurements of your feet using a state-of-the-art scanner. The scanner utilizes 12 cameras to capture 18 data points including length, width, arch height, and volume and girth of foot. This information allows staff to make personalized shoe and insole recommendations based on YOU.
During the fitting customers are also evaluated for stance, stride, and step. "Once we assess the biomechanics of your foot, we'll mine through our extensive product selection to come up with the best shoes and gear for you," Tony says.
Get Ready to Run
Test out your new kicks at one of these local races.
Run For Water 5K, 10K, and Kid's Run
Lodi Lake, 1101 W. Turner, Rd., Lodi
Saturday, April 4
Register: RunForWater.net
Ripon's Run
Half Marathon, 10K, and 5K
Saturday, May 2
Register: RiponsRun.org
'Lil Mud Runner Kids & Family Mud Run
Eagal Lakes Resort, 12 W. Lorenzen Rd., Tracy
Saturday, May 9
Register: EagalLakes.com
Lodi Memorial Hospital's Walk for the Health of It
5K, Fun Run, and 1-Mile Walk and Roll
Saturday, May 9
Register: LMHFoundation.org
Uncorked 5K and 10K
M2 Winery, 2900 E. Peltier Rd., Acampo
Sunday, May 17
Register:FleetFeetStockton.com