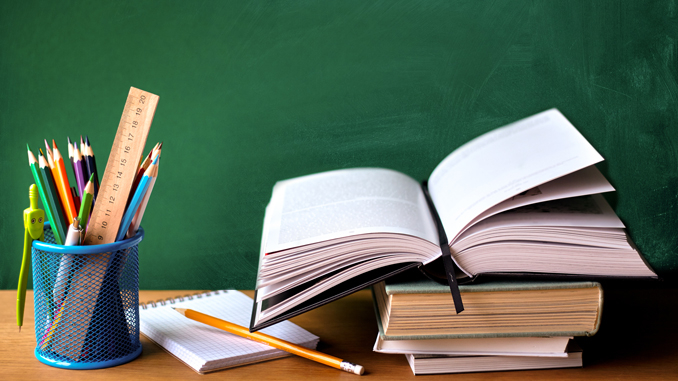 Within San Joaquin County there are a lot of people doing great things, and some of the most impressive residents aren't even old enough to vote yet. We took a look at schools throughout the district to round up some of the most passionate young residents living in SJ County, and while we have an impressive crop of young learners determined to make the world a better place, it's only a small sampling of the students already placing their mark on the world. Flip through our feature to learn about the science fair projects changing the future, the spelling bee champions championing for more than good grades, and a hometown wrestler who proves that girls can do anything they set their mind to. 
---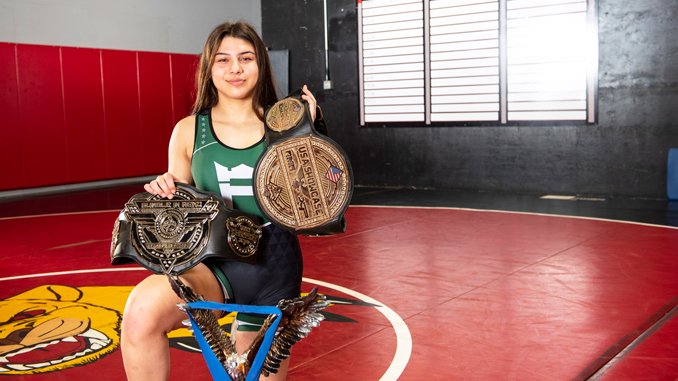 Name: Kaiulani Garcia
Grade: 8
School: Venture Academy
Recent Awards: 2019 Triple Crown winner (folkstyle, freestyle, and Greco Roman); four state championships in wrestling; Folkstyle National Champion
Hobbies: Shopping, attending duals, hanging out with friends, math
At six years old, Kaiulani Garcia, now 14, saw wrestling on television in her living room. She immediately asked her dad if she could give it a try, and later that year her and her brothers started wrestling locally. Today, Kaiulani practices four to five times per week, working toward her ultimate goal of making the world team and going on to the Pan-American games. To make it on the team, she'll have to place at her upcoming Body Bar Women's National Championship competition in May. "There is only one [competition] that matters and the one that matters is called Body Bar," Kaiulani explains. In order to get her practice in, Kaiulani works out at Pitman High School, Gilroy High School, and St. Mary's High School. When Kaiulani isn't practicing herself, she's often watching her brother compete in the same sport.
In addition to being a champion on the wrestling mat, Kaiulani is also a straight-A student. As long as she stays focused, Kaiulani says it isn't hard to keep her grades up. It's when she gets distracted that she sees a slip. "​I want to be either an engineer, an astrophysicist, a physicist or a quantum physicist," Kaiulani says, gushing about her love of math. In her spare time (which we're not sure she has a lot of) she teaches herself new types of math she's not yet learning in school.
Mostly, however, Kaiulani just wants to have an impact on the world. "In general, what I most want to accomplish is being known in history, whether it's discovering groundbreaking things or breaking the record of most gold medals to be won in wrestling in the Olympics either in the U.S. or the world," she says.
---
Name: Ishaan Ajay
Grade: 6
School: Brookside School
Recent Awards: First place at 2019 San Joaquin County Spelling Bee; Second place at 2018 San Joaquin County Spelling Bee
Hobbies: Tennis, swimming, programming, biking, playing the clarinet
Ishaan Ajay, 11, came out on top this year, crowned the winner of the elementary school spelling bee division held at San Joaquin County of Education. It was an important win after he took second place as a fifth-grader last year. However, Ishaan has been participating in spelling bees since he was in kindergarten. "My interest in reading provided a lot of impetus towards participation in spelling bee competitions," he says. His winning word this year was synagogue.
While Ishaan has certainly excelled at spelling, math is actually the young academic's favorite subject in school. When he isn't prepping for spelling bee competitions, he is often getting ready to compete in the San Joaquin County Math and Science Olympiad (he has competed since 2017) as well as competitions at the Kumon Center he attends. He even took home first place in the team event at the 2019 Math and Science Olympiad as well as second place in 2018.
Outside of competing, Ishaan has many other hobbies, but even some of those come back to his academic roots. Playing LEGOs with his younger brother and working on programming are two of his favorite past times outside of school. He is also musical, playing the clarinet for his school's band.
When he grows up, Ishaan says he wants to be a doctor. But he has a surprisingly mature outlook on life as an adult in general. Ultimately, "I hope to have a successful, and enjoyable life and career, while also making the most of everything along the way," Ishaan says.
---
Name: Jacqueline Prawira
Grade: 10
School: Mountain House High School
Recent Awards: Broadcom MASTERS Marconi/Samueli award; second place at the International Science and Engineering Fair (ISEF)
Hobbies: Taekwondo (she's a second degree black belt), reading
Jacqueline Prawira, 15, has always loved math and science, but her passions for bioplastics developed after she noticed a personal impact her habits were having on the world. Looking around her own home, Jacqueline could see several plastic products that were getting disposed of often, and as she explored the environmental impact of these products, she was horrified at what she learned.
Instead of sitting back, Jacqueline took action. "Seeing how this staple of my lifestyle could have tremendous impacts on the planet's ecosystems saddened me, and sparked my passion for the environment," she says. She began looking at plastic alternatives that would have a better impact on the world. What she has come up with are alternative materials with similar characteristics to plastic and uses but constructed in a way that makes them biodegradable.
To date, Jacqueline says her proudest achievement is her Ocean.Bioplas project, a substance that would act as an alternative to plastics. The product actually mimics parts of the marine exoskeleton composition to maintain a plastic-like appearance and feel while also being biodegradable. Her next project involves an alternative to thin-film plastics such as plastic bags. "I am deconstructing fish scales to isolate the collagenous matrix, then reconstructing the collagenous matrix to form a thin film," she explains.
Ultimately Jacqueline wishes to become an environmental engineer using her skills to solve environmental challenges, ultimately creating a cleaner, healthier environment for future generations. To do so, she intends to continue her work with bioplastics and submitting to science fairs before graduating and pursuing a major in Engineering and a minor in Environmental Science.
Jacqueline even founded her school's Climate Change Club to promote environmental consciousness amongst her peers. "Our club's goal is to help people realize how the effects of climate change are coming, and what everyone can do to minimize the impacts."
---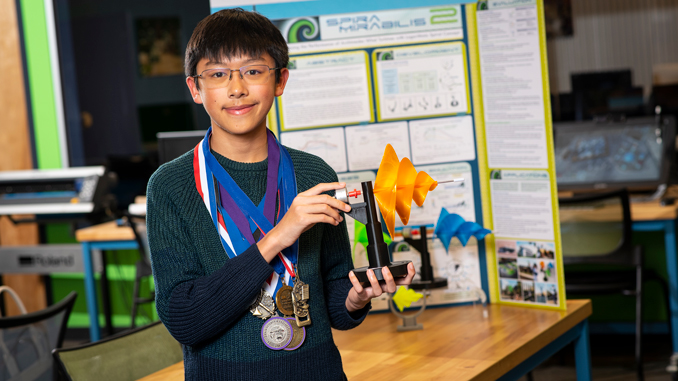 Name: Jordan Prawira
Grade: 8
School: Altamont Elementary School
Recent Awards: Third place at the 3M Young Scientist Challenge (national level); First place at the SJCOE Science Fair in 2019
Hobbies: Taekwondo (he's a second degree black belt)
For Jordan Prawira, 13, losing was his inspiration. A disappointing realization after a wind-power competition that asked him to build his own turbine set him on a path for improvement. He immediately became interested in how to make better turbines and has since dedicated his science fair projects to the cause, experimenting with horizontal-axis, vertical-axis, Archimedes, and wind turbines to create a higher efficiency form of power to be used as a viable alternative to fossil fuels. "I want to reduce the usage of fossil fuels as an energy source by increasing the viability of renewable energy," he explains.
His current project focuses on improving the performance of his logarithmic spiral wind turbine, which he showed for the first time at last year's science fair. To improve it, he experimented with tip angle, aspect ratios of height and width, and stand design. "What's important about my project is that it can improve lives by increasing the usage of renewable energy," he explains. "Harnessing wind power through the turbine is cost-effective, can help combat climate change in reducing carbon pollution, create jobs, and give a positive economic impact.​"
Jordan has a busy upcoming schedule to show off his newest model, a hurricane-formation concept design boasting a maximum efficiency of 45.3 percent at 6 meters per second (comparable to commercial Horizontal Axis Wind Turbines on the Altamont Pass). This new version, dubbed the Spira Mirabilis 2, will be shown at this year's upcoming science fair.
After graduation, Jordan has plans to pursue science and become an engineer. "I can use my science fair projects from now and expand on them to engineer efficient clean, renewable energy for people all around the world," he says. He also has a passion for math and will be competing in a math tournament in May.
---
Name: Mia Prieto
Grade: 11
School: Edison High School
Recent Awards: 2018 Scholar Athlete Award
Hobbies: Soccer, softball, reading, singing, writing
Mia Prieto, 16, is a leader. Her most valued accolades include rising to the top, leading her peers in sports and academics. In 2018-2019 she served as her sophomore class president and she was elected soccer president and ASB leadership vice president this year (2019-2020). In 2018 she received awards for best alto in choir and was elected as the Winterfest Princess. Her most important work, however, is what she does with the League of Women Voters of San Joaquin County, an organization dedicated to encouraging young people to take an interest in politics and vote.
Mia was at the forefront of championing a relationship with the League of Women Voters and her school, an effort she undertook with her teacher Mr. Batugo (the one who first encouraged her to get involved with the organization). "I learned a lot about how my generation would soon become the majority of voters, however we are categorized as the minority of voters and that needed to change," she says. "The  League of Women Voters presented just how important voting is… I felt this sense of duty to spread what knowledge I gained with my peers."
Mia helps coordinate lunch-time visits from the League of Women Voters, which falls into her role as outreach lead for ASB, where booths are set up to educate students on the importance of voting and get them pre-registered to vote, a task that can seem dauting if you don't know where to start. The first venture was successful enough that Mia has continued work with the League of Women Voters and is currently developing a plan to help the League approach students instead of relying on  students to come to them.
Mia's ultimate goal is to take the skills she has learned in high school to college as she prepares to become a counselor, getting first a bachelor's in psychology and then a master's in school counseling. "I want to inspire others. I want to know that I helped someone up their ladder of success."
---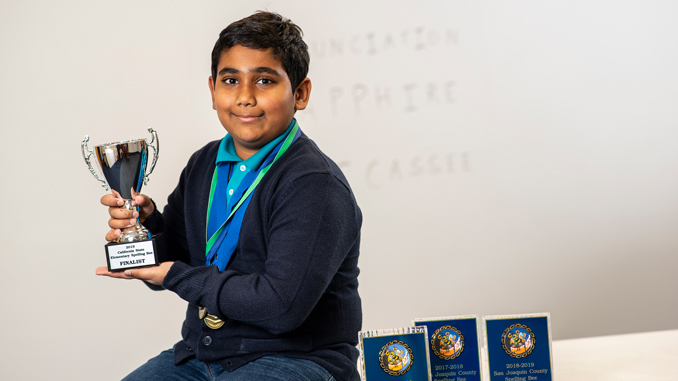 Name: Rohin Prashanth
Grade: 7
School: Wicklund Elementary & Middle School
Recent Awards: 2019 State Spelling Bee Finalist; 2019 Division Champion San Joaquin County Spelling Bee
Hobbies: Collecting board games, building model cars and LEGOs
Rohin Prashanth, 12, is on a winning streak. The seventh grader has taken home the gold at the county spelling bee for the last three years in a row, earning the division title and a trip to the state finals in 2019. "The one thing I have always loved has been reading," Rohin says. "As far as I can remember, I have always enjoyed reading a good book. I guess the spelling bees just stemmed from there."
When Rohin isn't rocking local spelling bees, he's often prepping for the Science Olympiad and Math Olympiad. This spring he has four Science Olympiad competitions and a Math Olympiad all before the state spelling bee in May. Rohin has even taken on a leadership role when it comes to the Science Olympiad, coaching younger kids in the competition. While his love of spelling might come from reading, his favorite topics include statistics and astrobiology, behind history. "I just like reading about the endeavors of other people and what humanity was like before us."
Outside of these competitions, Rohin is a member of the California Junior Scholarship Federation and the Newspaper Committee at school. In his free time, he likes to read on a range of topics, build LEGOs, build toy model cars, conduct science experiments, and play board games with his younger sister. His activities are varied to keep him well-rounded and also because Rohin, like most seventh graders, is still figuring out what he wants to do in life. When asked about his career aspirations, Rohin says, "Being frank, I don't know. It's lack of foresight, but one day I'm a doctor, the next day I'm a United Nations Diplomat, an astrobiologist, or I'm working at the National Archives in DC!"