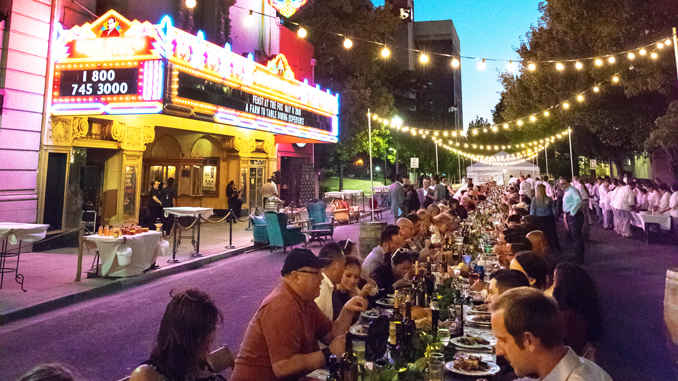 We all know about the big hotspots in Stockton—the arena, the waterfront—but what hidden gems are you missing throughout? Spend a day being a tourist at home: eat like a king, revel in local culture, and more.
Peruse Asian Goods
People from all over come to covet the selections at the Asian Farmer's Market. Browse with 3,000 other patrons as you pick up unique produce, fragrant herbs, seafood, and sweets from Cambodia, Laos, Vietnam, Korea, China, and India.
333 E. Washington St., (209) 943-1830
Stop for Lunch
In Stockton, lunch may just be the best meal of the day. Casual eateries throughout the city offer hearty meals to fuel your adventure.
We recommend one of Stockton's newest spots: Nash + Tender, the first Nashville-style hot chicken restaurant to hit the scene in Stockton. Order the hot fried chicken sandwich and a side of tender fries.
Looking for something a tad lighter? The Downtowner in Stockton serves up creative salads from the taco salad to the spinach-feta salad, plus healthful smoothies. Every dish is overflowing with local produce supporting the local community, too!
Nash + Tender – 222 N. El Dorado St., B1, (209) 910-0626
The Downtowner – 40 N. Sutter St., (209) 910-9714
Go for a Walk
Downtown Stockton is full of rich history and beautiful architecture that even locals don't know about. Take the self-guided tour of downtown using Visit Stockton's free guide and discover historical buildings, public art displays, and other points of interest. The art and history tour includes 30 points of interest within city limits.
Download the free guide: DowntownStockton.org
View Art
Stockton is home to some truly spectacular museums, filled with eclectic collections of art that speak to the area's history, culture, and revitalization. Many works are speckled throughout local shops, cafes, and nonprofits, while others are housed in large galleries. Glimpse gorgeous artworks as you explore downtown with required stops inside the Mexican Heritage Center & Gallery and The Stockton Art League and Goodwin Gallery. Some of the most impressive pieces are inside the Haggin Museum but Cast Iron Trading Co. is also a haven for pieces made by local artists.
Mexican Heritage Center & Gallery – 111 S. Sutter St., (209) 969-9306
The Stockton Art League and Goodwin Gallery – 1902 Pacific Ave., (209) 466-6604
Haggin Museum – 1201 N. Pershing Ave.
Cast Iron Trading Co. – 114 N. San Joaquin St., (209) 227-8585