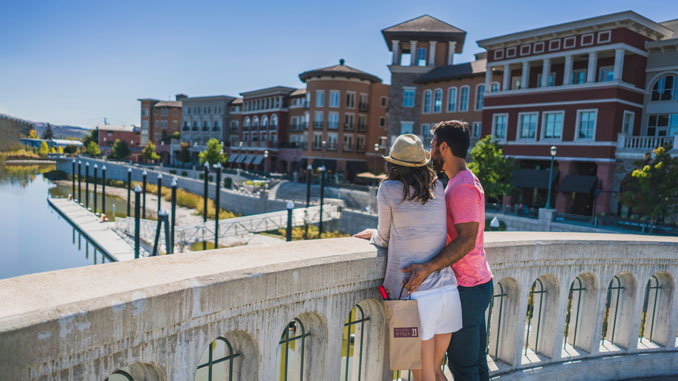 Celebrate your love in Napa, a not-so-hidden oasis among the vineyards. Throughout the wine tasting region, guests can indulge in over-the-top experiences that encourage romance and togetherness, just in time for Valentine's Day. It's a place to splurge. So, sweep your lover off their feet and head into the hills where true love awaits, with a glass of wine in hand.
Experience the love
What's more romantic than dining at a castle? In Calistoga—within the Napa region—couples can book an exclusive tour and tasting experience at Castello di Amorosa. The packages range from simple tours to more extravagant meals. We recommend splurging on the royal food and wine pairing tour, an award-winning experience that begins with a tour of the 13th-century-inspired castle and its grounds and ends with a seated wine and food pairing with a personal guide. During the two-and-a-half-hour tour, guests will sip award winning wines from the regular menu as well as the reserve and library offerings. CastelloDiAmorosa.com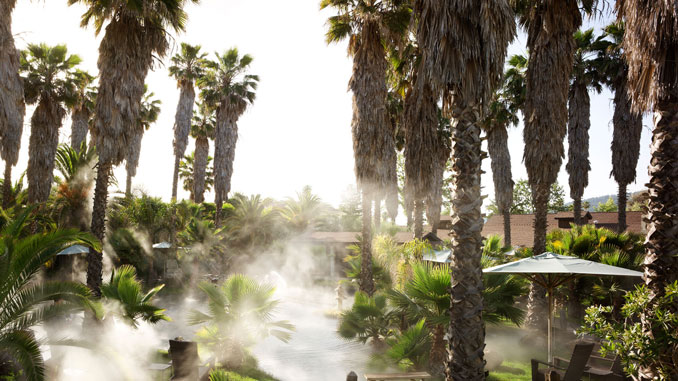 Another unique way to experience the wines of Napa Valley is on the Napa Valley Wine Train. The historic train has been fully restored to offer a scenic—and delicious—tour of the vineyards. Book a table aboard the train for one of many excursions. The trains most romantic experience, dubbed Romance on the Rails, begins with sparkling wines, includes a multi-course, gourmet dinner and two glasses of private label wine. Not to mention the gorgeous scenery you'll pass on the three-hour journey through wine country. WineTrain.com
Capture a new view of Napa from up in the clouds. The vineyards below look different when you're soaring through the sky            in a hot air balloon, a quintessential Napa experience for any set of lovebirds. Book a sunrise flight for an added dose of romance. Napa Valley Balloons, Inc. says their most popular package includes morning refreshments, a 45-minute to one-hour ride, and a sparkling wine toast. NapaValleyBalloons.com 
Strip down to your skivvies and take a dip in one of Napa's exclusive hot springs. Natural mineral hot springs are aplenty in Napa, but how will you know which one to choose? The big spas in the area garner the most attention, with large pools and tubs open to full days of relaxation like Calistoga Hot Springs, Golden Haven Hot Springs Spa, Indian Springs Calistoga, and Roman Spa Hot Springs Resort. In addition to public spots, Roman Spa also has private mineral baths curated for couples, offering another level of romance to the experience. Even if you don't book your stay at Calistoga Spa, you can enjoy the whirlpool, soaking pool, and lap pool by booking a treatment at the spa.
Don't waste your wine buzz; jazz up your evening at Blue Note Napa before turning in for the night. The highbrow jazz club offers food at its New American eatery downstairs as well as live music. Plus, the digs are historic. BlueNoteNapa.com
Let the Games Begin
Make it a social affair aboard the murder mystery chain. On select evenings, the wine train turns into a gathering of strangers, working together to share clues and solve a gruesome mystery in a speakeasy-style atmosphere. While you work to find the culprit, you'll also enjoy several courses of delectable California cuisine and wine as you take a three-hour ride through the vineyards.
Taste the Love
While there is plenty to do in Napa, you know you came (at least in part) for the wine. But with more than 400 wineries in the Valley, it's hard to know which ones to visit, at least on one trip. After you've toured and tasted at the castle, hit up some of the area's other romantic stops.
At  Stags' Leap Winery, history is part of the charm. The castle-like estate dates back to 1890 and has a long list of famous visitors including the Queen of Portugal. Stop by to sip the infamous cabernet sauvignon before stealing a kiss on the Juliet balcony fit for a princess. The Victorian manor sits at the end of a long, private road, secluding it from some of the busier stretches in town. Stop in for an estate tour and tasting, a 90-minute experience that concludes with a seated tasting in the Manor House. Tours are offered daily at 10 AM, 1 PM, and 3 PM. 6150 Silverado Trail, Napa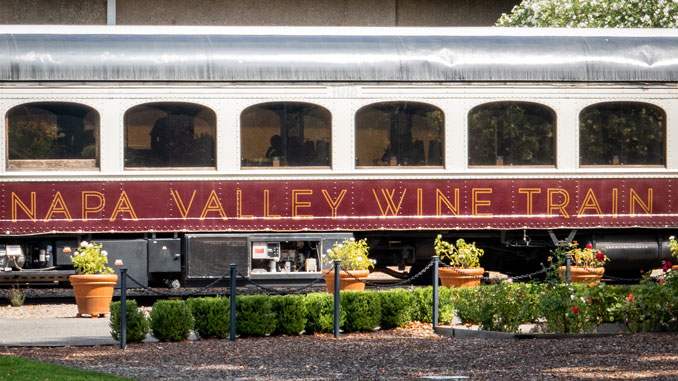 Twenty minutes north of Napa, within the Napa Valley, the magic of Peju Napa Valley exists both in the bottle and the gardens. The sprawling 60-acre estate has been in the Peju family for 30 years, and over that time they have continued to add to its beauty. Stroll hand in hand through the gardens to explore its bounty of flowers and statues created by Welton Rotz and Philip Dizick. On the garden tour you will see the man-made koi pond, footbridge, and other serene elements. When you're done exploring, fill your glass with a collection of estate wines. For a knowledgeable tasting experience, book a stained-glass experience. Seated in front of one of the properties' gorgeous stained-glass windows, guests will enjoy a line-up of four wines as well as a charcuterie board to share. 8466 St. Helena Highway, Rutherford
There's no better way to celebrate love than with a glass—or two—of bubbly. Also, in Rutherford, Mumm Napa proffers gorgeous floor-to-ceiling glass windows with views of the exposed vineyards along with tastings of their of their classic pours, reserve wines, or the special Santana Collection. Head home with bottles not found in the store or stock up on favorites. We recommend the Cuvee M Red, a rare red champagne, or the sparling pinot noir for an effervescent version of the favorite grape. 8445 Silverado Trail, Rutherford
Back in Napa, Artesa is a winery unlike any other. The modern architecture is a fresh take on wine tasting in the Valley, marked by a triangular feature jutting out of the hillside. While on property, enjoy the rocky mountains and rolling vineyards that surround, as well as the small-batch wines produced under the Artesa label. The experiences are also a little out of this world, offering more than a few sips of the local bounty. Book a heritage flight with pintxos and devour five wines paired with small bites offered in the Basque tradition. Take it up a notch with an aromatic tasting with caviar featuring sparkling, white, and rose wines paired with Tsar Nicoulai American White Sturgeon caviar. 1345 Henry Road, Napa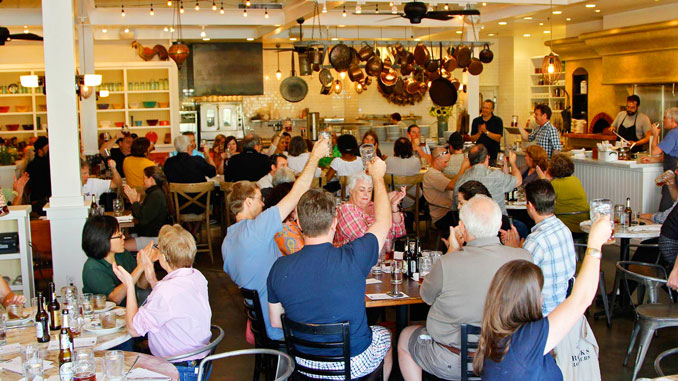 In between those winery stops, you'll need to refuel with food. Restaurants here range from casual to high end. Start with an upscale, yet laid back, meal at Kitchen Door in the Oxbow Public Market. Here, well-priced fare includes Korean-style short ribs and mushroom fried rice donburi as the menu stretches across palates and countries. The real draw, however, is the brunch menu. Weekends from 10 AM-2 PM guests can indulge in decadent buttermilk pancakes finished with apple bitter and whipped cream, a hearty breakfast burger topped with a fiend egg and secret sauce, or eggs benedict made to order with fresh smoked salmon. 610 1st St., Napa
For an experience unlike any other take the love of your life to the Culinary Institute of America, a cooking school with a restaurant open to the public. The Restaurant at CIA Copia takes advantage of its surroundings, creating menus rich with farm-grown ingredients from California. The dining experience is one of a kind, featuring a kitchen where guests can interact with chefs in an approachable setting. Start with a Thai calamari salad or market fish crudo before diving into main courses of Parisian gnocchi crafted with wild mushrooms and truffled celery root cream or the Kurobota pork chop accompanied b y a sweet potato and kale and sausage ragu. Never leave the premises without ordering dessert first. The chef prepares dishes like dark chocolate tart served with tarragon ice cream and classic crème brulee. 500 1st Street, Napa
For a romantic, last night dinner escape into the faux wilderness at Celadon in Napa's historic downtown. The urban oasis is shrouded by overgrown trees, offering a whimsical ambiance that encourages couples to get close. In addition to an impressive wine list, which just about every Napa eatery can boast, the inspired dinner menu is brimming with fresh seafood including Dungeness crab cakes and pan-roasted mussels, as well as a vermicelli noodle bowl and Moroccan-braised lamb shank. 500 Main St., Ste. G, Napa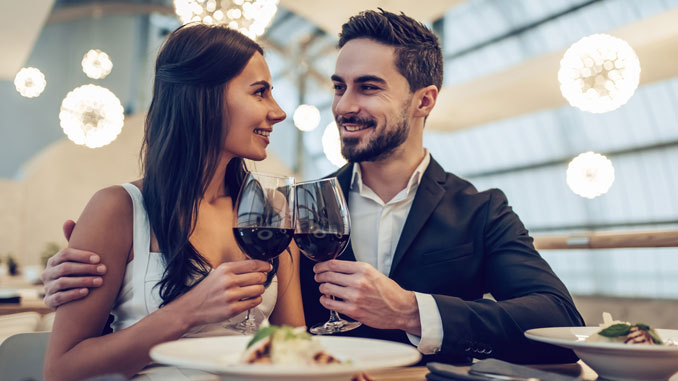 Discover Love
The wine may bring you in, but Napa's charming downtown is sure to keep you there. In between wine tasting excursions, set out on your own to discover the hidden treasures available in Napa's city center and beyond. IF something caught your eye on a guided tour, Oxbow Public Market is the place to find a replica. The culinary haven is known for its food and wine-inspired shops, featuring many of the same goods—including meats, cheeses, baked goods, olive oils, produce, and more—that many of the nearby wineries sell. Or, set off down First Street. The burgeoning outdoor market boasts a smattering of specialty stores including home décor shops and fashionable clothing boutiques. To do some bigger damage, hit the Napa Premium Outlets where name-brand labels like Adidas, Michael Kors, and Tommy Hilfiger are offered at discounted prices.
For a more rustic experience, visit V Marketplace in Yountville. The shopping center once known as Vintage 1870 is housed in the 137-year0old Groezinger Winery complex. Here, you'll wander down cobblestone walkways through landscaped lawns and picnic gardens. Spend the day tasting at the on-site wine cellar before shopping for upscale home goods and enjoying a picnic lunch on the grounds, all with scenic California views.