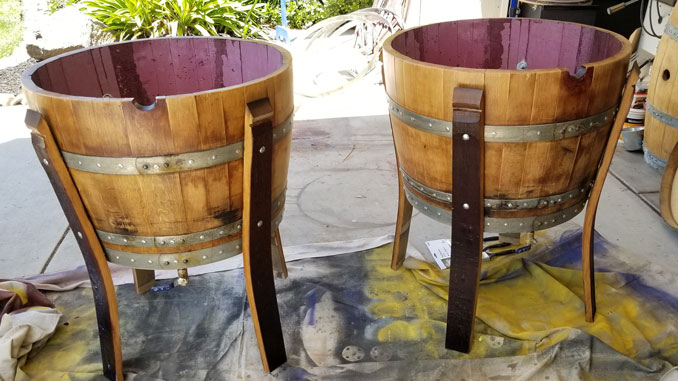 It all started with a dog bed. Rick Serna was walking around a craft fair with his wife when they stumbled upon a small dog bed made out of wine barrels. They immediately thought it would be the perfect place for their Pekinese to rest, but one look at the price tag had Rick shaking his head. "I bet I could make that," he told his wife. And he did.
After finishing the piece, Rick posted a photo online, and the orders started flowing in. Three years later, the Stockton-native who now resides in Lodi is filling upward of 50 orders during his busy months, but they aren't just for dog beds.
"I make 60 or so items," Rick says. Through his company Lodi Barrel Designs Rick turns out just about everything you possibly could make out of a wine barrel from liquor cabinets to lazy Susans, wall clocks to wood décor.
"I get inspired by just going through Pinterest," he says. "I look for wood-made items, not necessarily wine barrels, and I try to make them out of wine barrels."
Lucky for Rick, living in Lodi not only provides a good place to get used wine barrels-he's recently picked up barrels from Scotto's Wine & Cider and Jeremy Wine Company-it also provides the right kind of clientele.
In addition to turning out multiples of his best sellers-one of which is a four-tiered succulent planter-Rick accepts custom orders, too. He's currently working on his first ordered bar, a time-consuming project that includes glass shelves, a space for liquor, and a designated section for wine bottles.
When it comes to picking out barrels, Rick admits he's picky. Not just any barrel will do. Ones that have been damaged aren't a lot of use to the craftsman because he can't use the heads to make clocks and lazy Susans. Those with wine stains, however, sell just fine. In fact, Rick started making his lazy Susans inside-out so that the inside of the barrels with their rich, purple-red color show through. Rick says these items sell better than the versions that display the cleaner outside of the barrels.
You can find Rick and his art online or at local craft fairs and festivals. Admittedly, the annual ZinFest is a big event for the company.
"This is a great area, I think, for this business," he says.
Order Some Art:
Lodi Barrel Designs
(209) 603-2636
LodiBarrelDesigns.com
Facebook.com/LodiBarrelDesigns
@Lodi_Barrel_Designs