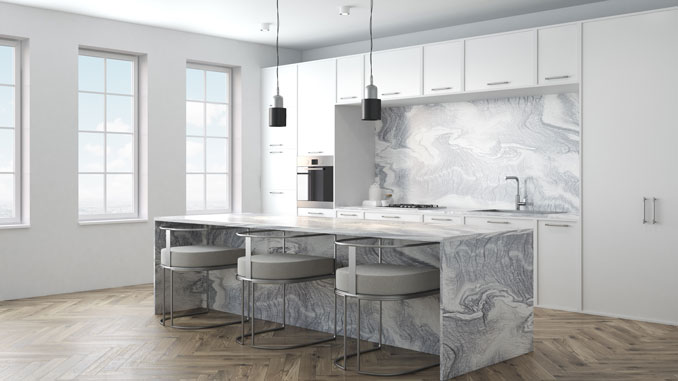 According to Geno Gonzales, vice president of operations at Marble Palace, Inc., 98 percent of San Joaquin County residents have one of four types of stone in their homes. The big players are granite, marble, quartz, and quartzite, and each one has its own perks. So how do you know which slab to put in your bathroom or kitchen? Read on. Our experts have you covered.
Granite
Geno calls this traditional surface the Old Faithful of stone countertops for bathrooms and kitchens (both indoor and out). "I think the biggest advantage to a granite countertop is it can be refurbished," Geno says. That means, if you get chips or scratches on the surface, or the porous stone stains, it can be buffed out to look like new again without need for a replacement slab. That also means if it starts to look old and dingy, it can be polished to shine again. Plus, economically it's a good pick—this stone tends to be less expensive than the others on this list, and it comes in slabs and tile. Expert Tip: If you have kids or are particularly messy in the kitchen, consider a sealant to avoid stains in the first place. "It's classic; it's a traditional stone," Geno says. "It never goes out of style."
Who should have it? Really anyone, including those who have kids or pets and need a durable stone.
Make it look expensive: Upgrade to an exotic granite. It may still cost less than some of the more high-end stones, but it offers better finishes or more interesting color palettes than some of the mainstays you may see in every home.
Quartz
Quartz has made a name for itself in the market because of its reputation for being durable, and the finish does tend to last much longer than most. The man-made material is less expensive than its natural counterpart quartzite, but offers similar looking finishes that can mimic limestone, concrete, or marble. In addition to being more economically friendly, quartz is pretty trendy. Buyers who want to get the most bang for their buck should look for American-made products.
Who should have it? Anyone who likes the look of natural stone but wants a more budget friendly alternative.
Make it look expensive: Choose finishes that look high-end. This material is made to imitate some of the more expensive stone options out there without the cost and limitations of natural stone. Go for a polished finish to elevate the look.
Quartzite
Quartzite is the hardest stone made by nature. It features unique patterns and movement characteristics that are formed deep in the earth, heated by nature. It is an especially expensive product that customers looking for a luxury item will go after. "Quartzite has made a big jump into the market," says Geno. That's because it offers buyers a high-end, glossy look without the maintenance of marble. This stone offers the natural imperfections that are skipped when making quartz, but still has a near-perfect glass finish that other stones can't offer. "Quartzite is the only natural stone that can produce that glass-like finish," Geno says. "It doesn't look naturally made. It's a unique aesthetic."
Each piece of quartzite looks different than the next, which is a huge benefit for those who want a truly unique product. Another benefit is that when it comes to the extreme hardness of the natural product, you also get durability.
Who should get it? Those who want to be on-trend and premier buyers who want a piece none of their neighbors will have.
Make it look expensive: No extra work needed here! This product is a luxury item on its own.
Marble
Marble offers an elegant look, but some people shy away from it because it's easier to damage, Sean Bunnel, custom division manager at Marble Palace, Inc., explains. "Marble—most people are scared of it," he says. That being said, there are buyers who gravitate toward marble because it meets their aesthetic, and they don't have to worry too much about damage in the kitchen. It is, however, mostly recommended in bathrooms and areas that are lightly used due to the porous nature of the stone. The other downfall is that if marble does get damaged, it can't be refurbished the way granite can. Expert Tip: Get it if you love the look, just be careful of spills or putting items that are too hot on top of the counter. Items like counter mats and trivets will be your friends!
Who should get it? Those that are looking for a luxurious look in their kitchen and bathroom but do not have young kids that may damage the surface.
Make it look expensive: Keep it in good shape and this product will always look like you spent a fortune on it!
Ask the Experts
Marble Palace, Inc.
711 S. San Joaquin St., Stockton
(209) 462-1700
MarblePalaceInc.com