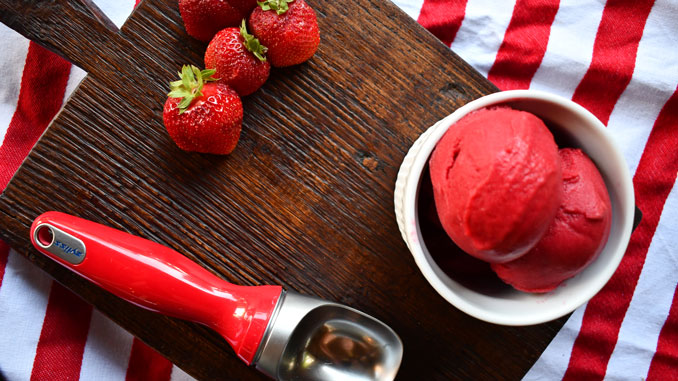 Recipes by the Fine Foodie Philanthropist
Nothing says summertime like the arrival of farm fresh strawberries to San Joaquin County. These beautifully bright berries are sweet, juicy, and delicious. And while you can find strawberries in the store all year long, now is the season for picking them up at your local farmer's market or roadside stand. The ripe red berries are an excellent source of vitamin c and fiber, which means it's a sweet treat you can eat without the guilt. Strawberries are also rich in fiber and antioxidants, so buy them now while they are ripe. The best part—you can enjoy them on their own, whip up a home-made jam, or add them to your favorite desserts or salads for an added layer of freshness.
Recipe 1
Strawberry Arugula Salad
Ingredients
4 Cups Arugula
1 C. Candied Walnuts
4 Oz. Goat Cheese
1 Cup Sliced Strawberries
3 Tbsp. Calivirgin Champagne Vinegar
3 Tbsp. Olive Oil
Recipe
Place arugula in a large bowl. Add strawberries, goat cheese, and candied walnuts. Drizzle the olive oil and vinegar over salad. Season with salt and pepper, toss, and serve.
---
Recipe 2
Strawberry Vodka Spritzer
Ingredients
1 ½ Oz Vodka
2 Oz. Sparkling Wine
4 Fresh Strawberries
1 Tbsp. Raw Sugar
Blueberries for Garnish
Recipe
Muddle Strawberries and raw sugar in a pint glass until sugar dissolves. In a glass of your choice, add the strawberry mixture to the bottom. Add ice, vodka, and sparkling wine. Garnish with blueberries and a striped paper straw for a festive sipper!
---
Recipe 3
Farm Stand Strawberry Sorbet
Be sure to use strawberries from the farmer's market or a local farm stand.
Ingredients
1 C. Sugar
1 C. Water
1 Quart Fresh Strawberries
4 TBSN. Fresh Lemon or Lime Juice
Recipe
Bring the water and sugar to a boil in a medium saucepan. Reduce the heat and simmer until all of the sugar has dissolved. Transfer to a bowl and let the syrup cool. Combine the strawberries and lemon juice in a food processor or blender and mix until completely pureed. Strain the mixture through a fine mesh strainer to remove the seeds. Combine the strawberry mixture with the syrup and chill for one hour. Prep your ice cream mixer and turn it on. Pour the mixture slowly into the bowl and run for 25 to 30 minutes. Transfer to a bowl and chill for an additional two hours.
Local Angle
Satisfy your sweet tooth with a strawberry scone from Corner Scone Bakery. With chunks of farm fresh strawberries, these flaky scones are the ultimate taste of the season.  Corner Scone Bakery, 322 N. California St., Lodi