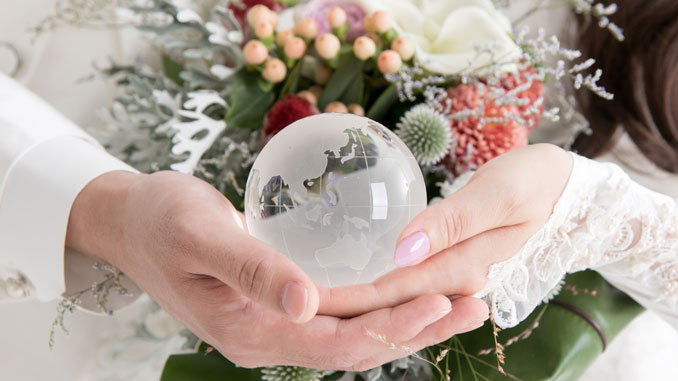 The planet needs us now more than ever, and that doesn't change on your wedding day. Luckily, walking down the aisle can be eco-friendly if you put in the effort. Follow tthese tips to make your wedding green without compromising on style.
Skip the paper invites.
Hire a videographer to create a unique, memorable wedding invitation starring you and your future spouse! Or, you can create electronic invites that include your website, wedding registry, and a way to RSVP. Other than being an environmentally responsible choice, this option also makes it convenient for your guests to keep all the important details in one place (meaning you hopefully won't get the dreaded texts the day of asking for an address).
Rent when you can.
Definitely skip the paper plates and plastic cutlery, but if you want to go the extra mile, rent as many of the items as you can so that others can use them after you. For those you can't rent, consider purchasing reusable items and then gifting them to a friend for her nuptials or selling them to others who are getting married. Keep the good karma going!  From decorations like the aisle runner, to napkins, and table coverings, be sure to select reusable items rather than one-time-use choices.
Keep it intimate and local.
This one can be a challenge, but the smaller your wedding is, the more environmentally friendly it will be. If possible, keep the guests local and choose a nearby venue that means less travel and a smaller carbon footprint on your big day.
Decorations that delight.
Helium balloons and plastic confetti can be detrimental to wildlife. Be sure to use decorations that are reusable or compostable in lieu of one-time-use embellishments. Picking a few, simple, beautiful pieces will go a lot further than decking out your event with tons of decorations that won't last and aren't meaningful to you and your guests.
Centerpieces that keep  on giving.
Your centerpieces are an opportunity to shine. Use simple, elegant, potted centerpieces—succulents work well—that guests can take home as souvenirs. This way, you're investing in something that people will cherish and that won't have a negative impact on the environment.
Reduce, Reuse, Re-wear!
Invest in a dress that you'll wear more than once. Pick something that you are comfortable wearing again or one that you can even dye a different color and use for other formal occasions. Also, let the bridal party pick their own outfits (within a color scheme) so that they, too, can wear their pieces again.