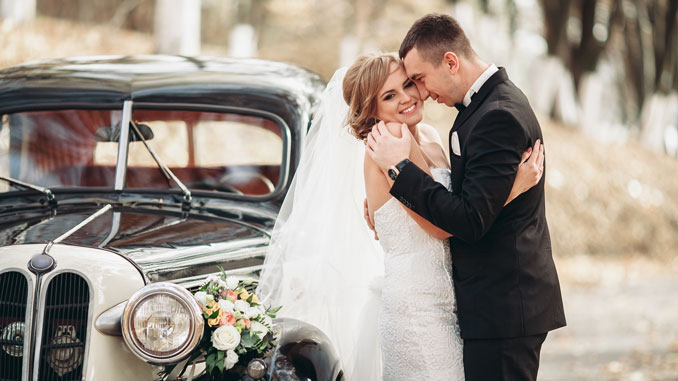 From Cinderella Carriages to Classic Cars
The arrival happens first before brides can walk down the aisle, smile for the camera, and toast the wedding night away. So why not make a grand entrance? And there are so many different options out there — from the limousines on www.columbuslimousineservicepros.com to vintage cars to muscle cars. Whichever you pick, you want something that speaks to your personal style and fits into the overall theme of the wedding.
Whilst considering your own ride, you may also want to consider how your guests are going to get to your wedding too. It's often a tradition for the bride to have her parents ride with her and have another car for bridesmaids too, but not everyone has to follow tradition. If your wedding is quite a distance from your home, or perhaps even the reception venue, you may also want to consider hiring a coach or bus so that guests can easily get from A to B. For a coach, you could look into the best coach hire kent has to offer or retro buses are also on-trend right now. Anyhow, here are three more ideas for limo-alternative wedding wheels. If you strike it lucky and find something you're looking for but it happens to be in a different state, don't worry too much you can always contact the vehicle provider and see if you can arrange a deal in which you use a vehicle transport service similar to that of Cars Relo or others that will be able to accommodate such a request.
For the Fairytale
Step out from behind the dim, tinted windows and into the limelight. The extroverted bride will love opting for a horse-drawn carriage and her very own Cinderella entrance. Several companies service the San Joaquin area, such as Rolling H Carriage Company with its domed princess-style carriages. Or opt for Peppermint Creek Carriage Co., which offers historic six-passenger carriages with white exteriors and rose red, deep blue, or forest green velvet interiors to fit the big day color scheme.
---
Old is Gold
No matter how wedding trends wax and wane over the years, classic cars are one thing that will always be in style. Inquire with local limo services to see if they have vehicles aside from limousines in their fleet. Sometimes, companies will have vintage rides for rental. Vintage Limousine Service in Lodi has a 1966 Vanden Plas Princess Limousine, a British style restored to original condition that offers a cozy fit for the bride and groom. Sit back and relax as the driver delivers you in style. Before all that though, read up on classic cars if you aren't already familiar with the vintage, timeless style of such cars. You can check out some cool classic cars from AutoInsureSavings.org to understand exactly what it is that sets them apart from the usual.
---
Get behind the wheel
If your wedding is all about the DIY, why should your ride be any different? More and more couples are opting to drive themselves around on their wedding day to enjoy more flexibility and less scheduling stress. Check out Turo, an online car rental service that allows car owners to rent directly to customers. Locally, you'll find stylish options like a cherry red 1965 Chevrolet Corvair and a 2016 Tesla Model X. Or consider renting an exotic sport or luxury car from a rental car agency like Enterprise, where you can choose from a wide selection of exciting models.
Tips:
If your wedding falls between April and June (AKA Prom and graduation season), be sure to book your ride well in advance as formal vehicles will be in high demand.
Have your heart set on a classic car? Be sure to consider the size of your dress-classic models are often a tighter fit than modern counterparts, so that princess gown might be better suited for the Cinderella carriage.