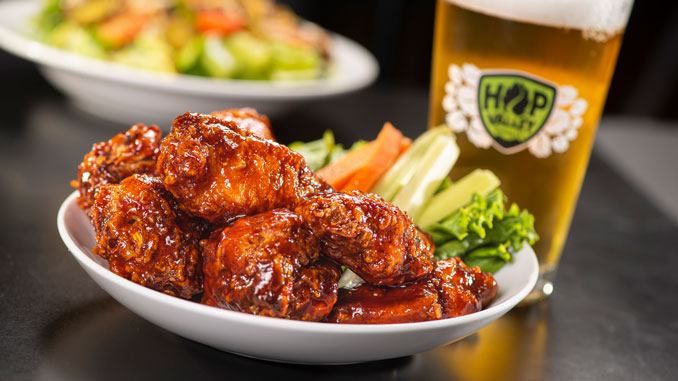 At Porters Pub
Let's set the scene. It's a warm summer day and you're looking for a place to cool off and have a meal—perhaps a beer, too. Whether you're venturing out with the family, a group of friends, or by yourself, you find yourself at Porters Pub in Lodi. Step in to see patrons high-fiving, hugging staff, and telling jokes. There's a line-up of regulars seated at the bar, drinking local brews while they chat. You are immediately greeted with a smile, and a menu.
"The reason we survive and thrive," says Shae Porter, co-owner of the restaurant. "We have so many customers that are not just once a week… they are truly regulars." In fact, Shae points out, some people eat at Porters just about everyday.
Aside from the company, and the brother-sister team behind the pub (locals who grew up in Lodi), the fresh, seasonal menu pulls guests in off of School Street. That and an impressive list of thirteen craft beers on tap. Let's just say there is a reason people keep coming back.
"Everything we bring in is fresh," Shae says. The meat is never frozen and everything is cooked in house. Even the dressings, except for one, are made in-house.
To keep things interesting, Porters changes up its menu twice per year. It's an undertaking Shae personally handles so the menu always echoes what is happening in the surrounding community from the local harvest to seasonal festivals.
While "pub" does accurately describe the casual nature of the eatery, don't get too caught up on the word. What many don't realize about Porters is that it offers a family-friendly environment for people who want to come in and have a meal, and perhaps a beer, even with kids in tow. It features a kid's menu that caters to the youngest diners, and people can feel safe eating inside.
If you're wondering what to order while you're here—well, there's a reason this gem was crowned best wings on the 2019 San Joaquin Magazine Best Of list.
"People have been raving about our wings since the get," Shae says, adding it's the freshness of the meat that makes the difference. The science behind it is this, when the wings are frozen they retain moisture. Cook them up fresh (tossed in flour and a delicious blend of seasonings) and they fry up nice and crispy instead. And if you ask the team at Porters, well, size matters. Every wing is large. No small wings here!
The other big draw is the homemade chili. The award-winning recipe is best served over nachos, a delicacy regulars love to chow down on. And, if you're looking for something lighter, you can't go wrong with a panini. Porters Pub celebrates its newest menu addition by serving up inventive Panini du jour—a Panini of the day. 
"We have a really diverse menu," Shae says. "We have a little bit of something for everyone."
If you're over 21, wash it all down with a local brew. Porters Pub has only four taps that don't rotate (Coors Light, Lost Coast Tangerine Wheat, 805, and Deschutes Black Butte Porter). The rest are constantly changing.
"There are so many fantastic breweries out there," Shae says. "Other than Coors Light all my taps are craft beer." Most of the offerings are fairly local with sips from Sacramento and San Diego making up a bulk of the menu. Gems include truly local blends, too, like Morgan Territory out of Tracy. The first thing patrons want to know is what's new, and if it's local.
Not sure when to stop by? Anytime is a good time—the restaurant is open 11 AM-9 PM Monday through Thursday, 11 AM-10 PM on Fridays and Saturdays, and 11 AM-8 PM on Sundays—but happy hour serves the best deals. Stop by Monday through Friday from 2-6 PM for discounts on bar bites and brews. During football season and other major sporting events, like when the Giants and Dodgers play each other, happy hour runs all night.
"Everyone comes in different jerseys, but there aren't any fights," Shae says. "You can feel safe bringing everyone in."
Come Eat!
Porters Pub
121 S. School St., Lodi
(209) 400-7147
PortersPubLodiCA.com