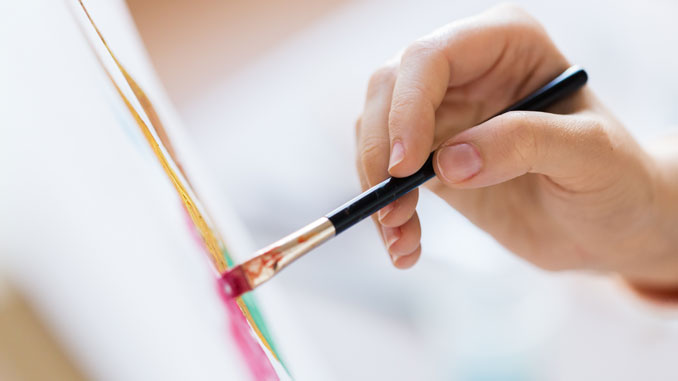 DIY: Make Your Own Art
Experts say that those who work creatively every day are happier overall, and creating art has even been linked to reducing stress and boosting mood. Get your happy on around town with local, creative outlets. From building terrariums to the classic paint-and-sip, San Joaquin County is brimming with opportunities to create your own home décor.
The Local Collective
More than just a studio, this artisan boutique sells wares made by California artists—many local. And for those who are inspired by the goods, artist-hosted workshops are available. Here guests can learn the crafts associated with some of the Collective's makers. Or, ask about using the classroom space to work on your own projects. The Collective offers private parties, events, and one-on-one classes to community members. LocalCollectiveLodi.com
Pottery & Ceramics
Need the perfect piece of pottery to act as an accent piece in your home? What's cooler than being able to point out a piece to houseguests and tell them you made it yourself? At the Grand Theatre Center for the Arts in Tracy, adult-only classes are offered in both wheel throwing (pottery) and ceramics, meaning you can create custom bowls, pitchers, and other decorative items to showcase in your home. AtTheGrand.org
PaintNite & PlantNite
This isn't a local institution, but local places play host to the creative platform throughout San Joaquin County. PaintNites follow the sip-and-paint formula that has become popular over the years, but occasionally a PlantNite event comes up and changes everything. During PlantNite, guests create their own terrariums, perfect little décor boxes that breathe life into a space. Check the website for upcoming events (YayMaker.com), and mark the following dates at The Grant Bar & Longue in Tracy on your calendar: August 6, 11, 13, 18, 20, 25, 27. Chuck's Place in Manteca hosts dates, too.
DIY Wall Decor
Make wooden signs that fit your style at a Board & Brush studio. Just outside of San Joaquin County in Modesto, Board and Brush has its closest studio. Here, guests are invited to come in and craft together. During studio times, attendees are welcome to choose from any available piece they want in order to create a work of art that truly speaks to their style. In general, pieces include a wooden board decorated with paints in a variety of themes from pets to holidays. To see examples of available projects, visit the website. (BoardAndBrush.com/Modesto).
Glass Mosaics
Create your own glass mosaics around town with KHMosaic Designs. Krisit Halva teaches groups how to make mosaic stained glass masterpieces during lengthy workshops. All of the supplies are included in the classes, which are hosted at various wineries and businesses both in and out of town. August 17 she will be hosting a pet portrait class at the Stockton Art League. To see where Kristi will be next, follow her on Instagram or Facebook. Facebook.com/KHMosaic, @KHMosaics
Canvas Paintings @ Home
You no longer have to venture into a class with strangers to sip and paint—although there's really nothing wrong with that. But if a private party is on your mind, that's where Kat comes in. Parties through Kat's Paint & Wine Parties include in-home painting instruction in Manteca and surrounding communities where the booker gets to choose the piece friends will create. Not inspired by anything on the website? Kat will create a custom painting for your party. Expert Tip: Follow Kat on Facebook to find locally hosted wine and paint events. Facebook.com/KatsPaintParty
Teen Creative Space  (I envision this one falling in line with the others but with a different colored background to make it stand out)
Have a teenager at home who loves to create? Send them to Jagged Lines of Imagination and put them to work. Open studio times invite Teen Impact Center members to work on their own creations on Tuesdays from 5 PM to 6:30 PM. Here teens can use the studio's available materials to make artwork for their room, or the rest of the house.