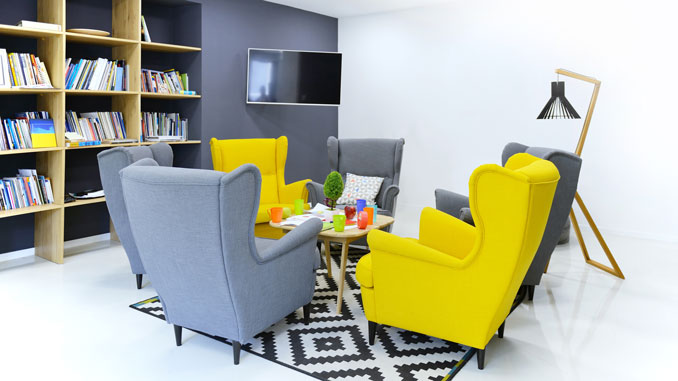 A neutral color palette is all the rage—have you seen Kim and Kanye's all-white mansion?—but a complete lack of color can feel a little dull for some. A lot of people are embracing the neutrals—tans, greys, and white—and a punch of bright color may be just the pop your neutral home needs. "We usually add color either in artwork or accessories like drapery or pillows," says Kathleen Jennison, an interior designer and owner of KTG Design Co. Not sure how to add that pop? We've got you covered!
DO choose colorful artwork.
Artwork is one way interior design experts like Kathleen Jennison add color to a room. If the color palette is neutral, there aren't a lot of rules on what artwork to include. Simply choose a piece that speaks to you and introduces some new shades into the room.
DON'T date your space.
Be mindful of the colors you are bringing in. Shades like millennial pink or nautical whites and blues aren't exactly trending right now. Instead opt for colors that feel more modern like greens, yellows, and navy blue.
DO accessorize in color.
There are several benefits to putting that punch of color into the room's accessories. Smaller items like throw pillows, blankets, candles, and vases can be more easily changed out later if you grow tired of a color than, say, a couch or a big chair. It's also a good way to place bits of color here and there, and maybe introduce more than one color to the room. As long as the colors complement each other, it works well!
DO go big with new furniture.
Want that pop of color to make a big splash? If you're not afraid to commit to one bright hue go all out by selecting dining chairs, bar stools, or an armchair in a new shade. Instead of choosing several small items to represent your pop of color, this finishes the theme with one big piece. However, you can then play off of the shade in other parts of the room. Just be careful not to go overboard.
DON'T overdo it.
Don't go color crazy. Instead of mixing several hues and picking colorful pieces to cover every inch of your space, choose a few items or colors and commit.
Ask an Expert:
Kathleen Jennison
(209) 932-9801
KathleenJennison.com
404 N. Harrison St., Stockton