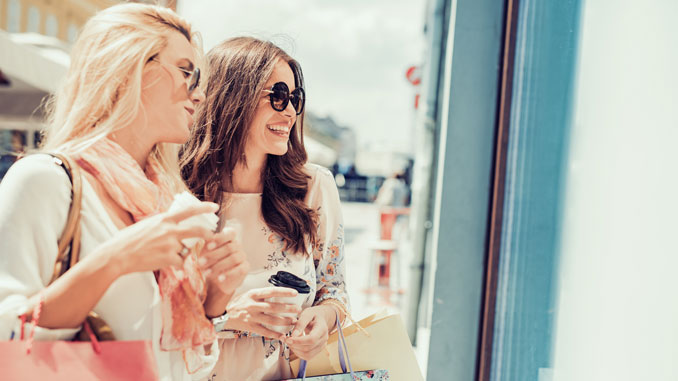 From current trends to specialty scores, San Joaquin's unique boutiques and specialty shops are passionate about their niche, and have shelves stocked with finds to prove it.
Boutiques & Specialty Shops
Boxwood Finch
606 W. Lockeford St., Lodi (209) 224-5781 BoxwoodFinch.com
All things chic are readily available at this boutique! Boasting cute tote bags and hand-made jewelry, décor that rotates throughout the seasons, and apparel that brings out your very best angles, Boxwood Finch is prepared to meet all your designer needs. Find the perfect gift for the whole family, or a little something for yourself!
Cheese Central, Lodi
11 N. School St., Lodi. (209) 368-3033, CheeseCentralLodi.com
Cheese Central in Lodi offers a collection of appetizing cooking classes for chefs of all skill levels, from Cheese 101—an introductory look at cheese and cheese-making—to Filled Pastas—where participants make fresh pasta and fillings using a selection of culinary tools. Held at Grand Central Kitchen, this creative activity boasts a delicious delicacy to prepare and consume.
Downtown Lodi
Shopping downtown Lodi offers a little bit of everything for everyone. Whether you're into the latest trends, handmade gifts, antiques, consignment, or swanky eats, your stroll down the quaint, tree-lined streets is sure to be prosperous.
Downtown Tracy
The streets of Downtown Tracy are lined with shops that evoke a cool, urban feel. In between swanky eateries that boast chic seasonal menus sit charming boutiques that offer the best in home furnishings with a handmade twist, high-end make-up, and more. Don't forget to fuel your trip with a customized cup of Joe at Barista's before exploring all Downtown Tracy has to offer.
FINA, Stockton
240 Lincoln Ctr., Stockton, (209) 478-5670
Stop in for every day looks, wine tasting attire, party dresses, shoes, sunglasses, jackets, purses, jewelry, and more—all abreast the latest fashions, and crafted by the hottest designers. True Religion, Seven, Hudson, Dolce Vita, Gucci, Wildfox Couture, and Nicole Miller are just the tip of this boutique's inventory iceberg.
French at Heart
16 N. School St., Lodi, (209) 333-3800
With everything from high-end fragrances, artisanal candles, luxury hand creams, to knick-knacks for the home you won't find anywhere else, French at Heart provides everything you need to find the perfect gift or just to shop for a little something for yourself! This adorable boutique is located right in the heart of Downtown Lodi, so be sure to stop by!
Lincoln Center Shops, Stockton
Lincoln Center is the one stop shopping hub for everything on your list, and the best part? Nearly 80 percent of their businesses are local! From high end fashions to school uniforms and home décor, this shopping center is fit for the entire family. We encourage you to work up an appetite, as the center also houses some of Stockton's most cherished restaurants! LincolnCenterShops.com
New & Again, Lodi
210 S. School St., Lodi (209) 368-2200, NewandAgainOnline.com
For those who love a vintage bargain, the constantly changing inventory of used furniture at New & Again makes every day an opportunity to find the perfect companion piece for your collection. Monday through Friday, an interior designer is on-hand to help shoppers find the right piece for their home.
Sassy Pants Children's Boutique, Stockton
354 Lincoln Cntr., Stockton (209) 451-9775, ShopSassyPants.com
Here, kids can find high-end apparel to express their inner selves. Located in Lincoln Center, it's a convenient stop to pick up clothes, shoes, accessories, and gifts for kids up to age 14. From onesies for infants to full-length mermaid skirts for tweens, the children's boutique makes fashion fun for everyone.
The Owl Box, Tracy
131 W. 10th St., Tracy (209) 830-0796, Owlboxvintage.com
Three generations of women—Glo, Gigi, and Rae—dabble in design to give old furniture new life. Here, they craft pieces to fit every style—from charming country cottage to industrial chic. From home to garden, bits and pieces abound in this kitschy-cute boutique specializing in repurposed furniture and home decor.
---
SHOPPING CENTERS
Park West Place, Stockton
ParkwestPlace.com
At Stockton's Park West shopping center, the motto is "Shop happy. Live fully." and that's exactly what you should do! More than 50 retail stores and eateries within walking distance of each other give shoppers a one-stop approach to shopping without skimping. Stores include everything from Justice Just for Girls to Cost Plus World Market.
Sherwood Mall, Stockton
SherwoodMall.com
Just across the street from Weber's Town Mall, Sherwood Mall is anchored by department stores like Macy's and Dick's Sporting Goods. In between, chain stores include some of the biggest names in retail. Go for a stroll past the shops on your own, invite your friends, or make it a family affair—there's a little something for everyone here.
Stonecreek Village Shopping Center, Stockton
ShopStoneCreekVillage.com
Stop by Stonecreek Village in Stockton to enjoy a fusion of your favorite shops and restaurants, all nestled within their open-air setting. Stroll through J.Jill, Ann Taylor LOFT, Jos. A. Bank, Lane Bryant, Cacique, Gymboree, Regalo Bello, Charming Charlie, and others as you get your retail therapy fix. A day of shopping sure can make you work up an appetite, and with restaurants like Boudin SF, BJ's, Rubio's and Peet's Coffee & Tea, you are in the perfect place to finish your night off right. Stonecreek kicks it up a notch with free events like Baby Boot Camp Stoller Fitness, and multiple summer concerts.
The Promenade Shops at Orchard Valley, Manteca
ThePromenadeShopsatOrchardValley.com
Stop by the Shops at Orchard Valley for a pristine shopping experience. Enjoy a newly built movie theatre, hotel, and shops like Guess, Vans Outlet, Banana Republic, and Bass Pros Shop. Check in for new additions and growth!
Weberstown Mall, Stockton
Weberstown.com
Whether you enjoy shopping specialty retailers like Forever 21, American Eagle Outfitters, and Sephora, or prefer the comforts of department store such as Dillard's and Sear's, Weberstown Mall will not disappoint. In addition to rows of enticing storefronts, kid's rides and fun events like farmers markets give the shopping destination more to offer.
Wine & Roses Hotel. Restaurant. Spa
WineRose.com
The Wine & Roses experience is a blend of celebrated cuisine and premium resort service. Savor seasonal, sustainable, farm-to-table cuisine in Towne House Restaurant. Experience tranquility in our state-of-the art resort spa. Relax and indulge in one of our many luxurious hotel rooms or suites.  Spend time at Towne Corner Café & Market for a taste of all the good things coming from our kitchen and local farms.  With over twenty years of experience, Wine & Roses is a premiere wedding destination specializing in exquisite full service weddings and events.