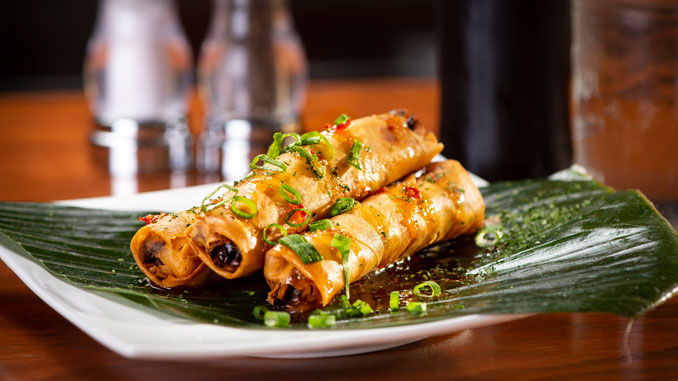 Digging into Filipino Cuisine with Rice Queen Social Club
BennyJann Peneyra was just a baby when his family moved from the Philippines to the states in 1990 looking for work. Most of them became nurses or accountants.
Not Benny, though.
Benny began cooking at a young age with his grandfather. "He taught me how to scramble eggs," Benny recalls. "Anything that could have an egg scrambled with it could be a meal."
Though she was working a lot, Benny's mom was his biggest source of inspiration—and his biggest critic. "Everything that I made as a young cook, I always would ask her opinion on it," explains Benny, adding with a laugh, "She was very blunt."
Today, as owner of the popular pop-up Rice Queen Social Club, Benny's motto is "At the end of the day, always cook like you're cooking for your mom".
"When you cook like that, it comes from the heart," notes Benny. Love, of course, makes everything taste better, from the foodie-favorite Lumpia, to the traditional Stuffed Pusit (squid) with garlic rice and cucumber salad, to the intriguing Duck Asado Spring Rolls and more.
"I always start with what I like to eat or was raised eating and fuse that with what I've learned," says Benny about his creative process. The result? Traditional Filipino recipes with a modern twist.
The Duck Asado Spring Rolls, for example, were inspired by his time spent shredding duck for a Vietnamese Restaurant in San Francisco. "It was kind of confit at first. I braise it in duck fat and grill it to give it a nice flavor," says Benny. "It has vermicelli noodles, lettuce, cucumbers, and an herb mix I call the "Asian trinity"—cilantro, basil and mint. They add a very nice flavor to fresh veggies." Top it off with spicy fish sauce vinaigrette, shaved chilis, and peanuts and you have yourself a mouthwatering, Instagram-worthy meal—just don't forget the rice!
Just three years old now, Rice Queen Social Club has developed an almost cult-like following of foodies both here and beyond Stockton, the evidence of which Benny noted when he popped up at Cocoro. "I looked around and realized I didn't recognize anyone," remembers Benny. "I thought, these people actually wanted to come out here and experience the food!"
To that, we say "Well, duh." You only have to see photos of the mouthwatering barbeque plates, the comforting Bao Buns, the vivid Spam & Braised Pork Belly Fried Rice to find yourself eagerly scrolling through RQSC's social media to figure out when and where their next pop-up will be.
"Filipino cuisine used to be a trend," says Benny, "but now it's here to stay. People weren't really sure what it was, but now at least most people know lumpia, so they're willing to try other things."
Benny's own lumpia begins with a stop into Louie's Meat Market—as a small business owner, he knows the importance of shopping local. Back at the kitchen, Benny crafts the base he learned from his mom: salt, pepper, and fish sauce. He then expands the recipe, adding chili oil, crispy chilis, and garlic, Sambal, and oyster sauce. "It's a melting pot of Asian sauces that I grew up experimenting and eating that makes it stand out from other lumpia," explains Benny.
As for the protein, Benny's done everything: chicken, duck confit, he's even made a Spam Breakfast Lumpia before. "You can wrap anything in these and fry them," he concludes.
With ideas this good, Rice Queen Social Club has turned into one of the foodie-gems of Downtown—and while the pop-up provides the air of exclusivity, Benny has been considering the brick and mortar life. "I've always talked about it, I just have to actually do it," he says.
For now, he and his fans are more than content. "It's actually pretty cool. In this community we're all in self-starters and entrepreneurs here in downtown Stockton, where it's community over competition," explains Benny. "'Blessed' is the word I like to use."
Rice Queen Social Club
Instagram: @RiceQueenSocial