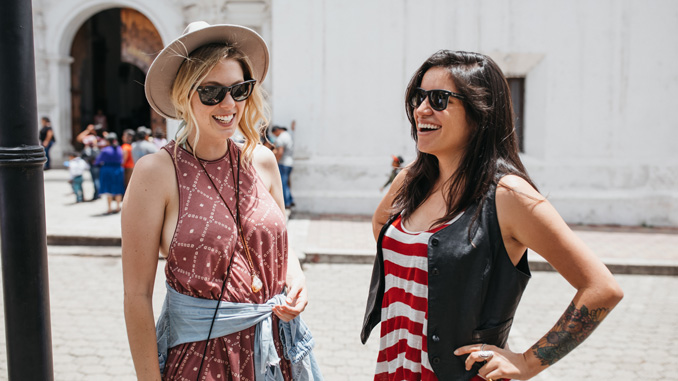 Women-Owned 'Heart of Travel' Brings Sustainable Overseas Trips to Northern California
Have you ever dreamed of jetting off to Guatemala, Cuba, Ecuador, Peru, or Mexico?
These exotic countries in Latin America and beyond are home to ancient ruins, stunning waterfalls, new people, and more. However, many Americans forgo travel to Latin America because they're worried about the drug trafficking and violence heavily reported in these regions.
Chelsea Glass spent three years working in Guatemala's tourism industry and learned the country wasn't quite what the media painted it out to be—so much so that she decided to open a U.S. based travel company that would allow people to visit these countries without fear.
Today, Chelsea has teamed up with Guatemalan-born Ana Castillo to open Heart of Travel, a boutique travel company based in Sacramento that offers a comfortable traveling experience in which experienced tour guides are ever present. Quite often, it's either Chelsea or Ana who are leading groups.
"There's safety and security of knowing they are going with guides who know the country really well," Chelsea explains.
The women-owned venture focuses on both sustainability and being environmentally friendly, as well. Planned trips give back to the small communities within these regions.
"The tourism industry is super saturated with generic [travel]," Chelsea says. Heart of Travel's mission is to break that mold.
A home stay is a popular overnight opportunity in many of these destinations, where host families welcome travelers into their homes for a night. Here, guests enjoy new experiences and get to live like locals. Heart of Travel pays the host families for their time, giving something back to the community. Ana says it's the "different layer of intimacy" that makes these home stays so popular.
Chelsea and Ana's trips are helping to change American perspectives about Latin America. "So many people would not go to Guatemala on their own," Chelsea says. "[The trips] completely change their perspective."
On average, trips consist of 6-12 travelers and last one to two weeks. Cuba and Guatemala are amongst the most popular destinations but upcoming additions of Spain and Panama might change that.
While the company is based in Sacramento and the majority of clientele comes from Northern California, travelers from all over the world are invited to join scheduled trips. Book yours soon—and be ready for the trip of a lifetime.
Take a Trip:
Heart of Travel
(916) 832-0407
HeartOfTravel.org