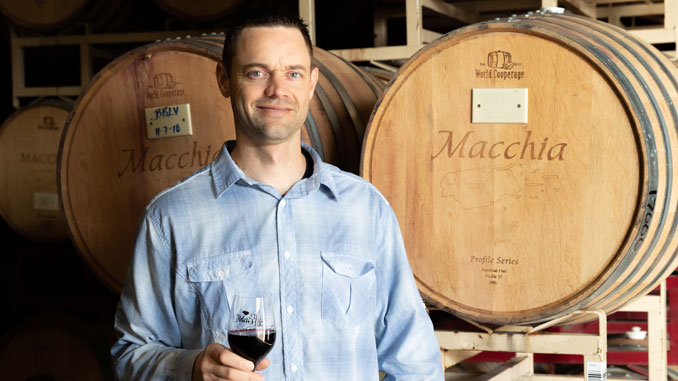 Macchia Wines
How'd you get started?
I mentored under my father for 15 years, so I got pulled into the family business. We started as a very small winery, doing maybe 1,000 cases, which translates to 25 to 50 barrels per year. We've grown a lot since then—we're doing more like 15 to 20 thousand barrels now.
What's your winemaking style?
We like to let the grape hang a little longer than most people would, which means the grape's pH will go up a little bit, but we like to get riper flavors and more concentrated wines. That's our style. Also, to have more control over the quality of our wine, we manage more of the vineyards.
Where do you draw your inspiration from?
I got my inspiration from my dad—it's his passion. I grew up doing it since I was 18 or 19 and kind of fell in love with the process. And you get to enter competitions, which is fun.
Do you have a favorite wine you've made?
2018 will be a great year for our wines. We had great weather and we were able to control the farming a lot more this year. These will be really great wines because of the great harvest.
We made a new wine called Superlicious this last year. I had my mom and Jeannie put the blend together, and they did a little competition and Jeannie won.
What's one of the toughest things about winemaking?
Long hours and hard work during August, September, October, and then it starts slowing in November. Three months with no days off is generally what happens, and working 10 to 16 hours. I actually enjoy it, but a lot of people get burned out.
What's the most rewarding aspect of your job?
Hearing people say how much they love our wines.