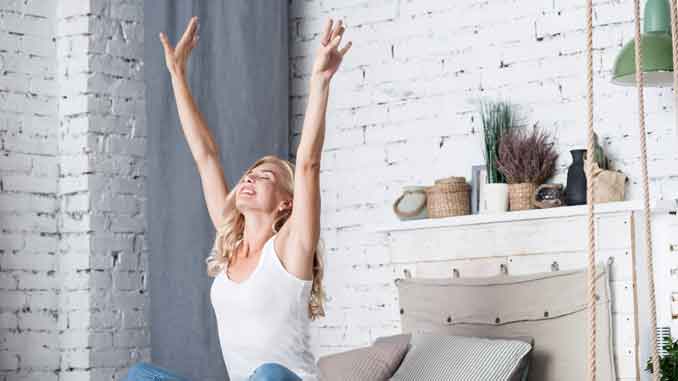 Less is more. That's the philosophy behind minimalism, an interior design and lifestyle trend that's seen a lot of popularity in the 2000s. Looking at 2019, Nordic Minimalism will be the new style of choice for design junkies—think stress-less furniture and Scandinavian touches to highlight clean lines and functionality. Whether you're looking to delve further into minimalism, or want to try something new this year, we've got tips from local experts to get you there. Go traditional with classic minimalism techniques or get more stylized with a Nordic twist on the classic. Guests will be raving regardless of which direction you go, and begging for tips to mimic the look.
De-Clutter
One of the key design techniques tied to minimalism is less stuff. For many, de-cluttering is therapeutic, and living in a clean space promotes happiness and health. Plus, for busy adults, keeping clutter to a minimum makes it easier to clean.
Start by ditching knick-knacks and anything that doesn't serve a purpose. A few pieces of funky décor are fine, but the general rule is that everything in your home should be useful. Start by removing kitschy signs and bits and pieces from shelves and cabinets. The goal here is simplicity.
If you have kids, apply the technique in their rooms, too—to a reasonable extent. Pack up unused toys and create storage solutions for what remains. Having a place for everything will make cleaning easier, contribute to clean lines, and support the philosophy behind minimalism.
The Color Palette
This might be the trickiest part of mastering minimalist design. Don't mistake minimalist for boring. Black and white tones can be a key part of your palette, but it doesn't have to be so strict. The general rule of thumb is to choose just a few colors—probably three—and stick to those. Neutral tones instead of bright, bold hues work best. Use the same few colors throughout the space, layering different shades and textures to create interest. If you're a fan of color, choose one big design piece to pull a new shade into the room, but don't overdo it. Tones shouldn't be competing with each other.
Smooth, Clean Lines
Minimalism isn't only about getting rid of items. It's a style of furniture, too. Choose pieces that have clean lines and interesting angles. Unique furniture can become the centerpiece in a minimalist home where other décor is pared down to its bare minimum.
Minimalist furniture is also typically smaller and sleeker, which makes even small spaces look bigger. Ditch the oversized, puffy leather couches and opt for stress-free pieces instead. The Bone Store in Stockton sells ergonomic, comfortable, and chic couches, chairs, and more. Stop in to elevate traditional minimalism to the Nordic style.
"Stressless defines the epitome of pure Scandinavian design that is characterized by simplicity, functionality, and minimalism," says Natalie Apter, a representative for Stressless. The attitude of the pieces is down to earth with an understated elegance. "A simplistic, yet artful, approach reveals itself."
No-Fuss Floors
Flooring is a good place to start for any design overhaul. The rule here is the same—less is more. Choose simple hard surfaces to get the look right.
Minimalism embraces smooth finishes and contemporary design in light colors. Avoid flooring that is grey and instead opt for planks with grey undertones. This works for tile and wood, but forgo carpet, and never use hand-scraped wood floors, warns Tom Mathews, manager at Shelton Lee Flooring.
Window Coverings
Many think going bare minimum means ditching the window coverings all together. But remember, minimalism is about function, and in many homes curtains and blinds serve an important purpose.
To nail minimalist window treatments, think modern and simple. You'll still want to embrace clean lines and a minimalist color palette while keeping style in mind. Simple shades (especially cordless systems) are a great option because they do not create extra material and bulk on the walls. Check out the Hunter Douglas honeycomb style shades for an option that comes in many colors.
Blinds might be the most popular choice for those living the minimalist mantra. Again, go cordless, and stick to the established color palette.
The big no-no is choosing fancy curtains. For those who feel they must have curtains, don't make them a focal point. Choose a neutral color close to the color of the wall to help the curtains blend in. Curtains that hang loosely and do not create extra bulk are another must. This isn't a time to start layering panels. Stick to the basics.
Minimize Your Carbon Footprint
While you're working on minimizing the stuff in your home—and your mind—think about shrinking that carbon footprint, too. A carbon footprint is the amount of greenhouse gases used to support everyday activity. One way to shrink your personal footprint is to make sustainable choices in the home.
HVAC systems are a big contributor to greenhouse gases. Save the environment—and your wallet—by keeping your unit clean and working optimally. If you have an outdated unit, replace it with a more sustainable model. Not only do newer HVACs protect the environment by creating less emissions, a new unit can also reduce monthly usage costs.
Apply the same thinking to other items. Check out fireplace units that are more sustainable (with a more modern design), call a local solar company to get a quote on panels, and replace traditional light bulbs with LED ones to be more energy efficient.
It's a Mindset
For the biggest impact, embrace the minimalist mindset. Those who opt for minimalism don't typically do so only for design purposes. The philosophy behind minimalism expands to the mind and a person's overall wellbeing, as well. Living in a home with less stuff has been linked to less stress. It can also be used as a way to reduce monthly costs and keep more money in the bank because those who practice minimalism are not buying, or using, in excess.

Consult the Experts:
The Bone Store
1547 E. March Ln., Stockton
(209) 720-7500
TheBoneStore.com
Shelton Lee Flooring
5170 Pentecost Dr., Modesto
(209) 491-0310
SheltonLeeFlooring.com
Big Flooring Outlet
3713 E. Hammer Ln., Stockton
(209) 951-9400
BigBobsofStockton.com
BTA Solar
Stockton
(209) 323-5418
BTASolar.com
Rod Johnson Air Conditioning
1553 N Broadway Ave, Stockton
(209) 931-4100
RodJohnsonAir.com
California Closets
601 Galaxy Way, Modesto
(209) 576-8668
CaliforniaClosets.com
Lovotti, Inc.
2216 Stewart St., Stockton
(209) 931-2100
LovottiAir.com
Budget Blinds
7819 Thornton Rd., Stockton
(866) 590-6341
BudgetBlinds.com