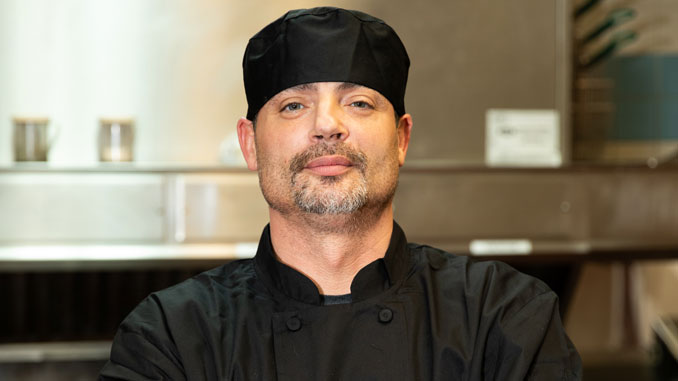 Chances are that you recognize the bright blue hue and cheery face of this familiar food truck. Rice Pot Movement has been a San Joaquin staple since 2014, gathering fans and garnering praise well before the food truck frenzy really began to take root in the area. And while other trucks have come and gone, and Rice Pot Movement has had its hiatuses, locals can now turn to a brick and mortar location for all their Rice Pot needs.
Though Dion Durham has only been with the Rice Pot Movement since September 2017, he's been at home in the kitchen since the tender age of eight. "I've always loved cooking," he reminisces. "My great grandma had an Italian restaurant, and she was the one who taught me how to cook." Now, as chef to this beloved San Joaquin dining option, he's added his own personality to the established menu by tweaking some of the sauces to his preference, as well as deciding to expand his empire with a permanent location in the Sherwood Mall food court.
"I was doing a lot of events in the truck," explains Dion, who has been in such high demand around the Central Valley that he's now booked until December. "So people would look for me on the street and were disappointed that I wasn't around anymore. This is my way of making it up to them."
Local foodies will still be able to find their favorite dishes at the Sherwood Mall location, but they should keep an eye out for new additions, like pho, sweet and sour pork, and chicken salad. And if you somehow still haven't experienced the Rice Pot Movement yet, allow Dion to recommend his own favorites to you.
"I love the sliders," he says. The bite sized sandwiches feature teriyaki pork over roasted buns, with garlic aioli, Sriracha, cabbage, and a sunny side up egg. His other favorite? The Tai Chi Tacos, which have chicken or pork, and are covered with Thai basil sauce, kimchi sauce, cabbage, and green onion. Both are flavorful entrees that will definitely have you coming back for more.
Dion plans to spend quite a bit of time at his new location, so when you stop by, make sure to deliver your compliments to the chef. "I've always loved seeing people smile when they try my food," he admits. And with food so good, your smile is guaranteed.
Don't miss out:
Rice Pot Movement
5308 Pacific Ave., Stockton
(916) 439-6471