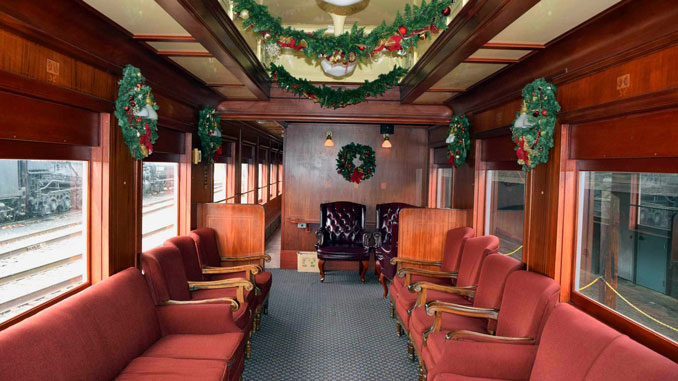 It's the perfect time of year for a magical journey, and Sacramento's own California Railroad Museum has got you covered.
Just hop on board their Polar Express and enjoy a roundtrip ride to and from the North Pole!
Depending on your ticket purchase, you will be seated in either a coach car, or a first-class car. But not to worry—each passenger will get to experience the same magic and wonder. From hot chocolate and cookies to waiters dancing down the aisle, and jolly old St. Nick himself coming on board, this will be a night to remember. The return journey from "The North Pole" will wrap up with a rousing singalong of Christmas carols, so spirits are sure to be merry from start to finish.
The train ride will last approximately one hour, and boarding will begin twenty minutes before departure. Like the young passengers in The Polar Express book, children are invited to dress in their warmest pajamas, but make sure they have appropriate footwear! The train departs from the Railroad Museum in Old Sacramento, which means walking across packed granite soil, as well as wooden boardwalks, to get there. There will be no restrooms on board, so plan accordingly.
Catch the first Polar Express trains of the season on November 23, 24, and 25, and every Wednesday through Sunday until December 20th. Departures are at 3:30 PM, 5 PM, 6:30 PM and 8 PM, making this a special evening excursion for the whole family to enjoy this holiday season. 
For More Information:
California State Railroad Museum
125 I St., Sacramento
(916) 445-7387
CaliforniaRailroad.Museum