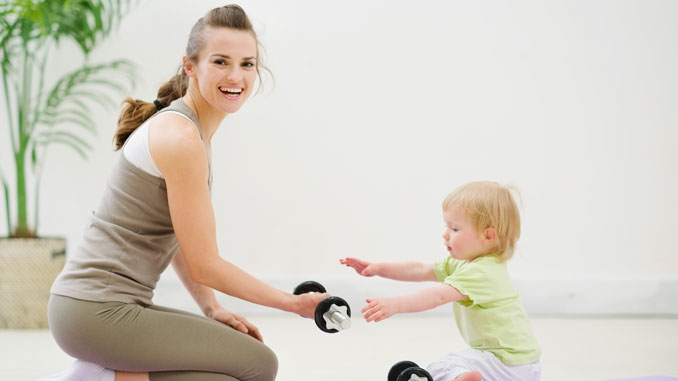 Throughout our adult lives, most women their best to maintain a good skin care routine, engage in the best hair rituals and indulge in the occasional massage, facial, or spa day.
These things not only make us look beautiful, but feel beautiful as well. Once we start a family, however, it's not unusual for moms to let self-care take a backseat.
"Every mother knows that when you have a baby and are trying to balance time, you put yourself last," says Dr. Ruby Gill MD, full-time mom and physician at Gill Medical Group and The Gill Aesthetic Institute. "But, having a baby can cause drastic changes to the body, both physically and emotionally. It's okay to want to take care of yourself."
At her primary care practice, Gill Medical Group, Dr. Gill takes a modern, well-rounded approach to medicine, focusing on the patient's lifestyle as well as their ailments. Time and time again, she has seen that when patients look good, they tend to feel good, too. "It's a two-way conversation that happens in the office," says Dr. Gill. "We're treating a patient, not a number."
Enter The Gill Aesthetic Institute, where prospective patients looking for nonsurgical cosmetic procedures can book a consultation and meet face to face with Dr. Gill, where she will work to fully understand the patient's concerns and offer customized aesthetic treatment plans.
"Our goal is always a natural look and outcome," says Dr. Gill. "In a typical mommy makeover, there is usually surgery involved, from which you would need downtime to recuperate. But we know most moms don't have the time, so our procedures are always minimally invasive."
With the most technologically advanced equipment in the valley, the Gill Aesthetic Institute offers everything from facials and facelifts for dull and loose skin such as the Vampire Facelift, Vampire Facial, and HydraFacial, to lymphatic drainage modalities for swollen legs and feet that often afflict new mothers.
 "We are looking at everything—hormones, skin, hair, vaginal health with diVa and O-Shot, C-section scars, etc., and most moms tend to have the same concerns," explains Dr. Gill.
The services offered at The Gill Aesthetic Institute are diverse and effective. With pregnancy, the increase in estrogen often causes spider veins, for which Dr. Gill would recommend either sclerotherapy or laser and light therapy. For postpartum hair loss, Dr. Gill is specially trained in "Vampire Hair Restoration," the effective method of using Platelet Rich Plasma (PRP) to promote new hair growth. For C-section scars and stretch marks, lasers with PRP boost your body's healing response.
"We get wonderful, natural results," says Dr. Gill. "For a youthful, rested, and natural looking mommy makeover, nonsurgical is the way to go."
And like anything worth maintaining, you won't want to skimp on the upkeep. "You don't just go to the dentist once—Your skin is just like any other part of your body, it changes," says Dr. Gill. "It's something you'll want to keep improving upon."
For More Information:
Gill Medical Group and Gill Aesthetic Institute
999 S. Fairmont Ave., Suite 235
Lodi, CA 95240
(209) 334-0799
GillMed.COM