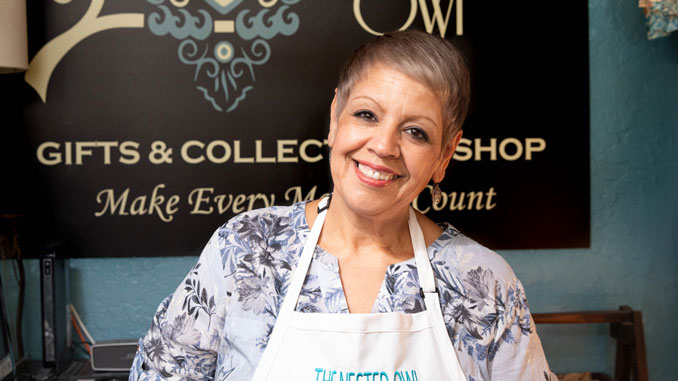 Manteca boutique "Nested Owl" flourishes with faith in God
When God told Linda Thurman that she was going to receive a building, Linda believed.
A pastor of 21 years at Praise Chapel Manteca, Linda had prayed to the Lord for 12 of those years, asking for a "releasing" from God that would allow her to pursue her second passion of curating beautiful items and selling them to the community.
Her first passion? Doing the Lord's work.
"But God says, 'I give you the desires of your heart,' and this was one of my desires," says Linda, gesturing to the colorful wares of her boutique, The Nested Owl, that opened in April of 2016. Inside the shop, ceramics, decorations, and new and used antiques are stacked to the ceiling, strategically poised for optimum cuteness.
How did she build such a well-stocked nest? One stick at a time. "I had two storage units filled with items that I bought over the course of 12 years—my husband didn't even know," laughs Linda. "I just kept buying because when you have a vision, you prepare for that vision," she says. "The Bible says to prepare for what God is going to bring into your life."
And judging by the crowded—but organized—aisles, God has certainly delivered. At The Nested Owl, customers are sure to find a variety of adorable pieces to decorate their homes with or to give as a unique gift, which Linda and her staff will happily wrap for you.
Hand-painted glassware and Rae Dunn pottery are stacked next to tiny porcelain owls that double as salt and pepper shakers. Industrial signs dangle from their wires, bearing happy messages like "It's a good day for a good day." Hanging from the ceiling are wrought iron light fixtures that would elevate any dining room.
"I basically buy everything that I like," says Linda. "I'd describe the style of my pieces as farm chic and country."
Observing what's in stock, it's clear that Linda's taste is also modern. Fragrant candles and gourmet soaps intermix with Japanese teapots. Patricia Nash purses hang from racks suspended from the ceiling, and Lenox figurines pose on shelf corners.
Along with faith, The Nested Owl thrives on hard work and community effort. "There are a lot of women out there who have talents, gifts, dreams, and goals, who want their own business but can't afford to have their own building," says Linda. "So, I put the word out for women to bring in their items. I currently have five ladies who sell their wares here."
To keep The Nest looking its best, Linda works tirelessly with the help of Angie, a sister from Linda's church, as well as Linda's daughters Regina and Christel, son-in-law Rick, mother Rachel, and husband John, all of whom take care of different tasks around the shop. Linda herself maintains the face of the boutique, emphasizing excellent customer service every step of the way, a quality garnered from all her years at the church.
"You only have one opportunity to make an impact on a person's life, and you have to seize that opportunity," says Linda. "So, that's what I try to do with every person who walks through my door." 
In light of her current success, Linda has set her eyes on the future, with a dream of opening seven more stores. But, to Linda, success isn't defined by finances or expansion. "If you work hard, have faith, and you're good to people, then you're already a success," she says.
See What's In Store:
The Nested Owl
121 N. Maple Ave., Manteca
(209) 676-0735