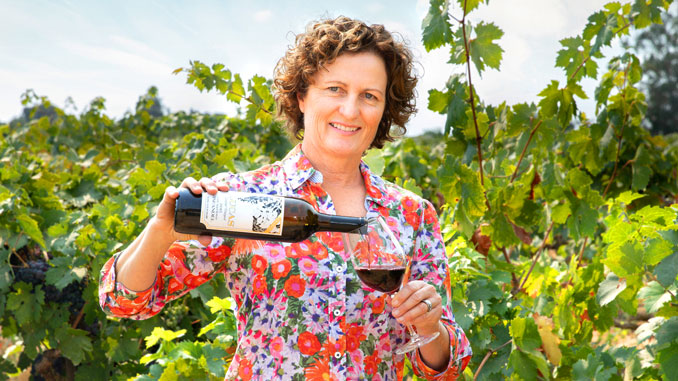 Heather Pyle-Lucas, The Lucas Winery
How'd you get started? 
I do not come from an agricultural background, but I fell in love with wine and winemaking while studying for my bachelor's degree in Zoology at U.C. Davis.  I went on to get a master's degree in winemaking.
What's your winemaking style? 
Traditional, for sure.  Hands off.  Minimal inputs.  I spend a lot of time in the vineyard trying to get the fruit just right.  I want the wines to speak of the place they were grown and the vintage.  Most of all, I want them to be delicious at the table, with food.
What wines do you find inspiration from? 
The great wines of Europe have been my inspiration in that they reflect a long history of sorting out and settling down within a discipline that, only rarely, creates something that makes you sit up and take notice.  California has great potential and even great wines, but Europe is where I find our roots. 
In the world of wine, who has influenced you most? 
Charles Thomas, Robert Mondavi's long-time winemaker, and my mentor from 1985 to 1996 infused in me an attention to detail, a love of the craft, and the importance of being out in the vineyard.  His kindness was an added bonus.  He is my winemaking hero.
Do you have a favorite wine you've made?
The 2009 Lucas ZinStar Zinfandel Reserve would be my favorite.  It was made in honor of David Lucas' daughter Mitra's wedding, and also it is a dynamite wine from a wonderful and historic vineyard.
What's your favorite aspect of the wine making process? 
It's all fun and new every year, but I really like the process of fermentation when we see, for the first time, what is to become of the grapes we and Mother Nature have so carefully tended during the season.
What do you most admire in the world of Lodi wine, and why? 
Lodi as a premium wine region is charming, earnest, innocent, and ambitious.  There is great potential here and we have the benefit of the freshness of youth.  Lodi winery owners and winemakers still greet their guests personally to introduce their wines and tell their stories.  That is priceless.