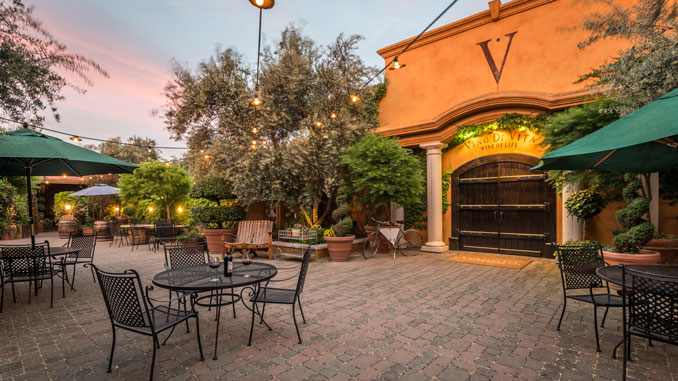 A Tuscan-style villa with manicured grounds, riverfront access, and dreamy rows of walnut trees and vineyards keep the guests at Viaggio Estate & Winery on site for hours on end.
"Almost everybody that comes out says, 'We were wine tasting for the day and you were our first stop and we never left,'" says co-owner and winemaker Teri Lawrence. "'Or, they'll tell us, 'Gosh, we were only going to run out here and have a quick glass of wine, but we've been here for hours!'"
Teri and her husband Larry purchased Viaggio in 2012 and decided that the lush, Italian-themed estate was missing one component: Wine. Now, the estate and vineyard specializes in growing the finest Zinfandel, Barbera, and Cabernet Sauvignon grapes on site. In fact, every aspect of winemaking happens at Viaggio: From crushing the grapes to fermenting and bottling.
Viaggio's Buttercup Chardonnay, with its oaky and buttery profile, received a score of 93 at the California State Fair. Their River Red, with a 50/50 blend of Zinfandel and Merlot grapes, received a double gold in the San Francisco Chronicle Wine Competition. Viaggio is also known for their award-winning Outlaw Malbec, which also received gold-status from the Chronicle.
"My favorite part of winemaking is about eight or nine months after a harvest, when you go into the barrel room and taste the wine for the first time. I'll be by myself, and I'll just start dancing because it's so good—I love it," Teri says. "There's a lot of hard work that goes into winemaking. The way you grow and nurture the grape is so important. You can't make good wine out of bad fruit."
Viaggio's guests enjoy the fruits of the Lawrences' labor over fresh-baked pizzas with sauce made from tomatoes, cilantro, and peppers straight from their garden. It's important for this husband-and-wife team to use the best ingredients, whether it's in a glass of their Big Ben Henry Barbera with its black cherry and cinnamon notes, or in their handmade pizzas that they pair with a distinct glass of the day.
If you ask Teri what her go-to summer sipper is, she'll give you two answers: "During a hot summer day, it's a glass of chilled Chardonnay. I just love the flavors, it's my personal favorite," she says. "We've also got a delicious Pinot Grigio if someone wants more of the crisp, fruity, lighter wine."
Visit Viaggio for wine, oyster, and pizza pairings during Friday evenings, and on Saturday and Sunday afternoons.
Make yourself at home:
Viaggio Estate & Winery
100 E. Taddei Rd., Acampo
ViaggioWinery.com