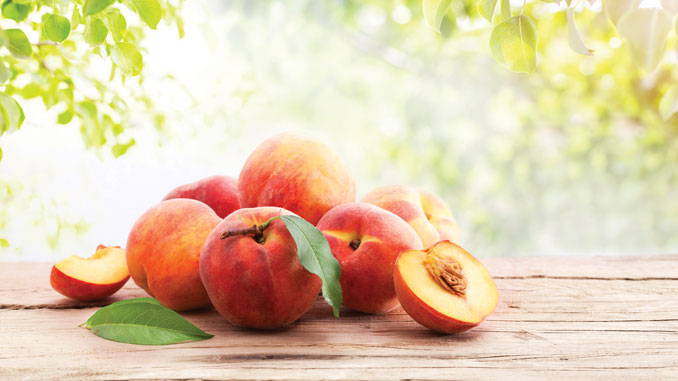 A surefire sign of summer is the smell of ripe, farm-fresh peaches at the local Famers Markets.
One of late summer's favorite fruits and an American staple, these sweet and juicy stone fruits are ripe for the picking, and are sweetening up just in time for National Peach Month which just happens to be in August!
Native to China, peaches made their way to the rest of the world via the ancient silk route. In fact, the peach's scientific name is Prunus persica, a direct reference to the fruit's storied travels to Persia along the Silk Road. Technically, a peach is a stone fruit drupe, with features like other Prunus members including plums, nectarines, and almonds. 
But what really tickles our fancy is the versatility of the peach. From savory dishes like salads, flatbreads, and pork tenderloin to summertime tarts, pies, and smoothies, peaches show off their delectable golden flesh for fruit lovers every summer. They also lend themselves to a variety of flavors but are perfectly suited for California cuisine, the farm-to-fork lifestyle we know and love here in San Joaquin County.
In fact, California produces more peaches than any other state in the nation. Accounting for over 70 percent of the nation's crop, California peaches are available from June to September. Other top producers include South Carolina, Georgia, and New Jersey.
And if you are wondering how good peaches are for you, go ahead and grab one. For starters, they are relatively low in calories (a large one will run you less than 70 calories) but are packed with nutritional goodness. Peaches contain Vitamin A, an essential vitamin for healthy night vision and skin. And it's no surprise that they are also rich in Vitamin C, a powerful force in fighting infectious disease.
So, the next time you are craving something sweet without the guilt, reach for a potassium-rich peach for the win. You might even want to make one of the simple and flavorful recipes below with your Farmers Market finds!
Tricks of the Trade
Head to your local Farmers Market for peak-season peaches. They are sweeter than grocery store peaches, and you can support your local farming community while you are at it.
To freeze fresh peaches, pit, slice, and place them on a parchment-lined baking sheet. Freeze until solid and transfer to resealable plastic bags until they are ready for use. If fresh peaches are not available, you can always substitute store bought frozen peaches.
Peaches will turn brown once sliced and exposed to air. So, if a recipe calls for sliced peaches, rinse them in water and add a few drops of fresh lemon juice.
Wondering how to tell when a peach is ripe? If it yields to gentle pressure and has a sweet aroma, pick up that peach.
Recipe 1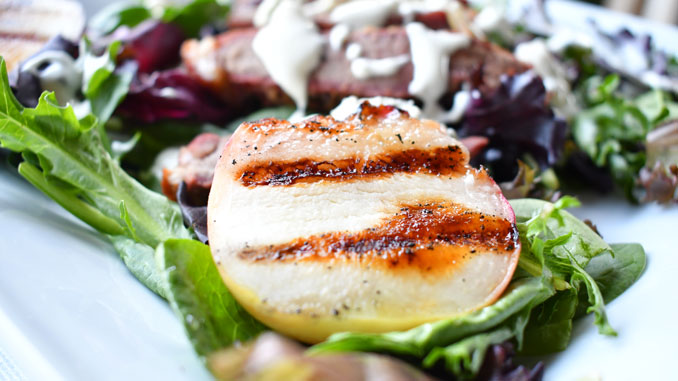 Grilled Peach and Steak Salad with Blue Cheese
Ingredients
2 Bags of Spring Mix Salad
4 Ripe Peaches
2 TBSP. Honey
1 8 Oz. Package of Crumbled Blue Cheese
1 ½ C. Creamy Blue Cheese Dressing
4 1 ½ inch New York Steaks
Worcestershire Sauce
Steak Seasoning
Salt and Pepper
Directions
Fire up your grill. Pit and halve the 4 peaches, brush with olive oil and drizzle with honey. On each steak, add a couple of dashes of Worcestershire sauce and season with your favorite seasoning blend. Meanwhile, in a small bowl, mix in half of the blue cheese crumbles with the creamy blue cheese dressing. Grill the peaches for 2 to 3 minutes on each side, remove from heat and set aside. Cook steaks over the grill until it reaches your desired temperature, (approximately 6 to 8 minutes on each side for medium rare) and slice the steak on the bias. On four dinner plates, layer mixed greens, sliced New York steaks and grilled peach halves. Drizzle the creamy blue cheese dressing over the salad and garnish with remaining blue cheese crumbles.
Recipe 2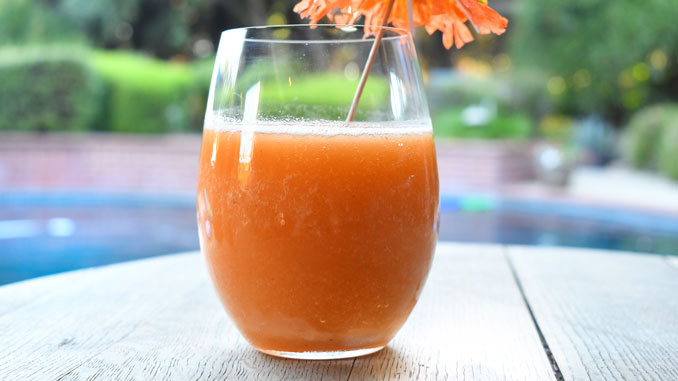 Life's a Peach Cocktail
Ingredients
3 C. Frozen Sliced Peaches
2 C. Ice
6 Oz. Whiskey or Bourbon
2 Oz. Honey
1 Oz. Lemon Juice
1 Oz. Lime Juice
Directions
Blend Peaches, ice, whiskey, honey, lemon juice, lime juice, and 1 oz. water in a blender until smooth. Divide among four glasses and serve.
Recipe 3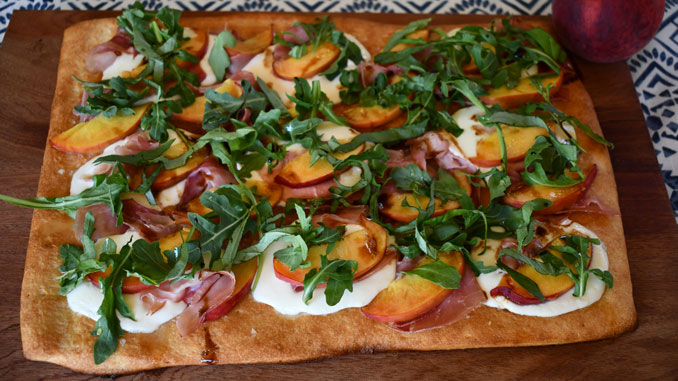 Summertime Stone Fruit Flatbread
Ingredients
1 Can 13.8 oz. Pillsbury Refrigerated Classic Pizza Crust
1 Peach, Pitted and Sliced
1 3 Oz. Package of Prosciutto
1 1/2 C. Arugula
1 16 Oz. Package of Fresh Mozzarella Sliced
¼ C. Basil, Chiffonade
2 TBSP. Olive Oil
1 TBSP. Aged Balsamic Vinegar
Pinch of Sea Salt
1/8 TSP. Pepper
Directions
Heat oven to 400 degrees and spray a rectangular cookie sheet with non-stick spray. Roll out pizza dough and place on cookie sheet. Bake dough for 9 to 10 minutes and remove from oven. Drizzle with olive oil, and season with sea salt and pepper. Layer mozzarella, prosciutto, and peaches onto the dough and bake for an additional 5 to 6 minutes. Remove from oven and top with arugula. Drizzle with honey, balsamic, and basil.