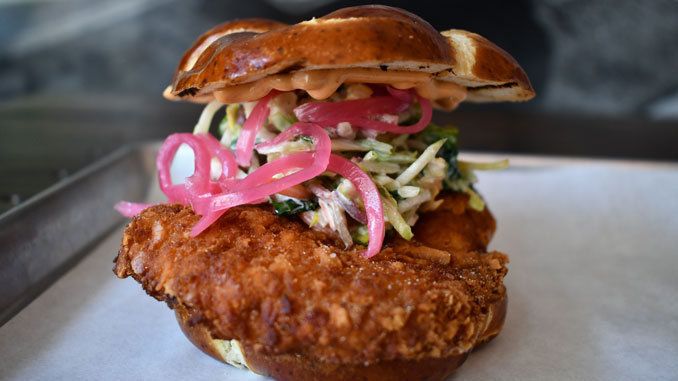 Have you heard the news?
There's a new foodie destination in Downtown Lodi, and it's serving up delicious German food done right!
At West Oak Nosh, guests can find a seat at one of the hand-crafted communal tables for a taste like no other. The Pork Schnitzel Sandwich is a gift from the Gods! Piled on the softest pretzel knot bun known to man, the breaded pork loin is adorned with a crispy nosh slaw, pickled red onions, and a tasty chipotle aioli.  
Now let's get down to the nitty gritty of this gastronomic delight: West Oak Nosh breaks down a pork loin and pounds it out before breading it in a top-secret crumb mixture that fries up to crispy heaven. While the schnitzel is delicious, the flavor flows from the crunchy and flavorful slaw. A sweet and salty combo of vinegar, citrus, and caraway seeds, the slaw's nuttiness adds a delicious decadence to this dish!
This sammy has all the fixings to please your palate. So, stop into West Oak Nosh and try their Pork Schnitzel Sandwich for a taste of Lodi's hottest new food spot!   
 Savor the Schnitzel:
West Oak Nosh
10 W. Oak St., Lodi
(209) 244-8157